Healthy Strawberry Cheesecake Balls. My healthy vegan no bake mini strawberry cheesecake bites are a super delicious summer treat, especially for strawberry season!
My Healthy Strawberry Cheesecake Balls recipe is:
Gut healthy
High in healthy fats
No-bake
Easy to make
Gluten free
Dairy free
Vegan
There is nothing I love more than inventing a new recipe and then tricking everyone that it is secretly healthy! These healthy strawberry cheesecake balls are THE PERFECT summer treat because you don't even have to fire up your oven. And believe me, no matter how high that AC is cranked, the house will feel so hot with the oven on in the summer. Thank god for no bake desserts. LOL!
WHAT MAKES THESE STRAWBERRY CHEESECAKE BALLS HEALTHY?
Dates

are surprisingly high in many different nutrients like iron, potassium, B vitamins, copper, and magnesium! A perfect natural sweetener!
Cashews

are super high in fiber, healthy fats, and some protein! These are the base of almost all my healthy cheesecake recipes.
Strawberries

are so delicious when they are in season! The red color is thanks to its antioxidant content of lycopene!
Coconut oil

, when eaten in moderation, is quickly burned for energy in your body! Each ball has about ⅓ serving of coconut oil!
Vanilla extract

.. what can I say... just make sure you buy PURE vanilla extract!
Coconut flour

comes right from dried and ground coconut. It is a good low carb alternative to all purpose flour especially in no-bake treats.
Coconut flakes

-- same as above! Plus they are delicious. Coconut has fiber, manganese, selenium, and many other nutrients!
TIPS FOR MAKING THE BEST HEALTHY STRAWBERRY CHEESECAKE BALLS
DON'T SOAK YOUR CASHEWS OVERNIGHT. Unlike my other cashew cheesecake recipes, you do not need to soak your cashews overnight. If you soak them, your batter will be way too watery and sticky to roll.
LET YOUR CHEESECAKE BATTER REST AFTER BLENDING. Let it sit ~10 minutes before you roll it. This allows time for the coconut flour to absorb liquid so that the batter doesn't stick to your hands!
MAKE SURE TO FREEZE THE CHEESECAKE BALLS ON PARCHMENT PAPER. They are super hard to get off the plate if you stick them in the freezer on a bare plate.
MAKE MY HEALTHY STRAWBERRY CHEESECAKE BALLS
INGREDIENTS NEEDED
Dates
Raw cashews
Fresh strawberries
Coconut oil
Vanilla extract
Coconut flour
Coconut flakes
EQUIPMENT NEEDED
Start by throwing everything (except the coconut flakes) into a food processor:
½ cup dates, pitted
1 cup raw cashews
1 cup fresh strawberries
¼ cup softened coconut oil
1 teaspoon vanilla extract
4 tablespoons coconut flour
Some people like it "chunkier." So if you do, only food process till it looks like this:
I food processed until it was almost pureed.
Let it rest 10 minutes before you roll it. The coconut flour takes a little bit of time to help thicken the batter.
Roll the batter into cheesecake balls.
Place them on a parchment paper lined plate.
Roll them in coconut flakes if you like that and want a bit of a tropical flavor.
Then, freeze your strawberry cheesecake balls for about 2 hours.
Thaw cheesecake balls for about 10 minutes before you eat them and you will have an amazing cheesecake like texture!
HOW TO STORE HEALTHY STRAWBERRY CHEESECAKE BALLS
I store mine in the freezer to pull out a couple at a time for a quick and healthy treat!
If you store them in an airtight container, they will last in the freezer for up to 3 months.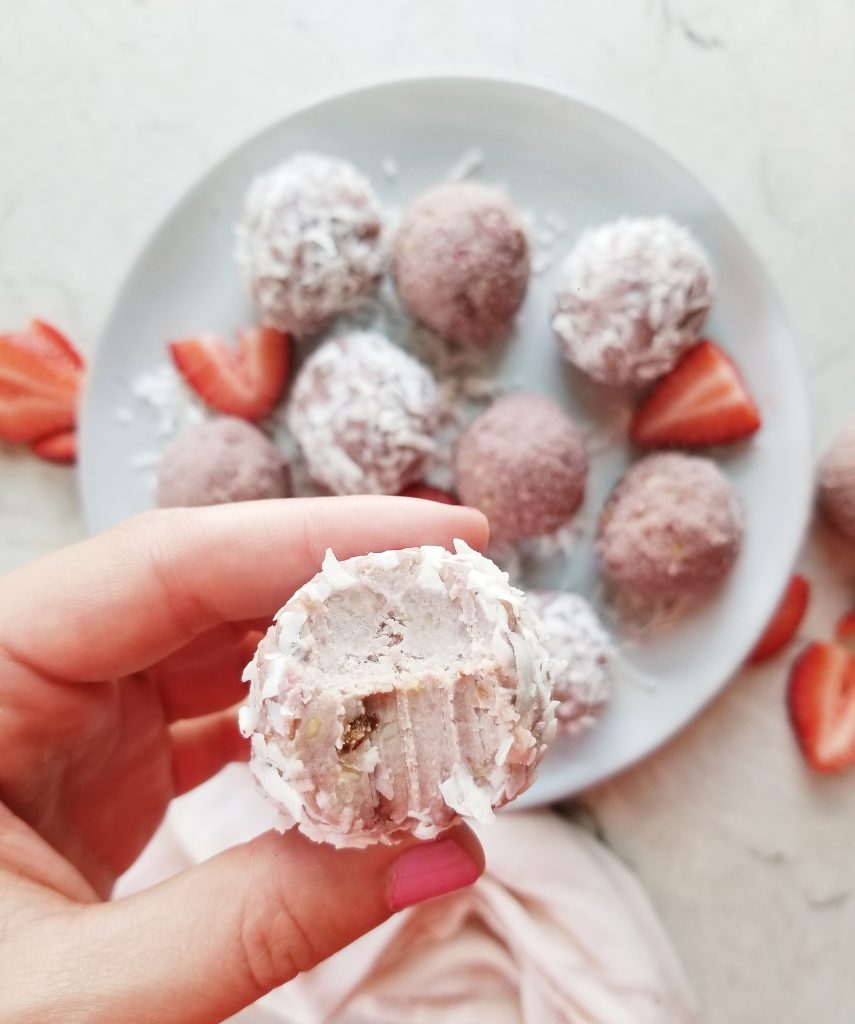 FAQ'S
Frequently asked questions about my healthy strawberry cheesecake bites recipe.
ARE STRAWBERY CHEESECAKE BITES KETO?
If you want a keto strawberry cheesecake ball recipe, all you have to do is replace the dates with a keto sweetener. You will also add extra coconut flour to absorb more liquid. Start with +1 tablespoon of coconut flour at a time until you have a soft non-sticky texture.
HOW DO I MAKE THESE MINI STRAWBERRY CHEESECAKE BITES VEGAN?
My strawberry cheesecake balls are totally vegan!
HOW CAN I MAKE STRAWBERRY CHEESECAKE BITES DIPPED IN CHOCOLATE?
After rolling your cheesecake bites into balls, dip them in melted chocolate. Place them on the parchment paper lined plate. Store chocolate dipped cheesecake balls in the fridge instead of the freezer.
HOW DO I MAKE STRAWBERRY CHEESECAKE BARS INSTEAD?
If you don't want to roll these into cheesecake balls, press all the batter into a parchment paper lined square baking dish. Sprinkle the top with coconut flakes. Freeze for 1 hour. Cut into bars. Store the bars in a airtight container lined with parchment paper.
ARE THESE CHEESECAKE BALLS LOW FODMAP?
These are not low FODMAP because they contain high FODMAP cashews and dates as primary ingredients.
OTHER HEALTHY NO BAKE RECIPES YOU MIGHT LIKE
If you make this recipe and love it, please be sure to tag your photo #thehintofrosemary and leave me a rating in the recipe card!
Healthy Strawberry Cheesecake Balls
These healthy strawberry cheesecake balls will make you wonder why you ever made the traditional version. They are packed with healthy ingredients like cashews, dates, and strawberries. Plus, they are perfect for the summer time because you don't even need to turn on the oven! Try them out and leave me a comment below if you love them!
Equipment
food processor or high powered blender

Parchment paper
Instructions
Add all the ingredients into a food processor except for the coconut flakes. Food processed until almost pureed. Allow it to rest ~10 minutes so that the coconut flour can thicken it.

Roll into 12 balls. You can roll them in coconut flakes if you like!

Place in the freezer for at least 2 hours to firm up.

Let them stand at room temperature ~10 minutes before serving. Enjoy!!
Notes
Nutritional information is only an estimate. The accuracy of the nutritional information for any recipe on this site is not guaranteed.
Nutrition
Serving:
1
ball
Calories:
110
kcal
Carbohydrates:
7.1
g
Protein:
2.1
g
Fat:
8.7
g
Fiber:
0.9
g