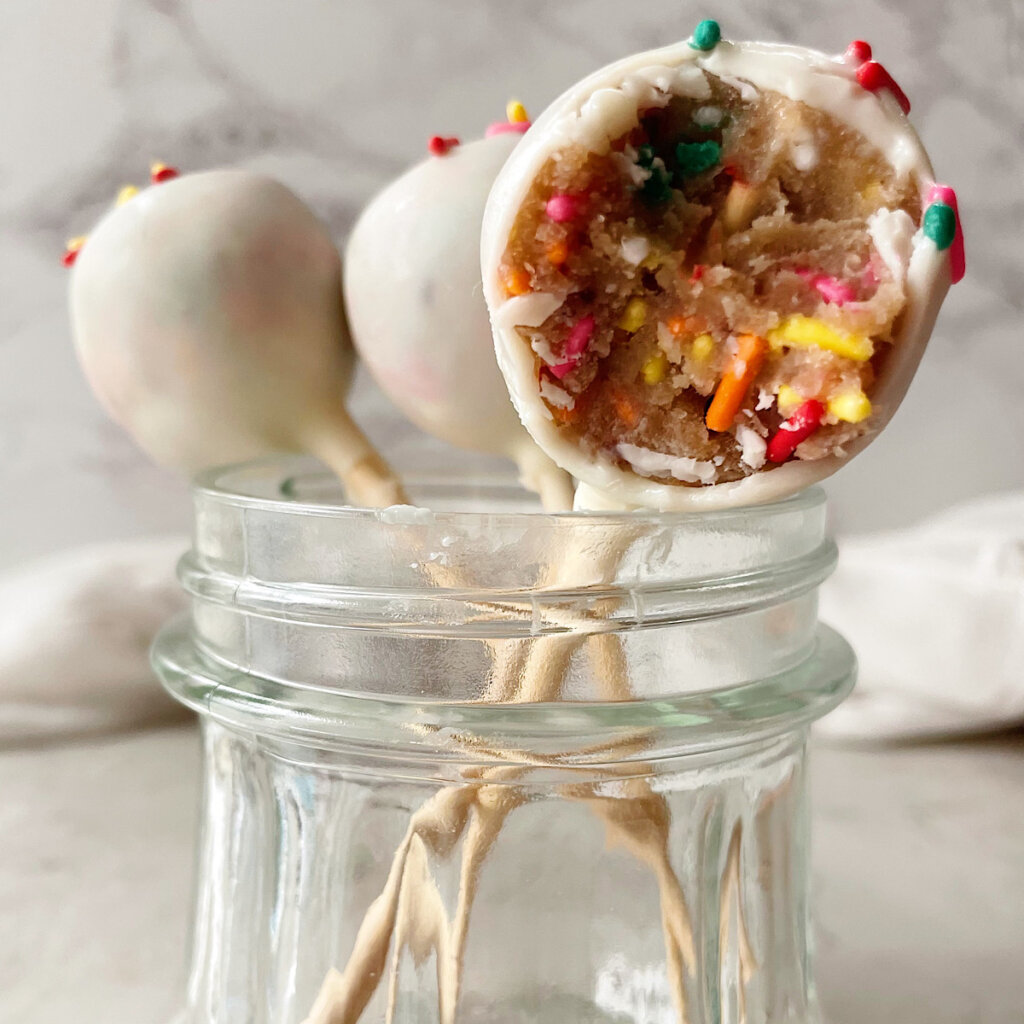 Healthy Vanilla Cake Pops Recipe! Are you a cake pop lover and always thinking wow these would be so easy to make at home?! Me too! So I created a super easy homemade cake pop recipe that requires NO sugar, NO flour, and NO baking!
This healthy cake pops recipe was inspired by our frequent starbucks trips and wanting to make more treats at home from scratch without any gluten or sugar!
So how can you have healthy cake pops with no sugar? You may be wondering... nature created these delicious delights that are naturally sweet called dates! I absolutely love using dates in my healthy desserts because they are a whole food and completely unrefined.
I made my cake pops with natural white chocolate to give them more of an authentic look. But the cake batter dough tastes just as delicious without any white chocolate at all! You can even roll them in some unsweetened coconut flakes for a fun coating.
HEALTHY CAKE POPS INGREDIENTS
cashew butter
dates
coconut oil
vanilla extract
sea salt
coconut flour
almond flour
rainbow sprinkles
white chocolate
SKIN HEALTHY BENEFITS OF MY CAKE POPS
A dessert that is good for your skin too?! No way. Yes way! For years I was a lover of sweets but my skin was constantly riddled with acne. Until I discovered that my acne was triggered by gluten, dairy, and mostly sugar. While I still eat these from time to time, I typically try to make desserts that won't make me breakout and satisfy my always there sweet tooth.
Cashew butter: Cashews are a good source of healthy fats, which help nourish the skin and maintain its elasticity.
Dates: Dates contain natural sugars and fiber, which can promote a healthy complexion by supporting the body's detoxification processes.
Coconut oil: Coconut oil is rich in medium-chain fatty acids that can help moisturize the skin and improve its overall hydration.
Vanilla extract: Vanilla extract contains antioxidants that can help protect the skin from free radical damage and reduce signs of aging.
Sea salt: Sea salt contains an array of essential microminerals such as magnesium, zinc, and potassium, which can support healthy skin function and promote a balanced complexion.
Coconut flour: Coconut flour is a good source of dietary fiber, which can support a healthy gut and contribute to clearer skin.
Almond flour: Almonds are packed with vitamin E, an antioxidant that helps protect the skin from oxidative stress and promotes a youthful appearance.
THE STORY BEHIND CREATING A HEALTHY CAKE POP
My daughter absolutely loves starbucks cake pops and we always get her one when we're on a long road trip and we're all craving a little pick me up. But, they're not a healthy treat and I wanted to create a cake pop at home that I felt good about giving my toddler.
When I made my first round of toddler friendly cake pops, I used about a cup and a half of almond flour. They were so-so. But something was off, especially if you know how mealy of a texture almond flour can sometimes create.
So next I tried making my cake pops with coconut flour instead of almond flour and they came out great! The texture was just like that delicious moist melt in your mouth texture of the real thing. Just one thing was off I wanted them to be a bit more cake-like so I added a couple tablespoons of almond flour to give a more cake like crumb texture.
During my cake pop home experimentation I did use almond butter and not cashew butter once and they were super delicious! But, the color was super dark compared to the color of cashew butter so that might throw you off. If it doesn't, almond butter is a great substitute for the cashew butter in my cake pop recipe!
HOW TO MAKE HEALTHY CAKE POPS AT HOME THAT TASTE JUST LIKE STARBUCKS!
These delicious sugar free cake pops come together so quickly and taste just like the real thing!
STEP 1: SOAK DATES AND BLEND WET INGREDIENTS
Start off by soaking ½ cup of pitted dates in hot water for about 15 minutes. I love to soak dates for all my dessert recipes because it helps them blend into a smooth pureed texture. Plus, dates are a great sugar replacement for very low calorie cake pops!
Once your dates are nice and soft, drain the water and add them to a blender along with:
¼ cup cashew butter
1 ½ tablespoon coconut oil
2 teaspoons pure vanilla extract
½ teaspoon sea salt
Blend on medium speed until your wet cake pop ingredients are totally pureed and you don't see any big chunks of dates.
STEP 2: ADD WET INGREDIENTS TO A BOWL WITH DRY INGREDIENTS
Scoop the wet ingredients out of your blender into a bowl along with:
2 tablespoons coconut flour
2 tablespoons almond flour
Stir well to combine and fold in the 3 tablespoons of natural rainbow sprinkles if you're using those.
These coconut and almond flour cake pops are so great for anyone who has gluten sensitivity and gluten intolerance! If you want to use just coconut flour add about ½ tablespoon more coconut flour to your batter in place of the almond flour.
STEP 3: ROLL INTO BALLS AND DIP IN WHITE CHOCOLATE
Finally, roll your cake pop dough into 12 equal sized balls. Insert a cake pop stick into the top of each ball.
In a small bowl, melt:
1 cup white chocolate
2 tablespoons coconut oil
Dip each cake ball into the white chocolate, holding over the bowl a couple seconds to let the chocolate drain off. Set on a parchment lined plate to harden or insert into a cake pop stand.
Hope you enjoy!
MORE HEALTHY CAKE POP IDEAS AND RECIPE VARIATIONS
Healthy Chocolate Cake Pops- Use 2 tablespoons pure cacao powder in place of the almond flour for a delightful chocolatey cake pop treat.
Healthy Protein Cake Pops- Use 2 tablespoons protein powder in place of the almond flour for a higher protein cake pop!
Banana Cake Pops- Want a tasty banana flavored cake pop? Use a couple drops of banana extract, or use 1 ultra ripe banana in place of the dates in this recipe.
FAQ's
Frequently asked questions about my cake pop recipe.
HOW DO I MAKE VEGAN CAKE POPS?
For a vegan cake pop recipe, simply follow my instructions! All ingredients are vegan friendly as long as you are using vegan white chocolate.
HOW TO KEEP THE CAKE POP ON THE STICK?
Make sure to use dates in your healthy cake pop batter, dates help the cake pop batter stick together well. Also, use coconut oil in the white chocolate coating. If the coating is too thick it will weigh down the cake balls.
HOW TO KEEP THE CHOCOLATE FROM DRIPPING AND POOLING?
Make sure to let the excess melted chocolate drain off your cake pop before setting on the parchment paper or in the cake stand.
More healthy no bake recipes you might enjoy: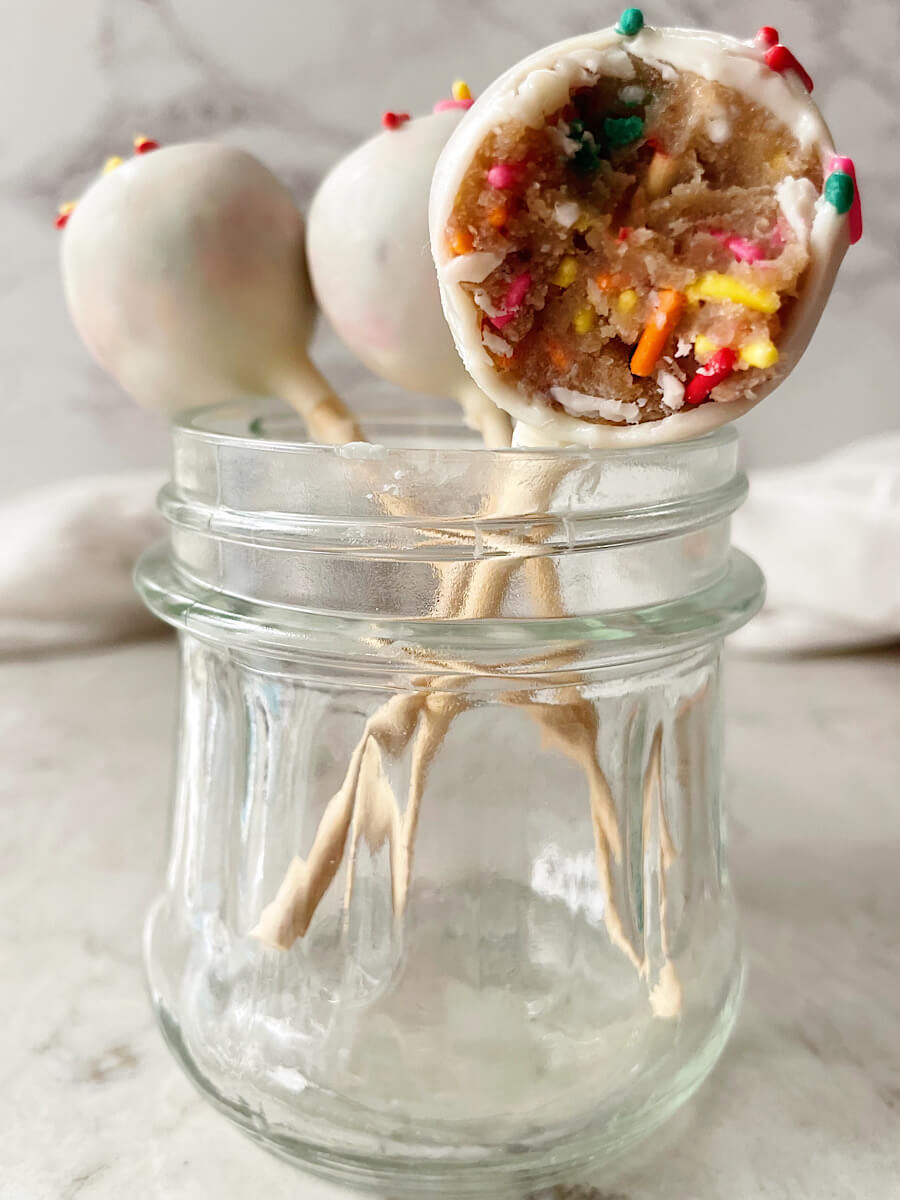 If you try this Healthy Cake Pop Recipe, please let me know your thoughts by leaving a rating and comment below! Ready for more? Subscribe to my newsletter or follow along on Pinterest, Instagram, Facebook, and Youtube!
Irresistable and Healthy Cake Pops!
Indulge in guilt-free delights with these delectable and healthy cake pops. Made with nourishing ingredients like cashew butter, dates, and coconut oil, these delightful treats are a perfect choice for those seeking a skin-friendly dessert. With a touch of vanilla extract and the added benefits of sea salt microminerals, these cake pops not only satisfy your sweet cravings but also contribute to a radiant and glowing complexion. Try these irresistible, nutrient-packed delights today and enjoy a guilt-free treat that nourishes your body from the inside out.
Equipment
cake pop sticks

cake pop stand

or a plate lined with parchment paper
Ingredients
For the healthy cake pop batter:
For the cake pop coating (optional):
1

cup

white chocolate

4.4 oz bar

2

tablespoon

coconut oil
Instructions
Start by soaking the dates in hot water for 15 minutes to soften the texture for blending. Drain the water from the dates and add them to your blender along with cashew butter, coconut oil, vanilla extract, and salt.

½ cup pitted dates,

¼ cup cashew butter,

1 ½ tablespoon coconut oil,

2 teaspoon pure vanilla extract,

½ teaspoon sea salt

Blend until the texture is completely smooth and no big date pieces remain.

Pour into a bowl and add the almond and coconut flour.

2 tablespoon coconut flour,

2 tablespoon almond flour

Stir your cake pop batter well to combine and then stir in rainbow sprinkles. The rainbow sprinkles are totally optional. I used a naturally dyed sprinkle for mine.

3 tablespoon natural rainbow sprinkles

In a separate small bowl, add white chocolate and coconut oil.

1 cup white chocolate,

2 tablespoon coconut oil

Microwave on 30 second increments, stirring at each 30 seconds until your white chocolate is totally smooth and creamy. This should only take about 1 minute to 1 ½ minutes.

Roll the cake pop batter into 12 equal sized balls and place them on a parchment paper lined plate.

Add a cake pop stick into each ball. Dip in the melted white chocolate and let the excess drain off.

Place dipped cake pops into your cake pop stand.

If you don't have a cake pop stand, you can easily place the cake pops back on the parchment paper inverted and the chocolate will harden just fine.

Place in the fridge to set the chocolate completely and enjoy! These healthy cake pops will last in the fridge up to a week.
Notes
Nutrition facts for any recipe on thehintofrosemary are only an estimate an not guaranteed.
Nutrition
Serving:
1
healthy vanilla cake pop
Calories:
120
kcal
Carbohydrates:
12
g
Protein:
2
g
Fat:
7
g
Saturated Fat:
3
g
Polyunsaturated Fat:
2.5
g
Monounsaturated Fat:
3.5
g
Sodium:
100
mg
Potassium:
150
mg
Fiber:
3
g
Sugar:
4
g
Calcium:
25
mg
Iron:
0.75
mg