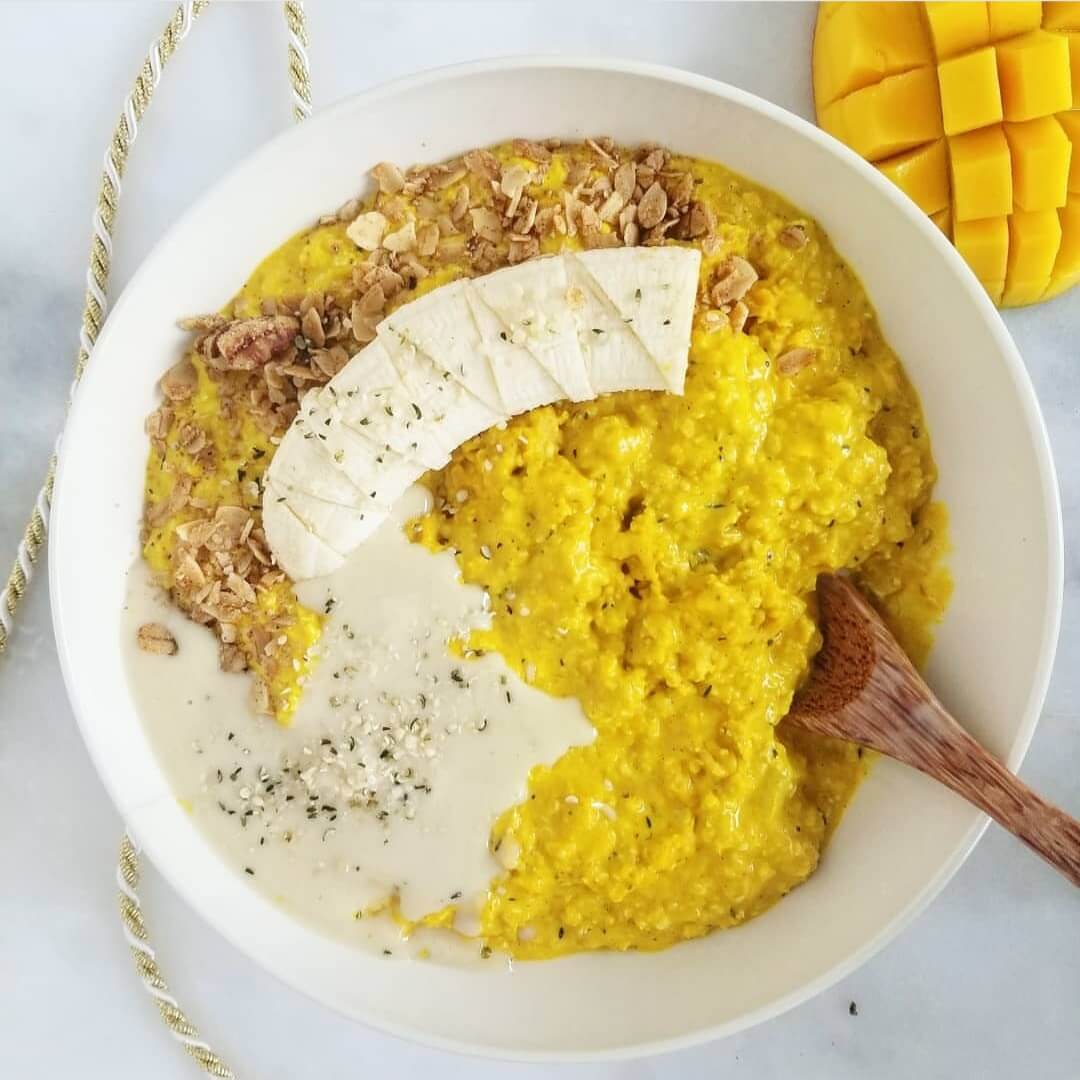 Golden Turmeric Oatmeal. Golden oats are super vibrant, flavorful, and healthy for you! My golden oatmeal is an excellent anti-inflammatory warm breakfast recipe.
My Golden Turmeric Oatmeal Recipe is:
Super easy to make!
Filled with delicious flavor
Anti-inflammatory
Gluten Free
Dairy Free
Vegan
Vegan golden turmeric oatmeal has become a go-to breakfast! Years ago if you told me I'd be eating turmeric in my oats I would've said, what is turmeric?! It is amazing how a more diverse culture is shifting the spices we use in our daily foods and recipes. Turmeric is a widely studied spice for its active components that have been shown to decrease inflammation and even certain cancers! These oats have just enough turmeric to give a little spice, but not too much to overpower your palate.
And if you want even more benefits, try turmeric and oatmeal for your skin! Turmeric and oats mixed together with plain yogurt is a super hydrating skin mask. Turmeric oatmeal mask: ⅛ cup oats (slightly ground up in a blender or coffee grinder) + 1 teaspoon ground turmeric + 1-2 tablespoons plain whole milk greek yogurt.
CAN I ADD TURMERIC TO MY OATS?
Yes! Add 1-2 teaspoons of turmeric to any bowl of oatmeal for an extra health boost. Always make sure that your turmeric mix has black pepper included, which boosts turmeric absorption!
GOLDEN TURMERIC OATMEAL BENEFITS
Oatmeal- high in fiber which helps to balance hormones by pulling excess estrogen out of your gut. Oatmeal is extremely high in iron! Also helps to move things along. 🙂
Milk - use any milk that you want! Good source of vitamin D which can help to boost those winter blues and improve sleep.
Turmeric - the most researched natural spice for its powerful healing effect.
Pineapple- excellent for weight loss, gut health, and even your skin health! Pineapple is super sweet and will leave your skin glowing!
TIPS TO MAKE THE BEST DELICIOUS GOLDEN OATS EVER
MAKE SURE TURMERIC POWDER HAS BLACK PEPPER. Black pepper increases the absorption of turmeric up to 2000x!!
USE ROLLED OATS. Rolled oats cook quickly and give you a great oatmeal texture. And they have just about the same amount of fiber as steel cut oats, but don't take forever to cook!
USE FROZEN PINEAPPLE. If it is winter time, frozen fruits & vegetables have the most amount of nutrients rather than buying fresh in the winter.
STIR OCCASIONALLY OVER MEDIUM-LOW HEAT. To prevent gummy oats, don't stir them constantly!
ADD YOUR FAVORITE DELICIOUS TOPPINGS. Toppings on oats make oatmeal way more interesting and way more delicious!
FAQs
IS OATMEAL INFLAMMATORY OR ANTI-INFLAMMATORY?
A lot of my clients ask me, does oatmeal create inflammation in the body? The answer is NO! Oatmeal does not cause inflammation. The only time oatmeal would cause inflammation in your body is if you are allergic to it. Or, if you added sugar and other sweeteners.
CAN I ADD GINGER TO OATS?
Yes! Ginger is super delicious with turmeric. You can make ginger turmeric oatmeal by simply grating about ¼ inch of fresh ginger into your oats before cooking. Or, add about ⅛ teaspoon dry ground ginger.
HOW DO I MAKE OATMEAL WITH TURMERIC AND CINNAMON?
Simply add 1 teaspoon of ground cinnamon along with your turmeric powder. My homemade turmeric mix is made with cinnamon and other warm spices!
HOW DO I MAKE BLUEBERRY TURMERIC OATMEAL?
Instead of pineapple, substitute 1 cup of fresh or frozen blueberries (depending on what season it is).
HOW DO I MAKE TURMERIC OVERNIGHT OATS INSTEAD OF STOVETOP?
Add all ingredients to a glass jar and cover tightly with a lid. Store in the fridge overnight and then heat in the microwave for 1-2 minutes.
More Healthy Oatmeal Recipes:
HOW TO MAKE EASY DELICIOUS GOLDEN TURMERIC OATMEAL
Turmeric banana oatmeal is SO easy to make and so delicious!
What is great about these oats, is that they are so easy to prepare! You can either combine the ingredients in a container the night before for overnight turmeric oats. Or, make them the morning of. Either way, you're getting a LOT of antioxidants and fiber first thing.
STEP 1

: COOK OVER THE STOVETOP

In a pan over medium heat combine milk, oats, and turmeric powder (golden latte mix).

How to make your own turmeric mix:

Cook oatmeal over medium low heat until they are thick and bubbly, stirring occasionally.

Microwave directions: If you are heating golden oats in the microwave from your container, heat for about 2 minutes.
STEP 2

: TOP GOLDEN OATS
This bowl is topped with half of a banana, granola, cashew butter, and hemp seeds!
Other topping ideas: fresh fruit, nut butters, seeds, and nuts.
---
Don't forget to follow me on Facebook, Instagram, Pinterest, and Youtube!
---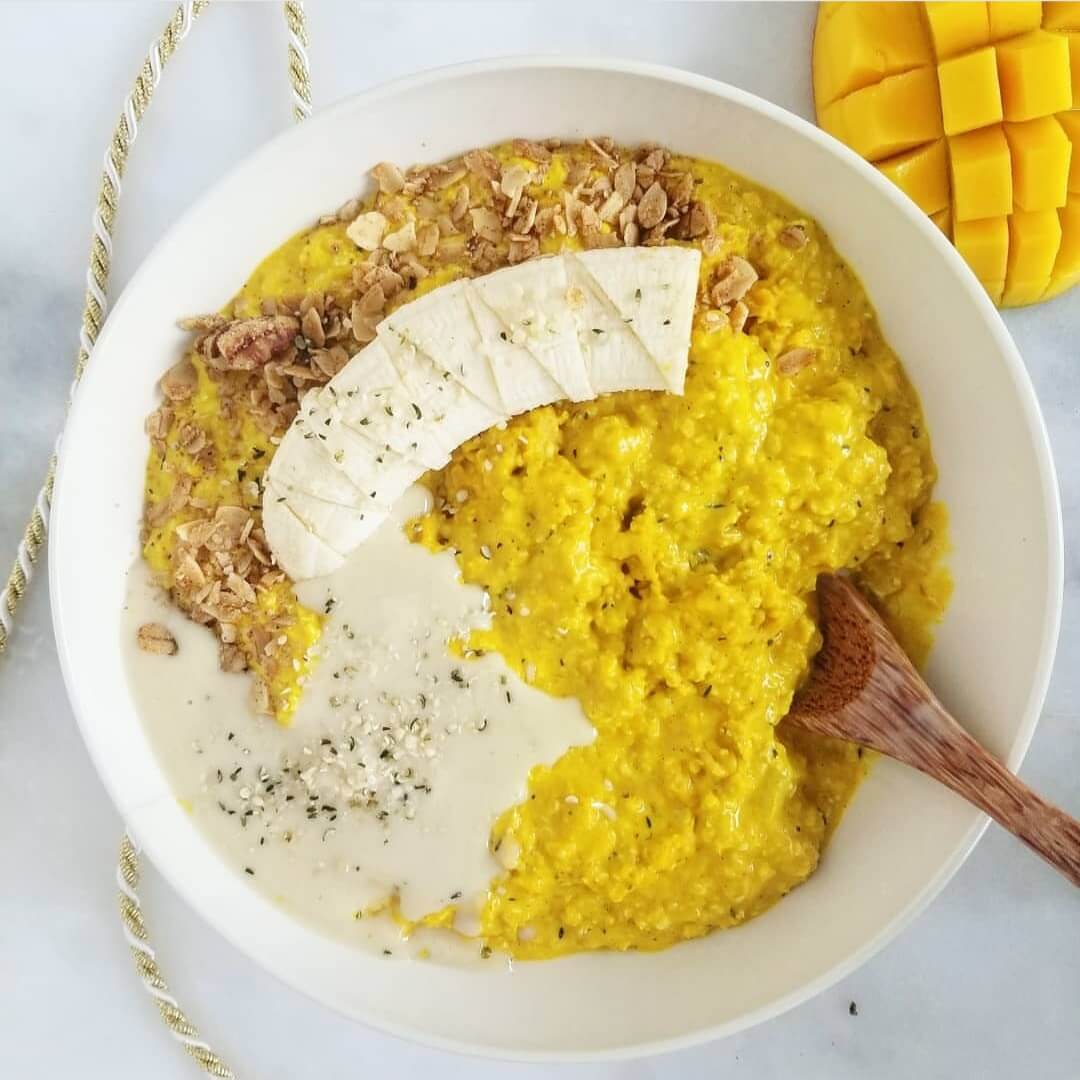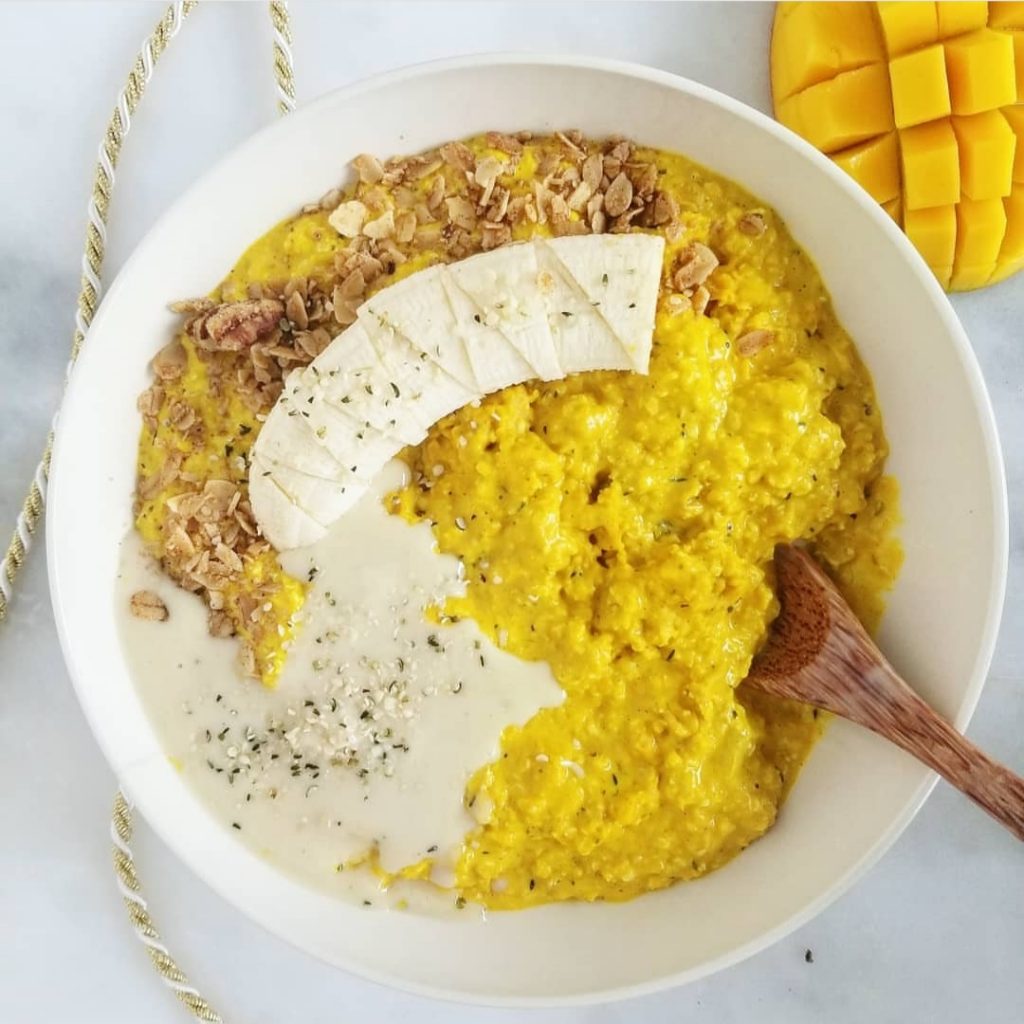 If you make this recipe and love it, please be sure to tag your photo #thehintofrosemary and leave me a rating in the recipe card!
Golden Turmeric Oats
Turmeric is one of the most powerful super foods. And I don't say this often! It is well known for its anti-inflammatory properties. It is EVEN better added to some high fiber, gut healthy oats!
Ingredients
1

cup

old fashioned oats

low FODMAP & gluten free use Gluten Free oats

2

cups

milk of choice

low FODMAP use almond milk

2

teaspoon

turmeric powder

1

cup

frozen pineapple

Optional toppings:

low FODMAP use low FODMAP granola

⅛

cup

granola

1

banana

1

tablespoon

cashew coconut butter

low FODMAP use almond or peanut butter

1

tablespoon

hemp seeds
Instructions
Combine the rolled oats, milk, turmeric, and pineapple in a saucepan over medium-low heat and cook until thickened and bubbly, stirring occasionally.

Remove from heat and pour into a bowl. Top golden oats with granola, banana, and nut butter.

Best eaten hot!
Notes
Turmeric has a very potent flavor, so a little goes a long way! If you are not used to the flavor, try half of this amount first and work your way up.
Nutritional information is only an estimate. The accuracy of the nutritional information for any recipe on this site is not guaranteed. Nutrition facts for golden turmeric oatmeal  is calculated without toppings added. 
Nutrition
Serving:
1
bowl golden turmeric oatmeal
Calories:
446
kcal
Carbohydrates:
73
g
Protein:
23
g
Fat:
8
g
Saturated Fat:
0.5
g
Potassium:
1055
mg
Fiber:
6
g
Vitamin C:
98.25
mg
Calcium:
750
mg
Iron:
13.43
mg