Welcome to a delightful recipe that not only tantalizes your taste buds but also nourishes your body from within. This invigorating strawberry banana smoothie is packed with ingredients carefully selected to promote both skin and gut health. Prepare to indulge in a delicious blend that will leave you feeling refreshed, rejuvenated, and glowing from the inside out.
Each sip of this easy strawberry banana smoothie delivers a powerful punch of antioxidants, vitamins, and fiber, all working in harmony to support your skin's radiance. The luscious strawberries, bursting with vitamin C, help promote collagen production, keeping your skin supple and vibrant. Meanwhile, the creamy bananas provide potassium, an essential mineral that aids in maintaining healthy hydration levels, resulting in a naturally glowing complexion.
But this recipe doesn't stop at just beautiful skin—it also nurtures your gut, the foundation of overall well-being. Enriched with fiber-rich ingredients, this smoothie promotes a healthy digestive system, supporting the growth of beneficial gut bacteria. By incorporating probiotic-rich yogurt or gut-friendly plant-based alternatives, you enhance the smoothie's gut-nurturing properties, fostering a balanced and resilient digestive environment.
Whether you're seeking a refreshing treat or aiming to nourish your skin and gut, this strawberry banana smoothie with yogurt is the perfect addition to your wellness routine. Get ready to sip your way to a healthier, more vibrant you. Cheers to a recipe that brings both pleasure and nourishment together in a single glass!
Want to learn how to make the best smoothies at home? Make sure to read my tutorial on how to make a smoothie at home!
HEALTHY STRAWBERRY BANANA SMOOTHIE INGREDIENTS
My simple vegan strawberry banana smoothie only takes 5 healthy ingredients! No yogurt needed!
Frozen strawberries
Frozen banana
Plant based milk of choice
Yogurt of choice
Hemp seeds
ARE STRAWBERRY BANANA SMOOTHIES GOOD FOR YOU?
Yes! My strawberry banana protein smoothie is loaded with healthy benefits. I'm highlighting the gut healthy and skin healthy benefits because I'm all about eating for glowing skin.
Strawberries: Excellent for skin health due to their high vitamin C content, promoting collagen production and reducing wrinkles. Incorporate strawberries into your smoothie for a radiant complexion and a boost of antioxidants.
Banana: Supports gut health with its prebiotic fiber, nourishing beneficial gut bacteria and aiding digestion. Add bananas to your smoothie for a happy and balanced gut.
Hemp Seeds: Rich in omega-3 and omega-6 fatty acids, hemp seeds moisturize the skin and reduce inflammation, promoting a healthy complexion. Boost your smoothie with hemp seeds for skin-nourishing benefits and an anti-inflammatory boost.
Dairy-Free Milk (e.g., almond milk, coconut milk): Fortified with skin-friendly vitamins A and E, dairy-free milk options hydrate the skin and protect against free radicals. Opt for dairy-free milk in your smoothie for a skin-loving and dairy-free alternative.
Yogurt (Dairy or Plant-Based): Packed with probiotics, yogurt helps balance the skin's microbiome, improving skin health and reducing the risk of skin issues. Enhance your smoothie with yogurt for a probiotic boost and healthier skin from within.
TIPS FOR MAKING THE BEST HEALTHY STRAWBERRY BANANA SMOOTHIE
USE FROZEN FRUIT. Frozen fruit will keep your smoothie nice and cold for a long time.
USE HEMP SEEDS. Flax and chia seeds tend to absorb a lot of water, so they can create a gummy texture instead of a smooth texture like hemp seeds.
USE YOUR FAVORITE YOGURT. Pick your favorite yogurt to make a delicious high protein strawberry banana smoothie without protein powder that will keep you full longer. I love using dairy free coconut yogurt for the most skin friendly yogurt option.
BLEND COMPLETELY. Depending on your blender, the time can vary but blend until there are no chunks of fruit left!
VEGAN STRAWBERRY BANANA SMOOTHIE INGREDIENTS
If you are trying to make a dairy free strawberry banana smoothie, or a vegan friendly version, here is what I use in my smoothie.
Frozen strawberries
Frozen banana
Dairy free milk (I use hemp seed milk or soy)
Dairy free yogurt (I use coconut milk yogurt)
Hemp seeds
If you want to make your strawberry banana smoothie without milk, you can substitute the milk for coconut water. I like to use full fat yogurt to help with nutrient absorption.
HOW TO MAKE MY HEALTHY BANANA STRAWBERRY SMOOTHIE
My healthy strawberry banana smoothie is so easy to make!
Just add all of your ingredients to a blender:
1 cup frozen strawberries
1 frozen banana
1 ½ cup milk of choice
1 tablespoon hemp seeds
½ cup yogurt of choice
Blend until smooth and creamy.
Pour into a tall glass and enjoy!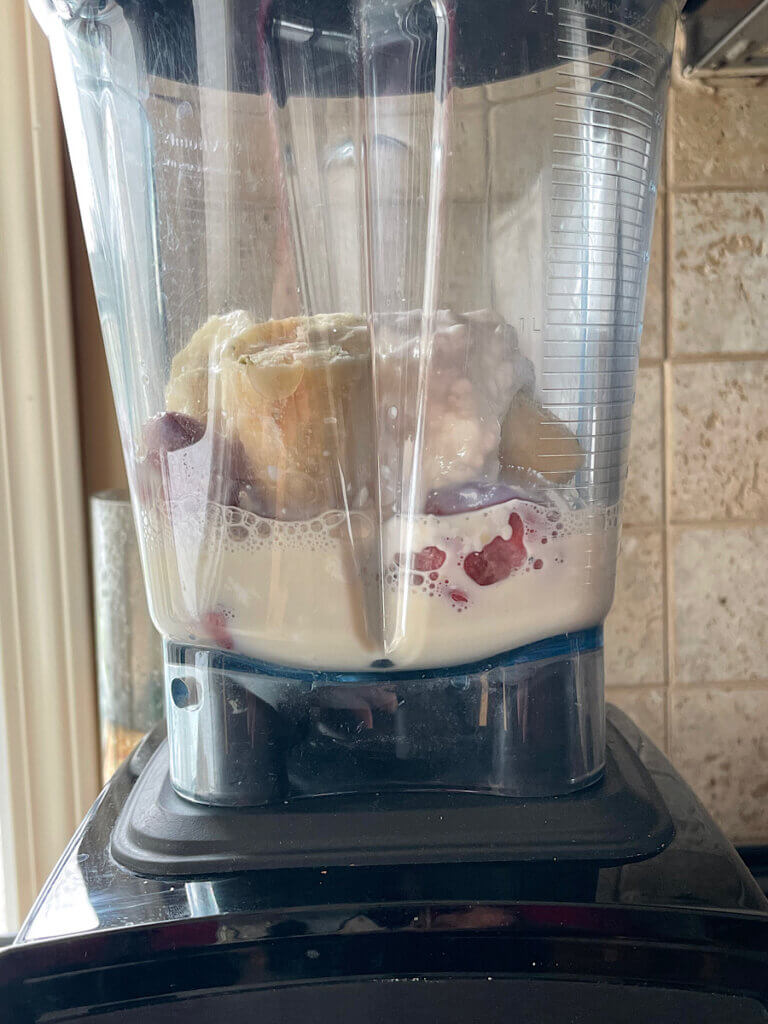 HEALTHY STRAWBERRY BANANA SMOOTHIE FOR WEIGHT LOSS TIPS
Strawberry banana smoothies are great for weight loss as they are high in nutrients needed for metabolism and high in fiber! But, a lot of people tell me that they get so hungry only an hour after drinking a smoothie. There are 2 main reasons you get hungry after drinking a smoothie.
The first reason is that in order to trigger your "fullness factor," you need to chew. Chewing signals your brain that you are eating.
The second reason you are probably getting hungry so quickly is because you need more fat or protein in your smoothie. Try adding full fat yogurt or eating something on the side with it.
If you are worried about staying full here are some things that help:
Eat a handful of nuts with your smoothie. When you actually CHEW your food, rather than just drinking it, your body recognizes this as eating something of sustenance. This is more likely to trigger the "fullness factor."
Make a slice of multigrain or whole wheat toast. This is the same idea as above. Plus, whole grains keep you full MUCH longer than processed grains because it takes your body longer to break down these hearty fibers.
Add old fashioned oats to your smoothie. Adding more fiber to your smoothie gives it more bulk. All of that fiber is going to make the smoothie stay in your system longer, which leads to feeling full for longer.
FAQ'S
Frequently asked questions about my healthy strawberry banana smoothie recipe.
CAN I LOSE WEIGHT JUST DRINKING SMOOTHIES?
Yes you can! But this is not sustainable and will get old fast! Stick to a smoothie a day and then make other nutrient dense meals and snacks the rest of the day.
WHAT'S HEALTHIER, BANANA OR STRAWBERRY?
Both have different health benefits! It is important to eat a variety of different fruits and vegetables during the week.
HOW DO I MAKE A STRAWBERRY BANANA YOGURT SMOOTHIE?
Add ½ cup of plain Greek yogurt to your blender. You can replace the collagen powder with yogurt, or add it in addition to the collagen to get a super creamy banana strawberry smoothie.
STRAWBERRY BANANA SMOOTHIE CALORIES?
My healthy strawberry banana smoothie has 395 calories.
HOW TO DECREASE CARBS IN SMOOTHIES?
If you are following a low carbohydrate diet, or have blood sugar imbalances (like in PCOS or diabetes), replace half of the fruit with frozen zucchini for a cold healthy low carbohydrate strawberry banana smoothie. And make sure to use FULL fat PLAIN Greek yogurt to slow the blood sugar spike.
Other easy healthy smoothie recipes:
If you try my Healthy Strawberry Banana Smoothie Recipe, please let me know your thoughts by leaving a rating and comment below! Ready for more? Subscribe to my newsletter or follow along on Pinterest, Instagram, and YouTube!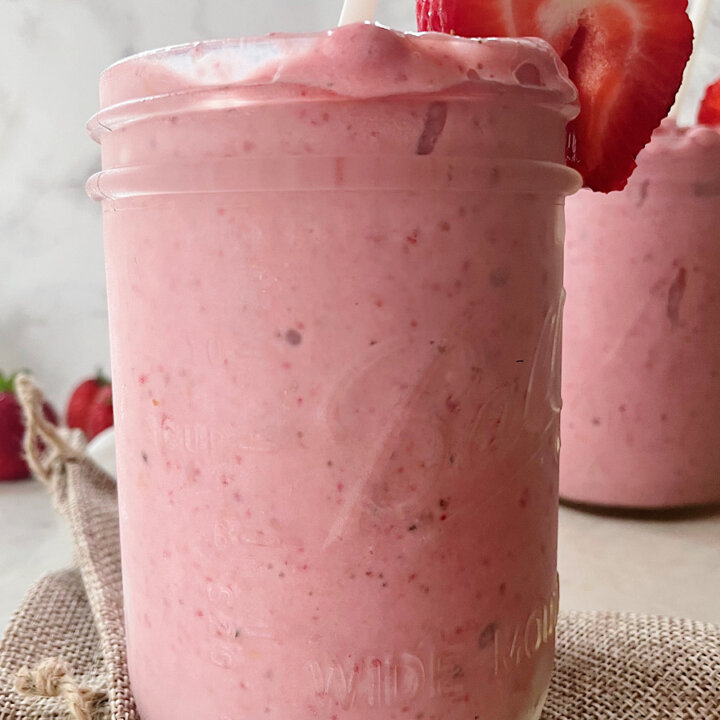 Easy Healthy Strawberry Banana Smoothie
This healthy strawberry banana smoothie is the perfect way to start the day! My easy strawberry banana smoothie is made with a base of frozen strawberries, and frozen bananas, it is also delicious and healthy for you!
Ingredients
1

cup

frozen strawberries

1

frozen banana

1

tablespoon

hemp seeds

1

cup

milk of choice

½

cup

yogurt of choice

use Greek yogurt for the most protein
Instructions
Add all ingredients to a blender.

1 cup frozen strawberries,

1 frozen banana,

1 cup milk of choice,

½ cup yogurt of choice,

1 tablespoon hemp seeds

Blend your strawberry banana smoothie until smooth.

Pour into a glass and enjoy!
Notes
Nutritional information is only an estimate. The accuracy of the nutritional information for any recipe on this site is not guaranteed.
Nutrition
Serving:
1
strawberry banana smoothie
Calories:
395
kcal
Carbohydrates:
50
g
Protein:
22
g
Fat:
13.8
g
Saturated Fat:
4.7
g
Polyunsaturated Fat:
4.8
g
Monounsaturated Fat:
2.8
g
Sodium:
105
mg
Potassium:
964
mg
Fiber:
6
g
Vitamin A:
200
IU
Vitamin C:
153.6
mg
Calcium:
382
mg
Iron:
2
mg