If you like strawberries and cream, then you're going to love my strawberries & cream smoothie bowl! Thick and creamy, this strawberry and cream smoothie bowl is made with just 3 ingredients. All you need is your blender and favorite toppings handy!
No matter what time of year it is, I love making smoothie bowls! Smoothie bowls are something I could literally eat every day. Sometimes for breakfast, sometimes for dessert. Right now it's snowing in New York and I'm dreaming up all the fruit smoothie bowls to make this week.
What's the difference between a smoothie and a smoothie bowl?
Smoothies are made thinner, with the purpose being a quick boost of nutrients. Smoothie bowls are a lot thicker, and meant to be eaten with a spoon. Many times, smoothie bowls have a lot more frozen fruits & vegetables in them so that you can get that thick texture. Both smoothies and smoothie bowls are a great way to pack in a lot of nutrition in one sitting.
How to make a healthy smoothie bowl
Are smoothie bowls healthy for you? Yes they can be! It really depends on what purpose you are making them for. If you want a high antioxidant breakfast that also has protein, make a fruit smoothie bowl and add a scoop of protein powder and top it with nut butter. If you are looking for a healthy alternative to ice cream or sorbet, blend up frozen fruit!
How to make a healthy smoothie bowl you can eat as a meal replacement: okay so eating just fruit in your smoothie bowl for one of your meals is not balanced. A snack or a dessert, yes. But a meal, no. If you want to make your smoothie bowl a full meal make sure you have these ingredients: a mix of fruit AND vegetables + protein powder in the base, then top with some nuts, seeds, or nut butters. Then you will have a serving of fruit, vegetable, protein, and good fats all in one!
Strawberries & Cream Smoothie Bowl Ingredients
Milk of choice. I use whatever milk I have on hand!
Frozen banana. Frozen bananas make the best smoothie bowl base because they can blend into a super creamy texture easily.
Strawberries. What would a strawberries and cream smoothie bowl be without strawberries?! I used frozen strawberries so I could get a nice thick smoothie bowl texture.
Vanilla protein powder. Right now I have a vanilla protein powder that is made with some extra super food goodies like chaga mushroom powder! Use whatever vanilla protein powder you like!
Fresh strawberries. The fresh strawberries on top gave my smoothie bowl so much extra flavor and kept the strawberries and cream theme going!
Toppings: You can top yours with whatever you want! I topped mine with some vanilla Greek yogurt & flax seeds along with the fresh strawberries.
How to make a Strawberries and Cream Smoothie Bowl
In your blender add: 2 cups frozen bananas, 2 cups frozen strawberries, 1 scoop vanilla protein powder, and a splash of milk. Blend your smoothie until it is thick and creamy and there are no chunks of frozen fruit left.
For a less sweet/ less fruity alternative: use 1 cup frozen cauliflower in place of the bananas!
Scoop your creamy smoothie into a bowl and top with fresh strawberries, flax seeds, greek yogurt, and any other toppings you like!
Strawberries and Cream Smoothie Bowl Topping Ideas
Greek yogurt or any other kind of yogurt. I like using full fat greek yogurt because it is super creamy, adds a lot of good fats, and is high in protein.
Nuts & seeds. Sometimes I love adding hemp seeds, other times other kinds of seeds like pecans, flax seeds, and chopped almonds!
Nut butters. Nut butters are another great way to add good fats and some extra protein to your smoothie bowl and make it a little more of meal.
More fruit! I love the combination of fresh fruit on top of a creamy bed of frozen fruit.
How to make a thick smoothie bowl
Read this full post about How to Make my Thick Smoothie Bowls!
Use frozen fruit. Frozen fruits are 100% necessary for any thick smoothie bowl. You can also use frozen vegetables. Some of the ones I've used are frozen avocado, frozen zucchini, frozen cauliflower, and even frozen spinach.
Use minimal (if any) liquid. I start my smoothie bowls with just a tiny splash of milk at the bottom to help get the blender going. Sometimes 1 piece of fresh fruit can be used in place of the liquid. But, I like to use liquid so I can control how thick the bowl is. If your blender is having a lot of trouble, first stir the smoothie bowl down and blend again. If it is still not blending, either wait for the fruit to soften & thaw a little bit, or add another splash of milk. Coconut water works great too!
Invest in a good blender! A good blender is totally necessary! If you have a cheap blender, chances are the motor will not be strong enough to power through hard frozen fruits. Two that I use are my ninja and vitamix (yes I keep both on the counter at all times LOL!).
Use your tamper or turn off your blender to stir the smoothie down. I love both of my blenders for different reasons, 1 has a built in tamper and the other one you can use a tamper to push the ingredients down from the top. I love these because you can keep pushing the hard ingredients towards the blades while the blender is going. In the past, I had a blender without a tamper and I have had to turn my blender off multiple times to stir the smoothie bowl mixture down. It works, but it can take longer with no tamper!
---
Don't forget to follow me on Facebook, Instagram, Pinterest, and Youtube!
---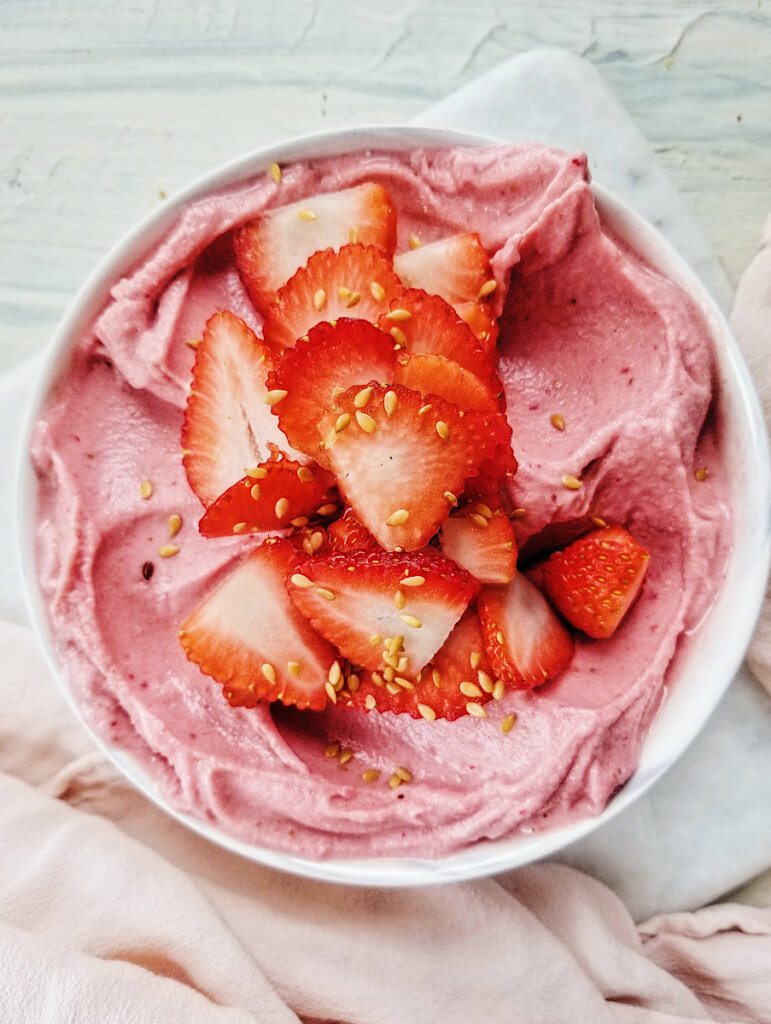 If you make this recipe, please be sure to tag your photo #thehintofrosemary on Instagram and leave me a rating in the recipe card!
Strawberries & Cream Smoothie Bowl (Thick & Creamy)
My strawberries and cream smoothie bowl is super creamy, sweet, and flavorful. All you need for this strawberries & cream smoothie is banana, strawberries, and vanilla protein powder. This smoothie bowl is also gluten free, dairy free, and vegan optional for those with food intolerances.
Ingredients
Strawberries and Cream Smoothie Bowl:
splash milk of choice

2

cups

frozen banana chunks

2

cups

frozen strawberries

1

scoop

vanilla protein powder
Toppings:
Fresh sliced strawberries

vanilla yogurt
Instructions
In your blender add: splash of milk, 2 cups frozen strawberries, 2 cups frozen bananas, and 1 scoop vanilla protein powder.

Turn on your blender and blend until your smoothie is totally thick and creamy.

Spoon your smoothie into a bowl and add any toppings that you like!
Notes
Nutritional information is only an estimate. The accuracy of the nutritional information for any recipe on this site is not guaranteed.
Nutrition info calculated using 1 scoop four sigmatic sweet vanilla protein powder with superfoods 
Nutrition
Serving:
1
bowl
Calories:
494
kcal
Carbohydrates:
65
g
Protein:
20
g
Fat:
9.8
g
Saturated Fat:
7.2
g
Polyunsaturated Fat:
0.2
g
Potassium:
1080
mg
Fiber:
7
g
Vitamin C:
42
mg
Calcium:
90
mg
Iron:
2
mg