Blue Smoothie Bowl. The most aesthetic and beautiful blue smoothie bowl ever. My banana pineapple smoothie bowl just got even better with beautiful blue and highly nutritious blue spirulina!
I love making healthy blue smoothie bowls! They are a delicious and easy way to get in more fruits! This smoothie bowl is excellent for your gut, liver, and skin health!
Smoothie bowls are a great healthy breakfast or dessert idea. The thick and creamy texture is just like ice cream! You can get your sweet craving with a healthy and delicious smoothie bowl.
HEALTHY BLUE SMOOTHIE BOWL RECIPE INGREDIENTS
You just need 4 healthy ingredients to make this delicious and gorgeous smoothie bowl recipe.
1 cup frozen pineapple
2 frozen bananas
¼ cup milk of choice
¼ tsp blue spirulina powder
ARE BLUE SMOOTHIE BOWLS HEALTHY?
Yes they are! Smoothie bowls are an excellent option to get more fruit into your diet. Especially great for picky kids!
Health benefits of the ingredients:
Pineapples are another fruit high in antioxidants and anti-inflammatory properties. Bromelain is what the powerful antioxidant in pineapples is called.
Bananas are rich in potassium, fiber, vitamin C, vitamin B6, and magnesium. Fiber helps feed your good gut bugs!
Collagen powder is great for your gut health!
Just 1 kiwi has more than 100% of your daily need for vitamin C! Vitamin C is needed to help properly transport iron around the body, and it's also needed for collagen production.
Coconut chips are a good source of fats, fiber, and manganese!
SKIN HEALTHY BENEFITS OF MY BLUE SPIRULINA BOWL RECIPE
Want to get glowing skin from within? You have to start by healing your gut health and liver health. This smoothie bowl packs ingredients that are excellent for both!
Pineapple: Rich in vitamin C and bromelain, pineapple promotes collagen production and helps maintain skin elasticity.
Banana: Packed with vitamins A, B6, and C, as well as antioxidants, bananas support skin hydration and minimize the appearance of fine lines.
Milk: A source of protein and vitamin D, milk contributes to skin repair and regeneration, keeping it supple and youthful.
Blue Spirulina: A powerful antioxidant, blue spirulina combats free radicals and inflammation, promoting a clearer and more radiant complexion.
HOW TO MAKE A BLUE SMOOTHIE BOWL WITHOUT SPIRULINA?
Is it possible? No!! I've seen many posts across the web say that you can make a blue smoothie bowl without blue spirulina. Some say blueberries, blackberries, and even butterfly pea powder. All of these result in a purple smoothie bowl not blue!!
One blogger wrote extensively on how butterfly pea powder will turn your smoothie blue but this is not true. Butterfly pea powder turns purple in the presence of acid, which all fruits contain.
The only way to get a truly blue smoothie bowl is to use blue spirulina powder, or if you are fine with a less natural bowl, then blue food dye. You can find some natural liquid blue food dyes that are made with blue spirulina.
TIPS ON MAKING THE BEST BLUE SMOOTHIE BOWL RECIPE EVER
Use frozen fruit. Frozen fruit will give you that ice cream like texture. Depending on how strong your blender is, you might have to turn it off a few times and stir smoothie down.
Freeze bananas when they are very ripe. I like to buy fresh bananas and let them get almost black. Then, I peel and freeze them for when I want to make a smoothie bowl! The darker the banana skin, the sweeter the flavor you will get.
Add liquid as needed. I usually add no liquid in my smoothie bowls. But, if your blender is having trouble, add a splash of milk as you need it to get a nice creamy texture.
Chill your bowl. Before you make your smoothie bowl, put the bowl in the freezer to make it cold so that your smoothie stays cold longer! This works especially well in the summer time when smoothies tend to melt really fast.
Add your favorite protein powder if you want more protein! This smoothie bowl doesn't have a lot of protein (other than the collagen powder), so if you want to add more add protein powder, nuts, seeds, or nut butter.
MAKE MY BLUE SPIRULINA SMOOTHIE BOWL RECIPE
HOW TO MAKE IT:
In your blender, add:
1 cup of frozen pineapple
2 frozen bananas
¼ teaspoon of blue spirulina
Collagen or protein powder if using
¼ cup milk of choice
Blend until the smoothie is thick and creamy.
Depending on how strong your blender is, you may have to turn your blender off and scrape down the blender. My old blender took awhile to puree everything but it still worked!
FOR A DARK BLUE SMOOTHIE
Want a dark blue smoothie instead of light blue? Simply add more blue spirulina powder to get to the color you like.
Scoop into your favorite serving bowl. Add your toppings and enjoy! I used chopped kiwi, banana, and coconut chips.
HEALTHY BLUE SMOOTHIE BOWL TOPPING IDEAS
Add different toppings to your blue banana pineapple smoothie bowl to get more sweets, more crunch, or whatever you like!
Fresh fruit. Add any of your favorite fresh fruit! The fresh fruit is an amazing balance to the cool creamy texture of the smoothie bowl.
Nut & seeds add a great amount of fiber, healthy fats, and protein! I love adding extra nuts and seeds where ever I can.
Nut butters are another way to get some more fat and protein in your smoothie bowl! I love to use mild cashew butter on some of my smoothie bowls, and more hearty almond butter to others!
Granola is for those of you who want a bit more crunch in your smoothie bowl! Make sure you check the ingredient label for a low sugar natural granola. A lot of granola's are loaded with added sugars.
FAQ's
Frequently asked questions about my blue smoothie bowl recipe.
Can I make a green spirulina smoothie bowl instead of a blue spirulina smoothie bowl?
Yes! Simply replace the blue spirulina powder with green. Just keep in mind that green spirulina has a much stronger flavor that is similar to fish or seaweed.
What is blue spirulina?
Blue spirulina is a blue green algae that grows in ponds, lakes, and other alkaline waterways. The dark blue color comes from phycocyanin. Phycocyanin has impressive antioxidant and anti-inflammatory effects which help fight disease in the body. Blue spirulina has a wide range of micro-nutrients like B-vitamins, iron, and chlorophyll!
Blue spirulina also has the ability to bind toxins and help to pull them from the body, this is called a chelating ability.
Where to buy blue spirulina powder?
I've looked at many health food stores near me, but I do live in a pretty small city, so you might have better luck at the stores near you. If you can't find it at the health food store, you can get it on line!
What does blue spirulina taste like?
Unlike green spirulina, blue spirulina does not have the fishy flavor. In fact, its flavor is slightly sweet and earthy.
Other BLUE foods you might like:
If you try this Blue Smoothie Bowl Recipe, please let me know your thoughts by leaving a rating and comment below! Ready for more? Subscribe to my newsletter or follow along on Pinterest, Instagram, Facebook, and Youtube!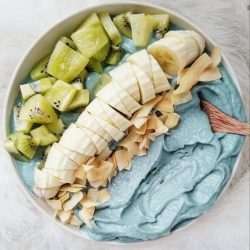 Ultra Thick Blue Smoothie Bowl
My Thick Blue Smoothie bowl is one of the most popular smoothie bowls ever. My beautiful blue smoothie bowl recipe is made with blue spirulina, frozen bananas, and frozen pineapple.
Ingredients
For the blue smoothie bowl:
1

cup

frozen pineapple

2

frozen bananas

¼

cup

milk of choice

use only if needed!

¼

teaspoon

blue spirulina powder
Instructions
In a blender, combine the frozen pineapple, bananas, collagen (optional), and blue spirulina. Add flax milk as needed.

Keep pushing frozen fruit down towards the blades until smooth and creamy.

Scoop your blue smoothie into a bowl or divide into two bowls and top with kiwi, bananas, & coconut chips.
Notes
NOTE: I start all my smoothie bowls and smoothie jars without any milk at all. I only add a splash as needed to help the blender along. The thickest and creamiest texture is made with no milk! Also, the video is made with a coconut bowl, and the pictures are taken in a white bowl so the blue color shows up better!
How to make a blue smoothie bowl without banana: substitute the banana for frozen pineapple or mango!
Nutrition facts for any recipe on thehintofrosemary is only an estimate and never guaranteed.
Nutrition
Serving:
1
blue smoothie bowl
Calories:
463
kcal
Carbohydrates:
111
g
Protein:
13.7
g
Potassium:
1546
mg
Fiber:
13.2
g
Vitamin A:
245
IU
Vitamin C:
161
mg
Calcium:
40
mg
Iron:
1.11
mg