Strawberry kiwi smoothie bowl! A delicious kiwi smoothie bowl without banana. All you need to make this delightful treat is frozen kiwi, frozen strawberries and your milk of choice!
There is nothing I love than smoothie bowls. I'd say I make them more in the summer time but if I'm being honest, I make them year round! I've got this new strawberry kiwi smoothie bowl for you in honor of strawberry season here in new york!
I was super surprised that my kiwi smoothie bowl was not even faintly green. The only way you can tell that there are kiwi in there is if you look really closely at the picture you can see kiwi seeds which did not blend up. But, more healthy fiber. 🙂 Hope you enjoy!
HOW DO YOU MAKE A STRAWBERRY KIWI SMOOTHIE BOWL?
This smoothie bowl is so easy to make! I started by peeling my ripe kiwi. Then I placed them in a bag to freeze overnight.
The next day, I blended frozen strawberries, frozen kiwi and some milk. I scooped it into a bowl and added fresh strawberries, fresh kiwi, hemp seeds, and coconut flakes! It was so delicious and easy I just had to share the recipe with you.
ASK THE DIETITIAN,
ARE SMOOTHIE BOWLS ACTUALLY HEALTHY?
Yes absolutely! Smoothie bowls are an excellent way to get in high antioxidant and fiber filled fruits. They make a great breakfast, snack, and a perfect healthy treat that is as thick as sorbet without all the sugar!
Health benefits of the ingredients
Strawberries are high in a powerful antioxidant as well as fiber and vitamin C!
Kiwi are also high in antioxidants, vitamin C, and a great high fiber fruit for that gut health.
Milk, depending on what kind you use can be an excellent source of protein, vitamin D, calcium, and healthy fats.
WATCH HOW I MADE MY THICK STRAWBERRY KIWI SMOOTHIE BOWL WITH NO BANANA
TIPS TO MAKE A STRAWBERRY KIWI SMOOTHIE BOWL SUPER THICK WITHOUT BANANA
Use only frozen fruit! The secret to my perfectly thick smoothie bowls with that sorbet like texture is in using only frozen fruit. I never use fresh fruit in the base of my smoothie bowls and save those for a delicious smoothie bowl topping instead.
Use just a little milk! I use enough milk to not burn my blender engine out, but not enough that it will get watery. Most of the time I use coconut or soy milk. You can use any kind of milk that you like.
Eat immediately! Smoothie bowls do not store well so make it and then enjoy it! 🙂
For full tips on how to make the best thick smoothie bowl read this post here!
LET'S MAKE IT!
Strawberry kiwi smoothie bowl ingredients list:
2 cups frozen kiwi, peeled
2 cups frozen strawberries
¾ cup milk of choice
STEP 1- ADD INGREDIENTS TO BLENDER
First, add the frozen kiwi, frozen strawberries, and milk of choice to your blender. You can also use protein powder now if you are using it.
STEP 2- BLEND TILL SMOOTH
Turn your blender on low and start pushing frozen fruit down towards the blender blades with your tamper. Turn up the speed and keep blending until there are no chunks of frozen fruit left.
If you do not have a blender tamper, simply turn off your blender a couple of times and make sure to scrape frozen fruit down towards the blades.
STEP 3- SCOOP AND TOP!
Scoop into a bowl, add all your favorite toppings and enjoy! I love smoothie bowls because they are just so easy to make!
STRAWBERRY KIWI SMOOTHIE BOWL TOPPINGS I USED
sliced fresh strawberries
kiwi balls
hemp seeds
coconut flakes
FAQ's
Does strawberry and kiwi taste good together?
Yes! These two sweet fruits taste super delicious and refreshing together.
What's the difference between a smoothie bowl and a smoothie?
A smoothie bowl is made with much less milk and has a very thick texture, which you will eat out of a bowl with a spoon. A smoothie is made with more liquid and is drank from a glass with a straw.
How do I make a strawberry kiwi smoothie no banana?
Make it by simply following the steps above! And if you do love banana, which I do too, you can add one into your smoothie bowl base or toppings if you like!
How do I make a mango kiwi smoothie bowl?
If you love mangoes, replace the strawberries with frozen mango instead. This makes a delicious sweet and very tropical flavor!
More smoothie bowl recipes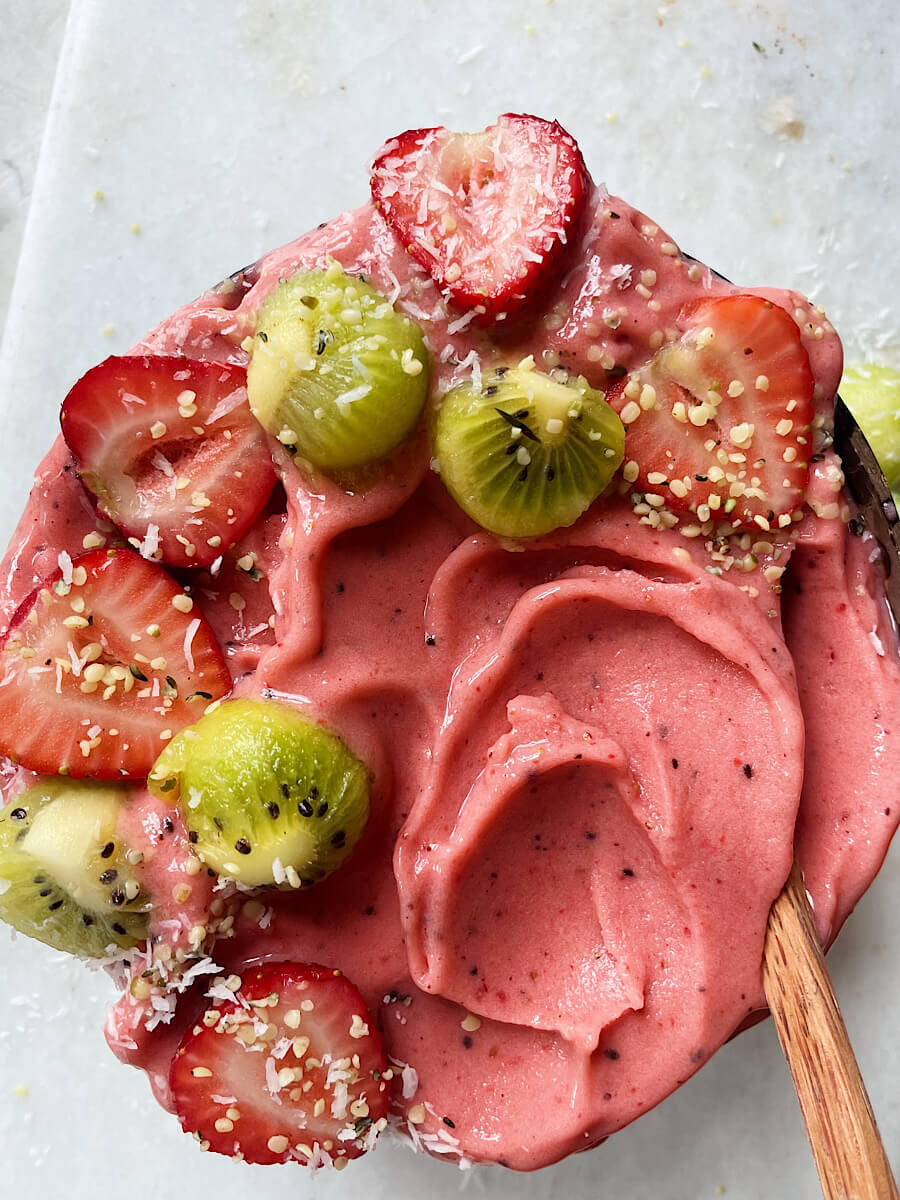 If you try my Strawberry Kiwi Smoothie Bowl Recipe, please let me know your thoughts by leaving a rating and comment below! Ready for more? Subscribe to my newsletter or follow along on Pinterest, Instagram, Facebook, and Youtube!
Strawberry Kiwi Smoothie Bowl!
My delicious strawberry kiwi smoothie bowl is so easy to make and is a perfect treat! I made my strawberry kiwi smoothie bowl without banana, and with only strawberries, kiwi, and milk.
Ingredients
2

cups

frozen strawberries

2

cups

frozen kiwi

¼-3/4

cup

coconut milk

or milk of choice
Instructions
Add strawberries, kiwi, and milk to your blender.

Turn blender on and keep blending until there is no frozen fruit left.

Scoop into a bowl, add fresh sliced strawberries, kiwi balls, hemp seeds, coconut flakes or any toppings that you like. Enjoy!
Notes
Nutrition facts for any recipe on thehintofrosemary are only an estimate and not guaranteed. 
Nutrition
Serving:
1
strawberry kiwi smoothie bowl
Calories:
418
kcal
Carbohydrates:
104
g
Protein:
10
g
Fat:
4.2
g
Potassium:
2052
mg
Fiber:
24
g
Vitamin C:
631.5
mg
Calcium:
310
mg
Iron:
3.56
mg