Strawberry Mango Smoothie Bowl! A thick and refreshing smoothie bowl without banana for two made with just 3 ingredients. Grab your blender, frozen strawberry, mango, and milk of choice!
I'm so excited it is almost spring and you know that means smoothie bowl season! But who am I kidding, I make smoothie bowls all year long. 🙂
I was updating some old smoothie bowl recipes with video content and happened to throw this strawberry mango smoothie bowl together. I totally forgot the pineapple in the old recipe, so I though I'd share this new and delicious smoothie bowl recipe !
WHAT IS A STRAWBERRY MANGO SMOOTHIE BOWL MADE OF?
Just 3 simple ingredients! All you need for my thick strawberry mango smoothie bowl is:
Frozen strawberries
Frozen mango chunks
Milk of choice
ARE SMOOTHIE BOWLS GOOD FOR HEALTH?
Answered by a registered dietitian:
"Yes! Smoothie bowls are an excellent way to pack in nutrient dense fruits and even vegetables! Stay away from sweetened milks, yogurts, protein powders, and granola to keep your smoothie bowl as healthy as possible."
HOW DO YOU THICKEN A SMOOTHIE BOWL?
Ultra thick smoothie bowls are really simple to achieve! It's all about frozen fruit and minimal liquid.
TIPS TO MAKE A THICK STRAWBERRY MANGO SMOOTHIE BOWL WITHOUT BANANA
Use only frozen fruit. Don't use fresh fruit or your smoothie bowl will come out soupy!
Use only a little bit of milk. I use about ⅛ cup of milk per 1 cup of frozen fruit.
Keep blending till there is no frozen chunks left! The time will depend on how strong your blender is, but just keep pushing frozen fruit down till you have a creamy smoothie in your blender.
Don't add extra liquid! As tempting as it may be to have your mango strawberry smoothie bowl done quickly and eat it, adding more liquid will water down your bowl!
WATCH HOW I MADE MY THICK SMOOTHIE BOWL
HOW TO MAKE A STRAWBERRY MANGO SMOOTHIE BOWL WITH NO BANANA
My thick smoothie is so easy to make and a super healthy treat to enjoy any time of the year! Mom friendly, kid friendly and even teething baby friendly! All it has is frozen fruit and milk!
Mango Strawberry smoothie bowl recipe:
2 cups frozen strawberries (use 1 cup for a single serving)
2 cups frozen mango (use 1 cup for a single serving)
½ cup milk of choice (use ¼ cup for a single serving)
Mango strawberry smoothie bowl directions:
Step 1-
Add all ingredients to your blender.
Step 2-
Blend.
Step 3-
Keep blending until smooth.
Step 4-
Scoop into bowls and top.
For a full list of directions with pictures see my recipe card below!
MANGO STRAWBERRY SMOOTHIE BOWL TOPPINGS
Here's a list of toppings I used on my smoothie bowl for some ideas:
Mango chunks
Fresh sliced kiwi
Unsweetened granola
Hemp seeds
FAQ's
How can I make a mango strawberry smoothie bowl as a healthy breakfast?
So you want to make a smoothie bowl as a healthy breakfast? My smoothie bowls are low in protein because they only contain fruit really.. which makes a great healthy snack or dessert. But, you need a bit more for a well rounded breakfast:
Protein source

: Greek yogurt, nut butters, nuts, seeds, collagen powder, protein powder.

Fat source

: full fat Greek yogurt, nut/seed butters, whole nuts, whole seeds.
You can blend your proteins into the smoothie bowl, or add them as toppings, it's totally up to your preference!
How do I store my smoothie bowl?
Smoothie bowls are best eaten immediately to preserve the thickness, but you can store it in the fridge for a couple of hours covered.
Can I make a mango strawberry smoothie bowl with yogurt?
Yes! Replace some or all of the milk with yogurt.
More thick smoothie bowl recipes without banana:
If you try this Strawberry Mango Smoothie Bowl Recipe, please let me know your thoughts by leaving a rating and comment below! Ready for more? Subscribe to my newsletter or follow along on Pinterest, Instagram, Facebook, and Youtube!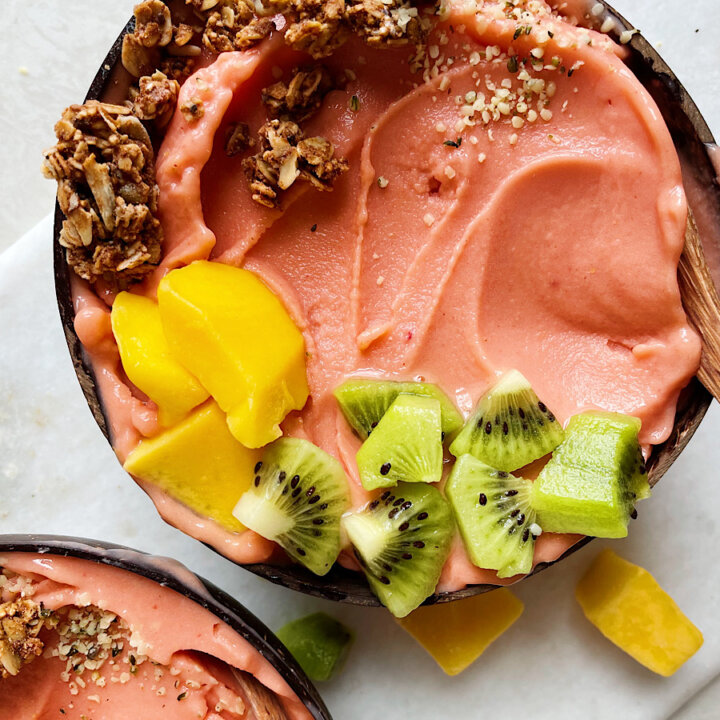 Strawberry Mango Smoothie Bowl No Banana
A super delicious strawberry mango smoothie bowl without banana! All you need to make my thick strawberry mango smoothie bowl is just frozen strawberries, frozen mango, and milk of choice! This is a smoothie bowl recipe for two, so cut in half if you are making it for just yourself.
Ingredients
For the strawberry mango smoothie bowl
2

cups

frozen strawberries

2

cups

frozen mango chunks

½

cup

milk of choice
Smoothie bowl topping ideas:
fresh mango chunks

granola

kiwi
Instructions
Add frozen strawberries, frozen mangoes, and milk to your blender.

Start blender on low, push frozen fruit down towards the blades with your blender tamper.

(if you don't have a tamper, periodically turn off the blender and scrape frozen fruit down to the blades)

Keep blending and pushing frozen fruit down, turn up the speed as the smoothie becomes more creamy.

Once there is no frozen fruit chunks left, divide smoothie bowl between two bowls.

Add your favorite smoothie bowl toppings and enjoy!
Notes
Nutrition facts for any recipe on thehintofrosemary are only an estimate and not guaranteed. Nutrition and calories for my mango strawberry smoothie bowl are calculated using unsweetened vanilla soy milk. 
Nutrition
Serving:
1
strawberry mango smoothie bowl
Calories:
166
kcal
Carbohydrates:
37
g
Protein:
4
g
Fat:
1.6
g
Saturated Fat:
0.3
g
Polyunsaturated Fat:
0.6
g
Monounsaturated Fat:
0.25
g
Sodium:
18
mg
Potassium:
585
mg
Fiber:
7
g
Vitamin A:
94
IU
Vitamin C:
180.75
mg
Calcium:
98
mg
Iron:
0.93
mg