Healthy Rainbow Fruit Popsicles. Gorgeous and healthy 6 layer rainbow fruit popsicles! Learn how to make them right at home and impress everyone!
What I love most about these rainbow fruit popsicles is that they are made with ALL healthy ingredients and no added sugar. So they make a perfect refreshing snack for a hot summer day.
My easy rainbow popsicles recipe is:
Healthy
Delicious
Easy to make
Fun for kids!
Toddler and baby safe
Naturally colored
HEALTHY RAINBOW POPSICLES ARE FUN FOR THE WHOLE FAMILY!
This multicolored popsicle is a great popsicle recipe for kids! All natural colors and ingredients so they are not eating too much sugar or artificial additives! Plus, its a really easy popsicle recipe so you can have some help making these! 🙂
ARE FRUIT POPSICLES HEALTHY?
Store bought fruit popsicles are not usually healthy because they are loaded with added sugars. Keep in mind we should only eat about 25 grams of added sugars per day.
My rainbow popsicles are real fruit popsicles made with just fruit, yogurt, and super food powders!
WHICH POPSICLES ARE HEALTHIEST?
The healthiest popsicles are those made without added sugar. My rainbow popsicles are all made the no sugar and naturally sweetened with banana and other ripe fruits.
HOW DO YOU MAKE COLORFUL POPSICLES WITHOUT FOOD DYE?
To make colorful popsicles, use fresh ripe fruit mixed with super food powders! Super food powders will give you natural vibrant colored popsicles.
Red = strawberries
Orange = mango
Yellow = pineapple + passion fruit flakes
Green = honeydew melon + moringa powder
Blue = blue spirulina
Purple = blueberries + blackberries
TIPS FOR MAKING THE BEST RAINBOW POPSICLES WITH FRUIT
Spoon the mixture in rather than pour. If you pour each layer in quickly, the colors will mix together. If you want more distinct layers (but still with a little swirl because that happens naturally), spoon the mixture in!
Freeze after each layer if you want solid lines. Now, if you want to have solid layers, you will have to freeze your popsicles after each addition. I would probably freeze them for at least 45 minutes to an hour to make sure each layer is set enough so that then next layer doesn't blend into it.
Rinse your blender. This one seems like a no-brainer, but sometimes in the haste of cooking we forget these little things. Make sure you rinse it so you don't end up with any funky colors.
Wipe the insides of the molds. This is another way to make sure your popsicles look really pretty. You will notice some of the fruit puree gets on the sides of the molds after you pour it in. To make sure the colors really pop, use a paper towel to wipe off the insides of the molds after each color addition.
FAQ's
Frequently asked questions about my rainbow popsicles.
Are rainbow popsicles vegan?
No these are not vegan because of the greek yogurt. However, you can easily make them vegan by substituting any plant based yogurt in place of the vanilla greek yogurt.
How do I store rainbow popsicles?
I have individual popsicle wrappers (you can get them right on amazon). Or, you can line a container with parchment paper and place the popsicles in there!
How long do rainbow popsicles last?
It really depends on how fast you eat them! Rainbow popsicles store well in the freezer for up to a month. But any longer than that and you could end up with freezer burned popsicles, especially if they're not stored in an airtight package or container.
How do I pick the best banana for no sugar rainbow popsicles?
Remember that the riper the banana is, the sweeter it will be. I always use EXTRA ripe bananas when I am making a dessert so that it is really sweet. You can tell it is ripe when the banana has a lot of brown spots.
INGREDIENTS FOR RAINBOW POPSICLES & THEIR HEALTHY BENEFITS
Bananas: a great source of potassium vitamin B6, vitamin C, magnesium, copper and manganese.
Greek yogurt: protein, vitamin D, and calcium. They also contain healthy bacteria for your gut! Good gut health= good mood.
Pineapple: super high in vitamin C. Also contains a powerful enzyme called bromelain, which helps to reduce inflammation. Chronic anxiety & depression is linked to chronic inflammation.
Honeydew melon: another great source of vitamin C. Also has a lot of liquid in it so it is very hydrating.
Blueberries: known as a SUPER fruit. They contain many nutrients and have been shown to reduce risk of cancer.
Blackberries: packed with vitamin C. Thanks to the little seeds in them, they are also good sources of fiber!
And the super food powders, which are totally optional but I liked them to make the colors more vibrant. Plus, the super food powders make these popsicles even healthier!
HOW TO MAKE HEALTHY RAINBOW POPSICLES AT HOME
STEP 1: MAKE FRUIT PUREE
In a blender or food processor, puree each color layer.
If you like to have some fruit chunks in yours, just pulse the food processor until you get the texture that you like.
Red is: strawberries, yogurt, banana.
Orange is: mango nectar, yogurt, banana.
Yellow is: pineapple, passion fruit flakes, yogurt, banana.
Green is: honeydew melon, moringa powder, yogurt, banana.
Blue is: butterfly pea powder, yogurt, banana.
Purple is: blueberries, blackberries, yogurt, banana.
STEP 2: POUR INTO POPSICLE MOLDS
Carefully pour each layer into your popsicle mold, making sure to evenly divide the puree between the 10 molds.
STEP 3: COVER AND FREEZE
Add the popsicle sticks and make sure to leave enough room for a handle!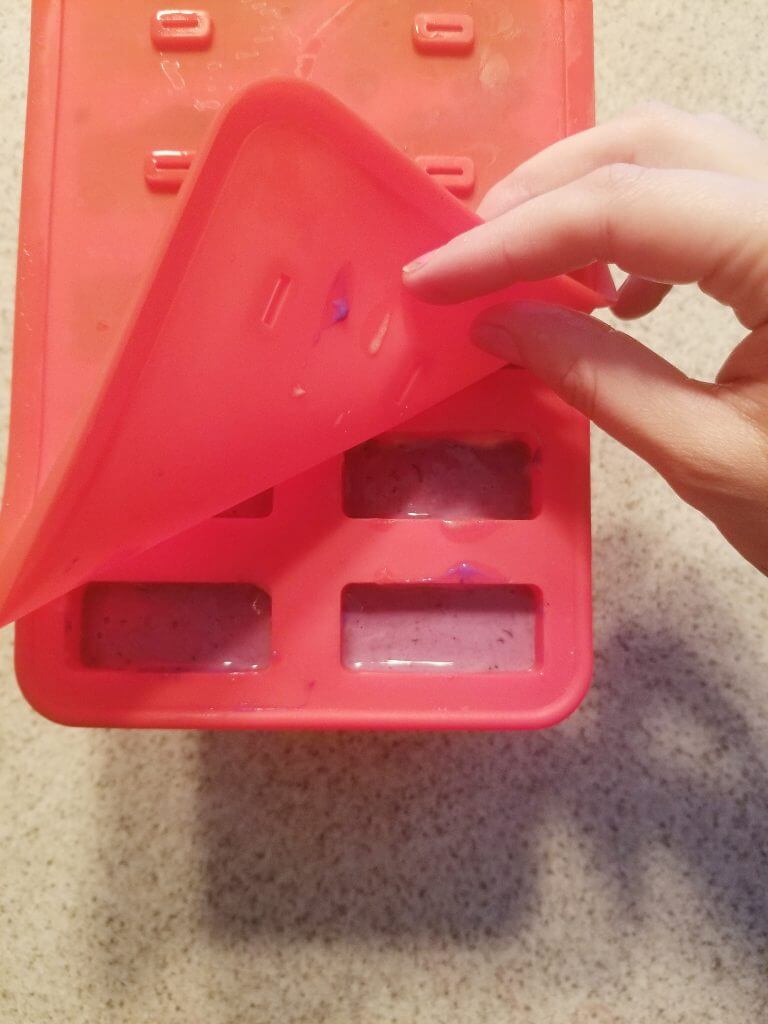 Freeze the popsicles for at least 6 hours or preferably overnight to harden completely.
Remove your popsicles from the molds and enjoy!
STORAGE
Store these rainbow popsicles either in individual bags, or you can line a long flat container with parchment paper and layer the popsicles on top of the paper to store.
Other healthy popsicle recipes you might like:
If you try my Healthy Rainbow Popsicle Recipe, please let me know your thoughts by leaving a rating and comment below! Ready for more? Subscribe to my newsletter or follow along on Pinterest, Instagram, Facebook, and Youtube!
~Rosemary
Healthy Rainbow Fruit Popsicles
My healthy rainbow fruit popsicles are THE perfect summer treat! Rainbow fruit popsicles are a great way to use up leftover fruits! I used banana, strawberries, mango, pineapple, honeydew melon, blueberries and yogurt in my all natural fruit popsicles. To make the colors more vibrant, I added some super food powders like blue spirulina and moringa for green.
Equipment
Food processor

10 popsicle sticks
Ingredients
Red:
½

banana

see notes

⅛

cup

vanilla greek yogurt

see notes

½

cup

strawberries
Orange:
½

banana

⅛

cup

vanilla greek yogurt

¼

cup

mango nectar

or mango chunks

¼

teaspoon

golden milk latte mix

optional for darker color
Yellow:
½

banana

⅛

cup

vanilla greek yogurt

½

cup

pineapple

2

teaspoon

passion fruit flakes

optional for more flavor
Green:
½

banana

⅛

cup

vanilla greek yogurt

½

cup

honeydew melon

½

teaspoon

moringa powder

optional for darker green color
Purple:
½

banana

⅛

cup

vanilla greek yogurt

½

cup

blueberries and/or blackberries
Instructions
In a food processor or blender, blend each of the layers separately, wiping food processor out after each color.

After blending each layer, carefully pour the pureed fruit mixture into a popsicle mold. Make sure to divide it evenly between each of the 10 molds.

NOTE: for more distinct layers, spoon each new layer on top of the last one. Pouring in quickly will make the colors mix together more.

Cover your popsicle molds and add a popsicle stick.

Freeze for at least 6 hours or over night to set. Enjoy!
Notes
*You can either use fresh or frozen bananas for this. Fresh ripe bananas will blend a lot faster, but take longer to freeze. Frozen bananas will take longer to blend, but freeze faster. The more ripe the banana (the more black spots), the sweeter your popsicles will be.
**If you are vegan, substitute coconut yogurt or another plant based yogurt.
***Make sure rinse the blender or food processor out after each layer.
Nutrition facts on this recipe are just an estimate and may vary based on the ingredients you choose.
Nutrition
Serving:
1
rainbow popsicle
Calories:
107
kcal
Carbohydrates:
23
g
Protein:
1
g
Potassium:
316
mg
Fiber:
2.5
g
Vitamin C:
87
mg
Calcium:
11
mg
PIN MY HEALTHY RAINBOW FRUIT POPSICLES