I don't know why I haven't been making homemade almond milk all along. It is soo easy to make and so much healthier than the store bought! And I want to say that it is cheaper, but I will have to do a little cost analysis and get back on that point. I've made this recipe a couple of times and sometimes I make it the classic way, getting 3 bottles of vanilla almond milk. Sometimes I make it so that I get 3 different flavors from 1 batch. If you want to learn how to make almond milk 3 ways from 1 batch, scroll down below in this post!
HOMEMADE ALMOND MILK INGREDIENTS
Almonds
Filtered water
Sea salt
Vanilla extract
Dates
WATCH HOW TO MAKE BLENDER ALMOND MILK 3 DIFFERENT WAYS!
HOW TO MAKE IT JUST THE WAY YOU LIKE IT
Some people like theirs thicker with a "creamy" texture, while others want it to be a bit one the watery side. Some people like to make it to be very sweet, while others don't want any hint of sweetness or flavoring at all.
Here are some adjustments you can try out to make it exactly how you want it:
NOTE: I would suggest going by my recipe first and then making adjustments, that way you can keep notes and have something to base your experiments off!
Amount of water. You will see in my recipe I have 5 cups of filtered water. The more water you add, the more you will thin it out. And the less water you add, the more of a creamy texture you will get. So you have an idea of the difference in water, I use 2 cups of water for my almond milk creamer.
Sweeteners. I like mine to have a little subtle sweetness. For my standard batch, I add about 4 dates. Some other sweetener options you can try are date syrup, raw cane sugar, coconut sugar, honey, or maple syrup. If you don't want it to be sweet at all, just leave these out.
Flavorings. I love to add some vanilla extract. You could also use a vanilla bean pod or some vanilla bean paste. Sea salt doesn't give it a "salty flavor," but rather, it enhances the flavor of everything you add. Some other great options for flavors are fresh berries and cacao powder for chocolate lovers.
FAQ's
Frequently asked questions about how to make almond milk.
Can you use roasted almonds for almond milk?
I use raw unroasted unsalted almonds. Roasted almonds are very dry and brittle, which will not give you creamy milk. If you use salted almonds, you will end up with really salty milk. yuck.
How many almonds does it take to make a gallon of almond milk?
It takes about 2 ¼ cups of almonds to make a gallon (16 cups) of almond milk.
Is almond milk healthier than regular milk?
It depends! If you have a food allergy to regular milk, almond milk is definitely a better option. However, if you are using milk as part of your daily protein needs, regular milk is the better option since almond milk has almost no protein.
How to make almond milk taste better?
Add a date, some vanilla extract, and a pinch of sea salt and boom! You will have a super creamy and rich tasting almond milk. Don't just blend almonds with water, this will not taste very flavorful!
How to make almond milk without a nut milk bag?
You can either use a fine mesh strainer, and pour the milk through into a bowl. Or, you can use a big sheet of cheesecloth and pour the milk through that.
Some people even use towels to strain almond milk! So if you don't have a nut milk bag, but have an old towel, you can place it into a big bowl, with the sides hanging off the edge of the bowl. Pour the milk through the towel. Gather the towel at the top, and squeeze all the milk out!
HOW TO MAKE CLASSIC ALMOND MILK
I always start by soaking my almonds overnight. I find that this helps to soften them a bit for when I blend them up.
The next day, add all the ingredients to your blender:
1 cup of soaked almonds
5 cups cool filtered water
Pinch sea salt
1 teaspoon vanilla extract
4 pitted dates
Turn your blender on and let it run for about 10 minutes. You will see it start to look very foamy and creamy!
Look at that foam on top!
HOW TO STRAIN ALMOND MILK
Get your nut milk bag ready by placing it in a large bowl. A big pitcher would work too if you're planning to store your milk in there and don't mind it getting splattered. But, I find its way easier to "milk" it into a bowl and then transfer it to where I am storing it!
I like to turn the top edge of mine over. I find that this helps it stay in place when I'm pouring my almond milk through it.
Pour your almond milk right into the center of your nut milk bag.
Next, gather the top of your bag together. Start to milk it! Or, if you don't know what I mean, keep squeezing it until there is no liquid left coming out!
You will end up with this glorious and creamy bowl of almond milk!
And a bag of fresh almond pulp! Don't throw this almond pulp away, you can make so many different treats with it! Store it in an airtight container in the fridge if you don't feel like using it that day.
But, don't let it sit for too long in the fridge because it will go bad if you don't use it sooner rather than later.
Now, get your jars ready with a funnel on top to transfer the milk into your jugs:
And wha-LA! Here you have some fresh, delicious, and creamy almond milk! Use these bad boys up within 5 days!
I feel like I could really live off the land .. maybe make everything from scratch on days I make my own milk. Hehe.
HOW TO MAKE ALMOND MILK 3 WAYS: CHOCOLATE, VANILLA, AND STRAWBERRY
Chocolate, vanilla, strawberry... Strawberry, vanilla, chocolate.. neapolitan?
So you want to have 1 chocolate, 1 strawberry, and 1 vanilla??
Start by making my classic batch like you read above. Pour ⅓ out into the nut milk bag for your classic jug. You can strain this and then rinse the nut milk bag out for the next flavor.
Pour another ⅓ out into a separate bowl. And leave ⅓ in the blender. Each will be ~2 cups of the mixture.
Add 1 cup of strawberries to the blender. I used a ratio of about 1 cup of strawberries to the 2 cups of mixture.
Blend it up and then pour it through the nut milk bag.
Milk the strawberry almond milk and you will get this frothy and delicious mixture.
By the way I have been obsessed with stirring this into my chia seed pudding!
Rinse your nut milk bag out again. Pour the bowl that has ⅓ of the mixture that hasn't been strained/milked yet back into the blender. Add 2 tablespoons of cacao powder. I did a ratio of about 1 tablespoon of cacao powder to 1 cup of the mixture.
Blend that up and pour it through your rinsed nut milk bag. If you don't mind a bit of strawberry flavor in your chocolate almond milk, don't worry about rinsing the bag.
And then you get creamy dreamy chocolate almond milk:
WHAT TO MAKE WITH LEFTOVER ALMOND PULP FROM ALMOND MILK
ALMOND MILK RECIPES FOR BREAKFAST
You can use almond milk in place of pretty much anything for breakfast: oats, smoothies, chia seed pudding, pancakes, and more!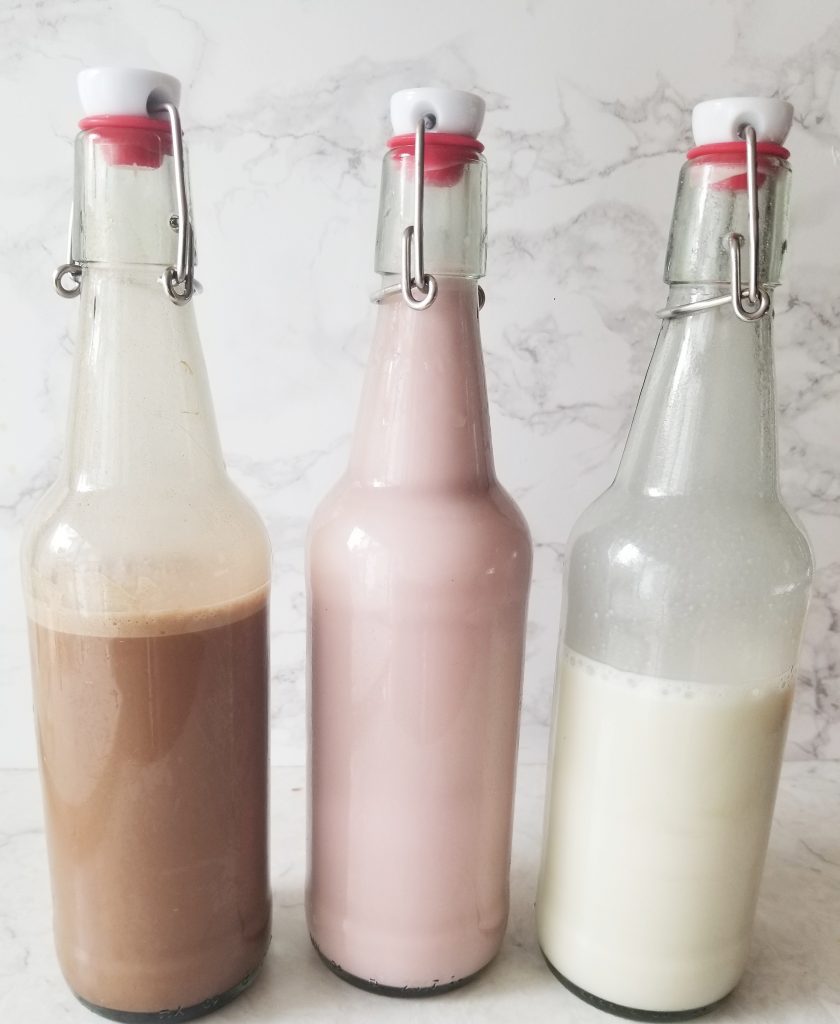 If you try my Almond Milk Recipe, please let me know your thoughts by leaving a rating and comment below! Ready for more? Subscribe to my newsletter or follow along on Pinterest, Instagram, and YouTube!
Homemade Almond Milk
Homemade almond milk is so delicious and really easy to make! You know exactly what is going into it and you can make adjustments just to your liking! I love making one batch and then straining it with different flavors. So I have 1 jug of vanilla, 1 jug of chocolate, and 1 jug of strawberry!
Equipment
milk jugs with sealing lids
Ingredients
Classic Vanilla Almond Milk
For Chocolate Almond Milk:
For Strawberry Almond Milk:
1-3

cups

strawberries

sub any other kind of berries that you like
Instructions
To get started, I always soak my almonds in the fridge overnight. This helps to soften them for blending.
For vanilla almond milk:
For classic vanilla almond milk, add the almonds, water, sea salt, vanilla extract, and dates (or other sweetener that you like) to a blender. Turn it on medium speed and let it run for ~10 minutes.

Prepare a bowl with your nut milk bag. Pour the mixture into the nut milk bag (be careful to not knock it over, you want to keep the mixture inside)

Squeeze all of the liquid out of your nut milk bag. You will be left over with about 1 cup of almond pulp. Store this pulp in an airtight container in the fridge to use later for a treat! (Try my almond pulp brownie bites they are DELICIOUS).

Use a funnel to transfer your almond milk into your bottles. I love to use glass bottles for my almond milks. You can store this in the fridge for ~5 days.
For other flavors of almond milk:
So basically, I use about 1 tablespoon of cacao powder per cup of the milk and ½ cup of berries per cup of the milk. You can experiment with these amounts to get the flavor you like.

If you want an entire batch of chocolate almond milk: add the cacao in along with everything else, and then strain it. The same goes with the berries. I find that fresh berries work the best.

If you want 1 bottle of each flavor: first, make the classic vanilla almond milk. Set three bowls out.

After blending it, pour ⅓ through your nut milk bag into the first bowl.

Pour another ⅓ into a separate bowl.

With the remaining ⅓ still in the blender, add the strawberries. Turn the blender back on for ~1 minute.

Empty the nut milk bag and rinse it out. Pour the strawberry milk through the nut milk bag into the third bowl and strain it.

Empty the nut milk bag and rinse it out again. Rinse the blender out (unless you don't mind a bit of strawberry in your chocolate milk).

Finally, pour the ⅓ of milk that hasn't been strained back into the blender along with the cacao powder. Blend it for ~1 minute. Pour this through the nut milk bag and strain it.

And there you have 3 different flavors!

Use a funnel to fill 3 separate bottles with the milks.

Store them in the fridge for up to 5 days.
Notes
You CAN use a food processor for this, you would just have to make a smaller batch!
If you don't like it to be sweet AT ALL, you can totally skip the dates. 
If you don't want ANY vanilla flavor, leave the vanilla extract out. 
**I am making a double batch in the recipe video 
Nutrition
Serving:
1
cup
Calories:
115
kcal
Carbohydrates:
4
g
Protein:
4
g
Fat:
9
g