Air Fryer Rainbow Potato Fries. Air fryer rainbow potato fries are a super fun rainbow potato recipe! We love making air fried rainbow potato fries with out big Sunday brunch. All you need are potatoes, avocado oil, garlic powder, onion powder, salt, and pepper!
My Air Fryer Rainbow Potato Fries Recipe is:
Easy to make
Healthy
Crispy
Perfect for breakfast brunch
Gluten Free
Dairy Free
Vegan
I got my air fryer almost a year ago and it took me awhile to warm up to it. I think I was kind of salty about having yet another appliance taking up cupboard space. LOL. But, one morning I wanted to make some breakfast fries with brunch and I didn't want to wait a half hour for them to bake in the oven. Not to mention the time it takes to preheat the oven. I looked in the cupboard and there was my air fryer staring back at me. And that was the day the love for my air fryer was born. It is SO easy to use and cooks much faster than the oven. Plus, you get these delicious crispy vegetables without having to use a ton of oil!
ARE FRIES HEALTHY IN THE AIR FRYER?
YES!! Air fryer potato fries are way healthier than fries traditionally made using a deep frying in a bucket of oil. The air fryer circulates hot air around a small chamber to "fry" the food. It takes almost no oil to get the exact same taste and texture as conventional deep frying.. but 1000x healthier!
HEALTH BENEFITS OF POTATOES
Potatoes are amazing for your health! Potatoes are packed with nutrients and fiber. Many people mistake potatoes with an unhealthy food, likely because of their star role as deep fried french fries. But, when you cook potatoes in healthy ways, like baking, steaming, pressure cooking, or air frying, you can reap so many health benefits.
Potatoes contain these essential nutrients:
Fiber
Vitamin C
Vitamin B6
Potassium
Manganese
Magnesium
Phosphorus
Niacin
Folate
And you don't have to just have 1 type of potato to get health benefits from them! There are so many different types of potatoes with varying nutrients like red potatoes, russet potatoes, yellow potatoes, sweet potatoes, purple sweet potatoes, purple potatoes, and more!
WATCH HOW I MADE MY AIR FRYER RAINBOW POTATO FRIES IN 15 SECONDS
TIPS FOR MAKING THE BEST AIR FRYER POTATO FRIES
SLICE YOUR POTATOES THIN. This way you will get nice and crispy air fried fries!
TOSS POTATOES IN OIL AND SPICES BEFORE FRYING. This ensures each fry is completely coated with oil and spice before air frying.
TOSS FRIES HALF WAY THROUGH COOKING. To make sure the fries are cooking evenly, use a pair of metal tongs to toss them in the air fryer half way through cooking.
FAQ'S
Frequently asked questions about my air fryer rainbow potato fries.
DO YOU HAVE TO PREHEAT YOUR AIR FRYER?
No! The amazing thing about the air fryer is that no pre-heating is necessary. This really saves on time and energy when you cook!
DO YOU HAVE TO BOIL POTATOES BEFORE AIR FRYING?
No! There is no need to pre-cook your raw potatoes before air frying them. They will cook thoroughly in the air fryer!
HOW LONG SHOULD YOU AIR FRY POTATO FRIES?
Air fry potato fries for 16-18 minutes at 375 degrees. About halfway through cooking, toss the fries to ensure they fry evenly. Cooking times may vary depending on how thick or thin you slice your potatoes.
OTHER HEALTHY AIR FRYER RECIPES YOU MIGHT LIKE
INGREDIENTS NEEDED FOR AIR FRYER RAINBOW POTATO FRIES
Potatoes. I made these air fryer fries with fingerling potatoes, but any kind of potatoes work! The great thing about air fried potato fries is that you can use up any of the potatoes you have on hand: red, white, yellow, you name it!
Avocado oil. I like to use avocado oil on my potato fries instead of olive oil because avocado oil holds up to heat during cooking better than olive oil does.
Spices: garlic powder, onion powder, pink sea salt, black pepper.
And that's it! Far less oil, and still crispy and delicious!
HOW TO MAKE AIR FRYER RAINBOW POTATO FRIES
Air fryer rainbow potato fries are SUPER easy to make!
First, scrub your potatoes with a vegetable scrub brush to clean the outside really well. You want to keep the skin on to get all the nutritional benefits, so you want to make sure the skin is washed very well.
For this recipe I used ½ pound of fingerling rainbow potatoes. You can substitute ½ pound of any type of potatoes that you want, the spices, oil, and cooking time will be the same for all of them
Slice your potatoes into long skinny strips. I do this by slicing across the potato width wise:
And then, I slice each portion of the potato into "fries:"
Add your potato fries to a mixing bowl along with ½ tablespoon of avocado oil, ⅛-1/4 teaspoon of garlic powder, onion powder, and black pepper, and ½ teaspoon pink sea salt.
NOTE: use ¼ teaspoon each of garlic powder, onion powder, and black pepper if you like a stronger flavor. Use ⅛ teaspoon of each if you like the flavor to be more subtle.
Toss the potato fries with the oil and spices to combine.
Add the sliced potatoes in your air fryer basket. Set the temperature to 375 degrees Fahrenheit and the timer to ~16 minutes. You can cook additional time if you want them even crispier.
Close the basket and let the air fryer work its magic.
NOTE: to get them evenly crispy, I always toss them around half way through cooking.
Serve warm and enjoy!
---
Follow me on Facebook, Instagram, Pinterest, and Youtube!
---
If you make this recipe, please be sure to tag your photo #thehintofrosemary and leave me a rating in the recipe card!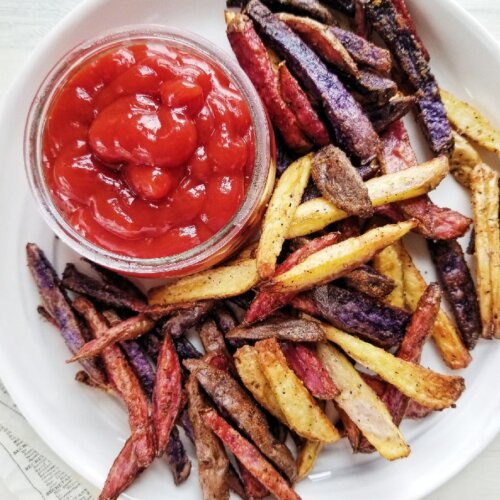 Air Fryer Rainbow Potato Fries
Air fryer rainbow potato fries are a delicious and healthy way to add more vegetables to your plate! Made with potatoes, avocado oil, and spices they are much healthier than traditional deep fried potatoes.
Ingredients
½

pound

rainbow fingerling potatoes

~2 cups sliced potatoes

½

tablespoon

avocado oil

⅛-1/4

teaspoon

garlic powder

⅛-1/4

teaspoon

onion powder

⅛-1/4

teaspoon

ground black pepper

½

teaspoon

pink sea salt
Instructions
Wash and slice potatoes into thin strips.

Add potato fries into a bowl along with ½ tablespoon avocado oil, garlic powder, onion powder, black pepper, and sea salt.

Toss to coat the potato fries evenly with the spices.

NOTE: use ¼ teaspoon of spices for stronger flavor, and the ⅛ teaspoon for more of a subtle flavor.

Add the potato fries to the basket of your air fryer.

Fry for 16 minutes at 375 degrees Fahrenheit. Add more or less time as desired for how crispy you want them.

Serve warm and enjoy!
Notes
Nutritional information is only an estimate. The accuracy of the nutritional information for any recipe on this site is not guaranteed.
Nutrition
Serving:
1
g
Calories:
194
kcal
Carbohydrates:
37
g
Protein:
4
g
Fat:
3.7
g
Polyunsaturated Fat:
0.6
g
Monounsaturated Fat:
2.5
g
Potassium:
897
mg
Fiber:
5
g
Vitamin C:
49
mg
Calcium:
26
mg