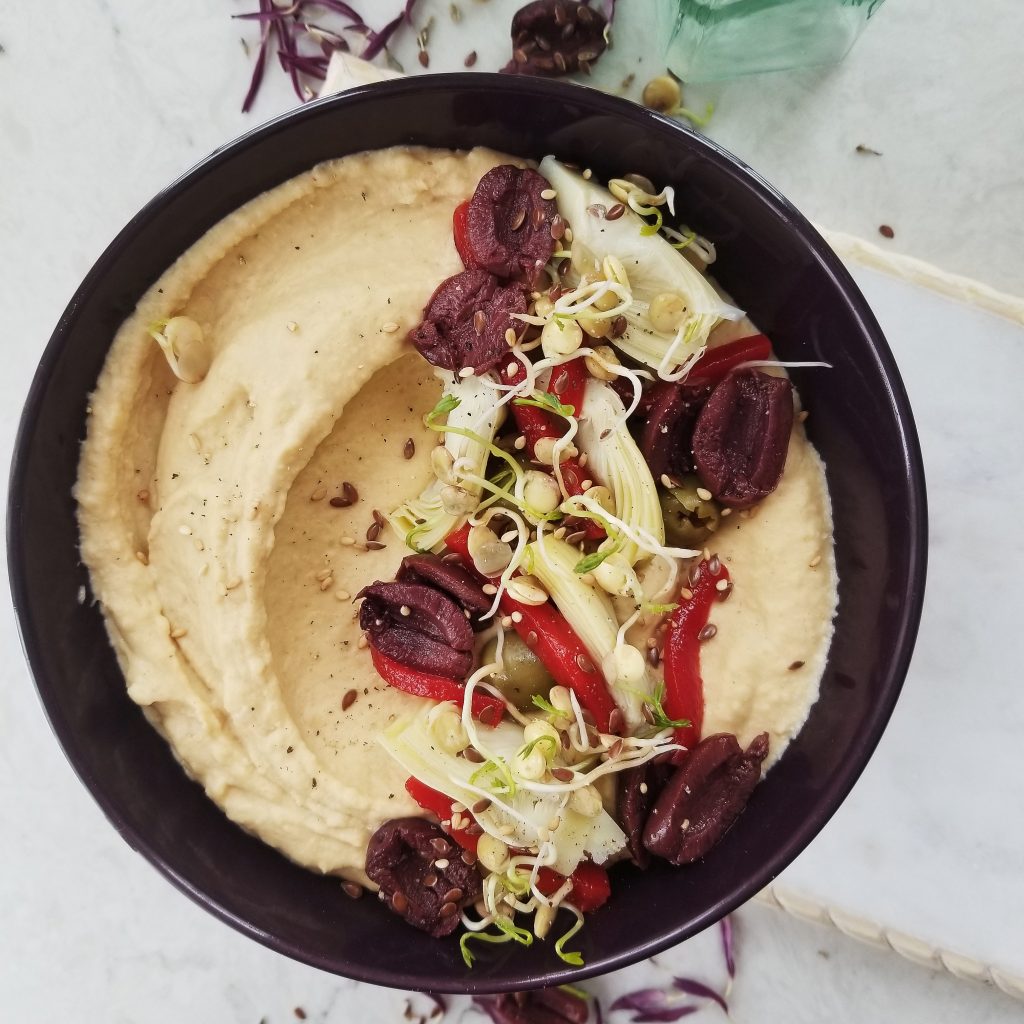 Authentic Arabic Hummus. Light and fluffy, this Arabic hummus is whipped to perfection. I made my hummus recipe dozens and dozens of times to give you the most perfect creamy and flavorful hummus recipe out there!
Authentic Arabic Hummus in Arabic: حمص مع خرشوف وزيتون
My Authentic Arabic Hummus Recipe is:
Easy to make!
Healthy for you
Great for gut health
High in fiber
Excellent dip!
WHAT IS AUTHENTIC ARABIC HUMMUS MADE FROM?
While every person and restaurant makes their signature hummus a little it differently, hummus is actually very simple.
Authentic Arabic hummus is made from just chickpeas, tahini, garlic cloves, lemon juice, and salt. Olive oil is then drizzled over the top and is not usually blended inside, even though many recipes out there make it with olive oil inside.
Saving olive oil for a topping helps give you a perfect creamy whipped authentic Arabic hummus recipe!
IS HUMMUS HEALTHY?
Yes! Hummus is super popular all over the Middle East. Arabic hummus is loaded with so many healthy benefits.
Chick peas are an excellent source of fiber! Fiber is necessary for good gut health!
Tahini is made from ground up sesame seeds. Sesame seeds contain healthy fats for optimal brain function. They also have other nutrients like zinc and vitamin E!
Garlic is an age old anti-inflammatory food!
Lemon juice is filled with vitamin C! Vitamin C not only fights disease in the body, but it is also necessary for collagen production. Collagen is necessary for gut, skin, hair, and nail health!
Olive oil is a great source of antioxidants and super healthy fats
TIPS TO MAKE THE BEST EVER AUTHENTIC ARABIC HUMMUS RECIPE
For super creamy, flavorful hummus that is light and fluffy, follow these tips! My Jordanian husband has tested dozens of hummus recipes and I finally have gotten it just right.
THE SECRET TO CREAMY HUMMUS IS SOFT CHICKPEAS. Make sure to buy dry chickpeas, soak them overnight, and then steam them yourself instead of using canned ones.
FULLY BLEND YOUR HUMMUS IN YOUR FOOD PROCESSOR. Don't stop blending it until it is super smooth and creamy. The times will vary depending on the quality of your food processor.
USE HIGH QUALITY TAHINI. Good authentic hummus is made with good tahini. Make sure to buy it highest quality you can. And you can make it even better if you make freshly ground tahini out of fresh sesame seeds.
ADD LOTS OF LEMON FROM FRESH LEMONS! Lemon is another Arabic cooking staple. Lemon gives hummus a delicious subtle tanginess. Make sure to buy those fat juicy flavorful lemons.
ADD CHICKPEA WATER AS NEEDED. If you hummus seems really heavy. Add a bit of chickpea water to whip into the hummus to lighten the texture.
SAVE OLIVE OIL FOR THE TOP. Really good hummus has a light and whipped texture. Olive oil inside can weigh hummus down. Drizzle some high quality extra virgin olive oil on top instead!
More Traditional Arabic Recipes you might like:
HOW TO MAKE AUTHENTIC ARABIC HUMMUS
STEP 1- STEAM CHICKPEAS
First steam your chick peas. I soak my dried peas overnight. The soaking process helps to break down the tough fibers in the skin.
After soaking them overnight, add the chickpeas to a pressure cooker or instant pot. Next add filtered water to cover them over an inch. I like to sprinkle smoked paprika to give them a really good flavor, but this is totally optional.
Steam them for ~23 minutes. Let the pressure naturally release.
You don't need to remove the skins, the steaming process softens it and the skins are a great source of fiber and nutrients!
STEP 2- BLEND
Add all of your ingredients to a blender or food processor.
Process for 5 minutes or until smooth and creamy.
Scoop your hummus into a serving bowl.
STEP 3- TOP HUMMUS
Finally, top the hummus with your favorite toppings. I used artichoke hearts, sprouted lentils, roasted red peppers, and Kalamata olives.
Authenic Arabic hummus toppings are usually oil and spices like dried paprika and cumin. But at family gatherings and especially around Ramadan you will see more loaded platters of hummus with a variety of toppings.
Storage
Store hummus the fridge for up to a week.
Do you love Arabic food and want to learn how to make delicious authentic Arabic recipes at home? Make sure to read my complete guide on Cooking Arabic Food at Home!
FAQ'S
More frequently asked questions about my authentic creamy Arabic hummus recipe.
WHICH OIL IS BEST FOR TOPPING HUMMUS?
Extra virgin cold pressed olive oil is always best for hummus!
HOW CAN I MAKE MY HUMMUS LESS GARLICKY?
Don't add garlic! Or, start with one clove, taste and then blend in more to your taste preference.
CAN I MAKE THIS CREAMY AUTHENTIC HUMMUS RECIPE WITH CANNED CHICKPEAS?
I would HIGHLY recommend making hummus with fresh soft steamed chickpeas.
But, if you only have canned chickpeas, boil them in the water until they are even softer and almost falling apart (but still in the chickpea shape).
HOW DO I MAKE CREAMY HUMMUS WITHOUT TAHINI?
You can make hummus without tahini! It might not be the same flavor but you can easily whip your hummus into a very creamy texture without tahini.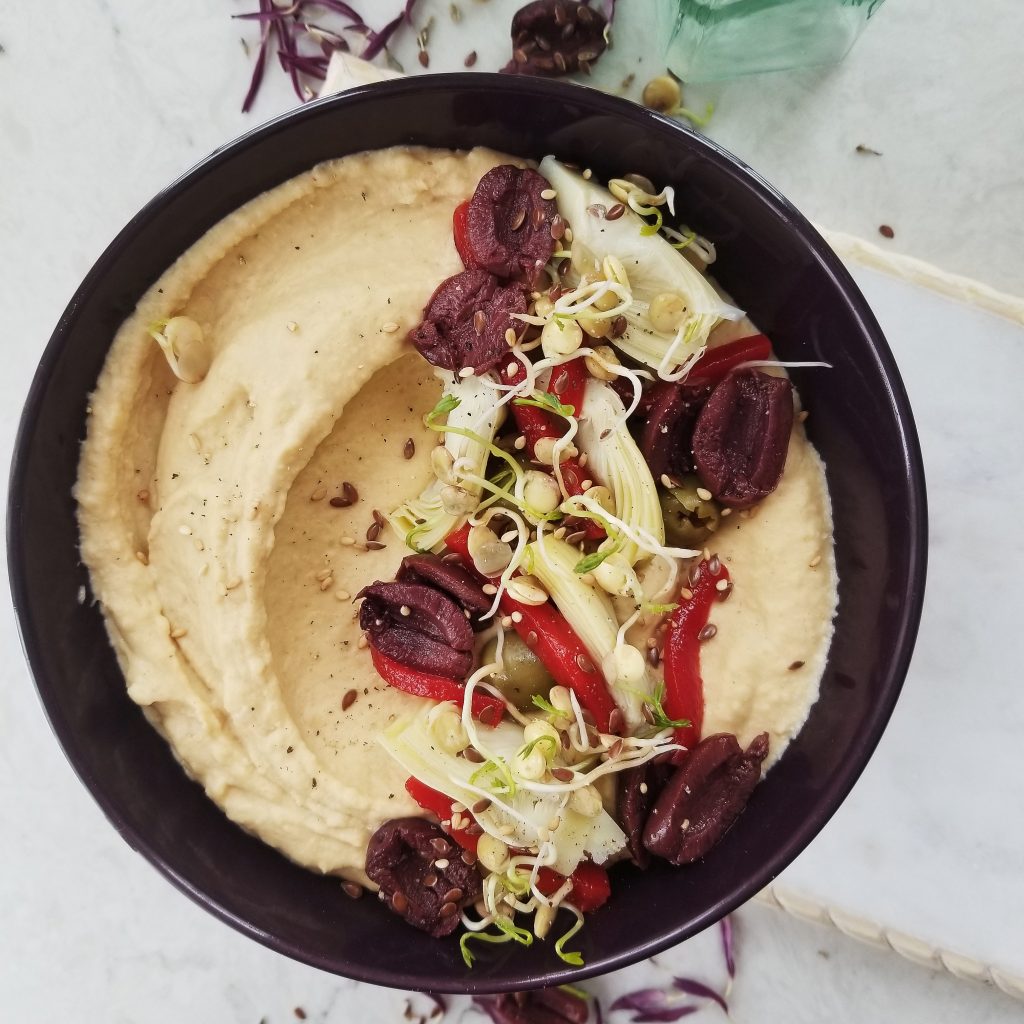 If you try my Authentic Arabic Hummus Recipe, please let me know your thoughts by leaving a rating and comment below! Ready for more? Subscribe to my newsletter or follow along on Pinterest, Instagram, Facebook, and Youtube!
Authentic Arabic Hummus with Toppings (حمص مع خرشوف وزيتون)
This traditional hummus is made with fresh steamed chick peas, and other fresh ingredients. Make it ahead of time to pull out and impress your guests!
Ingredients
For Traditional Hummus:
2

cups

very soft steamed chick peas

*

½

cup

tahini

½-3/4

cup

fresh juiced lemons

3-4 lemons

2

cloves

fresh garlic

¼

cup

chickpea cooking water

as needed

1

teaspoon

salt
Hummus topping ideas:
seeds

olives

artichoke hearts
Instructions
Add all ingredients except the water to a food processor. Blend for ~5 minutes or more.

Test the texture/consistency. I like mine less thick so I added ¼ cup extra water and blended it for another minute. If you like yours very thick, you can serve it without adding the extra water.

Top with your favorite toppings. I used artichoke hearts, roasted red peppers, sprouted lentils, kalamata olives, sesame seeds, flax seeds, and fresh black pepper.
Notes
*You can use canned chick peas, but I notice the texture does not come out as smooth and creamy as it does when you steam your peas fresh.
Nutritional information is only an estimate. The accuracy of the nutritional information for any recipe on this site is not guaranteed.
Nutrition
Serving:
2
tablespoons
Calories:
353
kcal
Carbohydrates:
34
g
Protein:
11
g
Fat:
21.2
g
Saturated Fat:
1.9
g
Polyunsaturated Fat:
10
g
Monounsaturated Fat:
10
g
Potassium:
492
mg
Fiber:
10
g
Vitamin C:
11.6
mg
Calcium:
105
mg
Iron:
3.32
mg