Eat healthy during Ramadan this year with easy healthy Ramadan recipes that are just as delicious as traditional Ramadan food! If you're looking to eat healthy for Ramadan 2023 you came to the right place!
Ramadan is a time of looking inward and practicing mindfulness through fasting and giving back to those in need. It is the holy month for Muslims all over the world. Each evening, fasting is broken with delicious food and good company.
There is nothing better than home cooked food for Ramadan! Follow some of the easy Ramadan recipes below that all have healthy ingredients or healthy options for you!
My Ramadan experience is with my Jordanian family, so depending on your country, your foods may be different for Ramadan! I take traditional Arabic meals and add healthy ingredients to them!
WHAT FOODS FOR RAMADAN ARE HEALTHY?
Whether it is your Suhoor before the sun rises, or you Iftar when the sun sets, make sure you are choosing whole foods first. For a very successful Ramadan where you're not feeling tired all day long, the food you eat will make a huge difference.
HOW TO EAT HEALTHY DURING RAMADAN, TIPS FROM A REGISTERED DIETITIAN
Healthy eating during Ramadan 2023 does not need to be hard and can still include all of your favorite delicious treats!
My top 7 tips for a Healthy Ramadan are:
Drink plenty of water, at least 8-10 cups split between Suhoor and Iftar
Add fruits and vegetables to your plate first, at least 6-8 cups between Suhoor & Iftar
Eat high quality protein!
Choose whole grains over white bread and white rice
Eat Fruit for Dessert most evenings!
Wake up for Suhoor!
Get enough high quality sleep, at least 8-9 hours per night.
Healthy Ramadan Tip #1: Drink plenty of water!
Skip the sweet sugary drinks and teas after dinner. I know how delicious that post dinner Arabic tea is, but not only does it have caffeine, but it is typically made with a lot of sugar.
Aim for 8-10 cups of pure plain filtered water. I recommend drinking half of the water at Suhoor, and the other half at Iftar so your body isn't hit with so much water to process all at once.
If you're in charge of making the food and drinks for the house, or you want to surprise your family with a delicious Ramadan drink that is also healthy, try my Pomegranate Drink!
Healthy Ramadan Tip #2: Load up your plate with Veggies!
The best thing you can do at the Ramadan dinner table is to load half your plate with veggies! Most big Arabic Meals are served with a delicious Arabic salad, so pile that salad onto your plate first.
Eating a lot of fruit and vegetable is especially important if you are trying to lose weight during Ramadan. Aim for at least 6-8 cups of fruits and vegetables. I recommend eating about 3 cups at Suhoor, this could be fruits inside a smoothie, and 3-4 cups at Iftar.
If there is no salad, look for a soup, as most traditional Arabic soups, like Shorbat Adas, are made with healthy lentils. You can also add hummus to your plate which is loaded with high fiber and gut healthy chickpeas!
Healthy Ramadan Tip #3: Eat High Quality Protein!
Healthy protein and fats are essential for weight loss, and keeping you full for longer. Make sure half your plate has vegetables and then a quarter of your plate has protein. Stay away from greasy and fried meats as these will impair your digestion.
Healthy Ramadan Tip #4: Choose Whole Grains
Whole grains are another healthy food option during Ramadan that will not only keep you full for longer but also help support weight loss. Choose brown rice, freekeh, couscous, bulghur, and whole wheat pita bread whenever possible.
Half your plate should be fruits and vegetables, a quarter protein, and a quarter for your grains.
Healthy Ramadan Tip #5: Choose Fruits For Dessert!
I know how tempting that basbousa, quatayef, baklava, and everything in between can be! I'm not saying that you have to completely say no to decadent Arabic desserts every single night of Ramadan to be healthy.
In fact, long term healthy eating definitely includes dessert! But be mindful of the sweets you are eating. If you opt for the sweet Arabic tea one night, eat fruit as your dessert instead of the quatayef. And then another night if you eat quatayef, skip the sweet teas and other desserts.
Healthy Ramadan Tip #6: Wake up for a healthy Suhoor
Eating a healthy Suhoor Ramadan breakfast can really make a huge difference on your energy and performance throughout the day. Waking up for Suhoor is also super important if you have medications to take so set your alarm the night before!
Healthy Ramadan Breakfast Ideas:
Date Shake
Eggs with Cheese & Vegetables
Avocado Toast
Whole Milk Greek yogurt with Fruit
Breakfast Salad with Nuts
Healthy Ramadan Tip #7: High Quality Sleep!
Getting enough quality sleep may not seem like a top priority for Ramdan weight loss, but it is actually crucial to get enough sleep so your body has time to rest and repair!
When you get enough sleep, 8-9 restful hours per night, your chances for good gut health, good mental health, and weight loss improve drastically!
What is traditional Ramadan Food?
Traditional Ramadan food typically includes spiced rice, flat bread, meat, and salad. Some of the most famous and popular recipes to make during Ramadan are Mansaf, Dwali, Maqluba, and Ouzi.
Musakhan is one of the best healthy Ramadan recipes, as it has a whole grain (Shrak flatbread), vegetables (red onions), protein (chicken), and even healthy fats (pine nuts).
2. Maqluba
One of the most iconic, and in my opinion delicious Arabic meals is Maqluba! Maqluba (prounounced maklooobeh) is a delicious layered Arabic rice dish made with chicken or lamb, vegetables, and spicy rice.
3. Dwali
My most favorite Arabic food is Dwali. Dwali are delicious rice stuffed grape leaves. Dwali are actually a healthy Ramadan dinner believe it or not as grape leaves are high in fiber!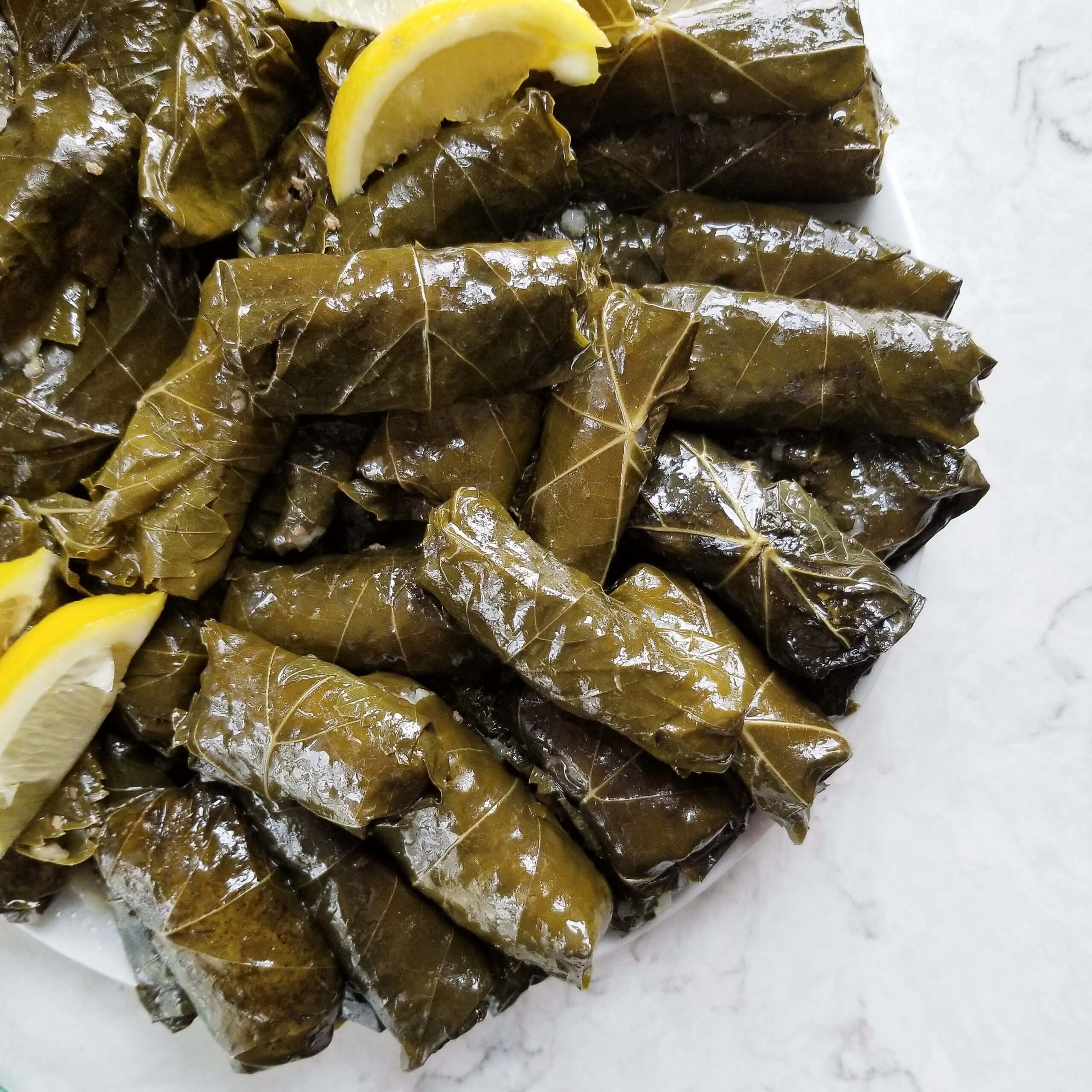 4. Ouzi rice with Roasted Chicken
Ouzi rice is SO delicious! It is a spicy Arabic rice mixed with ground lamb or beef, vegetables and topped with a delicious roasted chicken or lamb. If you're in charge of the cooking, you can easily make ouzi one of the healthiest Ramadan recipes by simply using brown instead of white rice.
Galayet bandora is an excellent healthy Ramadan recipe for busy weeknights! This easy Ramadan recipe comes together much quicker than other traditional Ramadan recipes. Galayet bandora is a skillet meal made of tomatoes, peppers, beef, and spices!
This healthy Ramadan recipe is another easy one you can make this year! Each family uses difference spices depending on the country they are from so you can really get unique with your salmon!
7. Arabic Yellow Rice and Pomegranate Chicken
My healthy Arabic yellow rice is made with hearty brown rice, healthy chickpeas, gut healthy bone broth and healing spices like turmeric! Topped with a crispy oven baked pomegranate chicken.
What are good foods for Ramadan?
Good foods for Ramadan are as simple as choosing whole foods first!
Fruits
Vegetables
Nuts & Seeds
Dates
Meat (not fried)
Beans & Lentils
Olive Oil
Brown Rice
Freekeh
Bulghur
What foods are healthy during Ramadan?
No Arabic meal is complete without side dishes! A lot of Arabic side dishes, like Salatah (salad), Adas (soup), and hummus are loaded with vegetables and super healthy for you!
This is the most delicious Arabic salad of all time! I look forward to spring every year when the juicy delicious vegetables are in season. You can't beat making this Arabic salad every night!
2. Shorbat Adas
Shorbat Adas is a warm and spicy Arabic soup that is great for sipping on colder days. Plus, it is loaded with vegetables and red lentils, giving you more servings of healthy vegetables.
3. Hummus
Hummus is such an easy healthy iftar recipe for weight loss because it is loaded with chickpeas which are so high in fiber and support your gut health!
4. Whole Wheat Naan or Whole Wheat Pita Bread
I love making homemade Naan bread ! I usually make mine with half while and half wheat flour to make it much healthier.
You will typically see Sfiha alongside other dishes and not as the main meal. If you have some extra time and want a truly filling Ramadan spread, make some homemade sfiha! Sfiha is like an Arabic pizza made with a thin crispy dough and topped with flavorful beef.
FAQ'S your Ramadan Questions answered by a Registered Dietitian
Frequently asked questions about staying healthy during Ramadan.
What are the 2 meals during Ramadan?
Suhoor, eaten before the sun rises and Iftar, eaten after the sun sets.
What foods should you avoid during Ramadan?
Avoid fast food, fried food, food with too much added sugar, soda, alcohol, pork, caffeine and refined white grains.
How to eat in Ramadan to lose fat?
If you are fasting and want to lose weight during Ramadan, follow my 5 tips:
Avoid added sugar (eat <25 grams of added sugar per day)
Choose whole grains over white grains
Eat more Fruits & Vegetables for Suhoor and Iftar
Avoid Soda and only drink water
Eat enough high quality protein
If you try any of my Healthy Ramadan Recipes, please let me know your thoughts by leaving a rating and comment below! Ready for more? Subscribe to my newsletter or follow along on Pinterest, Instagram, Facebook, and Youtube!
Healthy Ramadan Recipes!
Ramadan Mubarek! This year I'm sharing the best tips with you on how to eat healthy during Ramadan and fasting! Eating healthy during Ramadan can be super fun and delicious. I have included healthy Ramadan recipes like my famous Arabic chopped salad, and Maqluba.
Ingredients
2

lg

cucumbers

2

vine tomatoes

1

red pepper

4

radishes

1

bunch flat leaf parsley

2

green onions

3

tablespoon

olive oil

1

lemon, juiced

1

teaspoon

salt

½

teaspoon

black pepper
Instructions
To make the salad, chop all vegetables finely and toss with olive oil, lemon juice, salt and pepper in a bowl.
Notes
Nutrition facts for any recipe on thehintofrosemary are only an estimate and not guaranteed. 
Nutrition
Serving:
1
cup
Calories:
89
kcal
Carbohydrates:
5
g
Protein:
1
g
Fat:
7
g
Saturated Fat:
1
g