Jordanian Lentil Soup. Shorbat Adas, or Arabic red lentil soup, is a traditional Middle Eastern drinking Soup. It is super easy to make, filling, and warming on a chilly day!
Shorbat Adas in Arabic: شوربة عدس
My Shorbat Adas Recipe is:
Easy to make!
1 pot recipe
Quick Arabic recipe
Warming
Healthy
Excellent for weight loss
Gluten Free
Dairy Free
It is always interesting to learn about the foods of other cultures. My husband is Jordanian, so I learn about a lot of Middle Eastern foods through him and his family!
Do you love Arabic food and want to learn how to make delicious authentic Arabic recipes at home? Make sure to read my complete guide on Cooking Arabic Food at Home!
WHAT IS SHORBAT ADAS?
Shorbat adas is an Jordanian lentil soup made with a mix of red lentils, vegetables, spices, and stock. It is traditionally drank to break fast at the end of the day. Shorbat adas is made all over the Middle East with different regions using a variation of spices. My Palestinian Jordanian style shorbat adas is flavored with garlic, onion, cumin, coriander, turmeric, and chili powder.
Shorbat Adas is a traditional Jordanian lentil soup. It is a flavorful healthy drinking soups!
IS SHORBAT ADAS GOOD FOR YOU?
Yes!! Shorbat adas is super good for you. It is loaded with antioxidants, fiber, protein, vitamins, and minerals. Don't let its thin consistency fool you, you will be full off of a serving of this soup because lentils are super high in fiber.
INGREDIENTS IN SHORBAT ADAS
Onions are a great source of anti-inflammatory vitamin C. They add an amazing aroma and flavor to this Jordanian red lentil soup.
Olive oil is traditionally used, but I don't like to heat my olive oil due to its low smoke point, so I use avocado oil instead. Avocado oil is a great source of anti-inflammatory and heart healthy fats.
Fresh garlic. Garlic adds more amazing flavor to this soup! Garlic is also excellent for reducing inflammation in the body.
Spices: ground cumin, ground coriander, turmeric, chili powder, pink sea salt, and fresh black pepper.
Split red lentils. Red lentils are an excellent source of fiber! Fiber is essential to feed your good gut bugs, and also improve hormone balance. Fiber can bind excess estrogen in your gut and pull it out of your body when you go to the bathroom. 🙂
Celery stalks & leaves. If the celery you bought at the grocery store doesn't have the leaves on it, just substitute in 3-4 stalks of finely chopped celery.
Carrots are loaded with fiber and beta carotene, which is converted to vitamin A in your body.
Chicken or beef stock is traditionally used, but I like to use chicken or beef bone broth. Bone broth is a healthier option because it not only adds more protein to your red lentil soup, but it also contains more bone healthy minerals.
Fresh lemon juice squeezed on top of shorbat adas is a must! The tangy flavor of lemon pairs perfectly with the savory soup.
TIPS FOR MAKING THE BEST SHORBAT ADAS RECIPE
WASH RED LENTILS. Wash them in a bowl, or under running water in a fine mesh strainer until the water is clear.
ADD VEGETABLES. Vegetables get pureed into shorbat adas and add to its rich flavor. I used carrots, celery, and onions in this one, but you could also add potatoes.
USE THE CELERY STALKS AND LEAVES. Celery leaves add a lot of flavor rather than just the stalk. The pieces of celery closer to the center have more flavor than the outer stalks, so use the inside ones!
SERVE WITH LEMON. Jordanian lentil soup with lemon tastes THE best!
WATCH HOW I MADE EASY SHORBAT ADAS PALESTINIAN JORDANIAN STYLE
HOW TO MAKE SHORBAT ADAS
Start by either rinsing or soaking your red lentils.
I like to soak my red lentils for about an hour before I make the soup. But, if you are low on time, you can easily rinse the beans until the water is clean and it will work just fine!
Make sure to mix the beans around a lot to clean them. You can see how murky the water looks before I cleaned the lentils in the images below!
Make sure to keep washing them until the water is completely clear!
You can also use a fine mesh strainer and run the water over the lentils until the water runs clear.
Next, heat a large stockpot over medium heat. Add 2 tablespoons avocado oil. Add the 1 chopped onion and sauté until the onion is soft and fragrant.
Next, add 3 cloves minced garlic, 1 ½ teaspoon ground cumin, 1 ½ teaspoon ground coriander, and a pinch of chili powder. Stir to combine.
Add 1 ¾ cups rinsed red lentils, 1 bunch of chopped celery leaves (or 2 stalks finely chopped celery), 1 chopped carrot, potatoes (if using), and 8 cups bone broth (or stock). Stir to combine.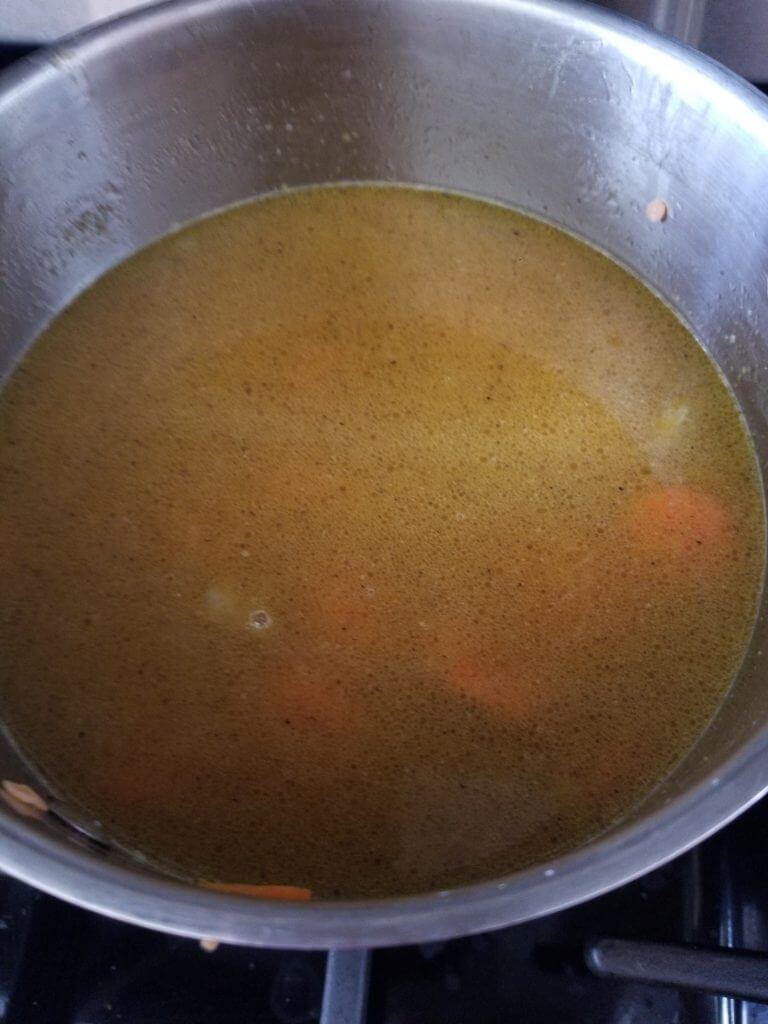 Cover your pan and cook for 30-45 minutes on medium low heat. When it is done cooking, use an immersion blender to completely puree it.
And that is it! Your shorbat adas is ready to eat!
HOW TO SERVE SHORBAT ADAS
Jordanian red lentil soup traditionally served with some olive oil, parsley, and fresh squeezed lemon juice! The rich flavors of shorbat adas pairs perfectly with bright tangy fresh lemon.
FAQ'S
Frequently asked questions about Arabic Shorbat Adas.
WHAT EXACTLY ARE LENTILS?
Lentils are part of the legume family and are super high in protein, fiber, and other nutrients like folate, iron, potassium, and phosphorus.
WHAT IS IN RED LENTILS?
Red lentils are a type of lentils that are rich in B vitamins, magnesium, iron, potassium, and zinc. Not to mention very high in fiber!
HOW MANY CALORIES ARE IN ADAS SOUP?
1 ½ cup of Shorbat adas calories- 108, Carbohydrates- 10 grams, Protein- 4 grams, Fat- 5 grams, Fiber- 4 grams.
Other Middle Eastern Arabic recipes you might like:
Looking to make some Arabic dessert? Try my basbousa or Arabic Walnut Baklava!
If you try my Arabic Shorbat Adas Recipe, please let me know your thoughts by leaving a rating and comment below! Ready for more? Subscribe to my newsletter or follow along on Pinterest, Instagram, Facebook, and Youtube!
Jordanian Shorbat Adas (شوربة عدس)
Shorbat Adas is a traditional Middle Eastern soup recipe. My shorbat adas recipe is super easy to prepare for when you're hungry and want something quick, healthy, and filling!
Equipment
Cutting board & knife

Immersion blender
Ingredients
3

tablespoon

avocado oil

1

lg

yellow onion, chopped

3

cloves garlic, crushed

1 ½

teaspoon

ground cumin

1 ½

teaspoon

ground coriander

½

teaspoon

turmeric powder

pinch

ground chili powder

1 ¾

cups

split red lentils, rinsed

1

bunch

celery leaves

sub 2 stalks chopped celery

1

lg. carrot, peeled and chopped

2

potatoes (optional)

any type

8

cups

vegetable or chicken broth
for serving:
lemon wedge

olive oil

optional

fresh parsley

optional
Instructions
Using a fine mesh strainer, rinse the 1 ¾ cup red lentils until the water runs clear. Set the strainer on a towel to dry while you start the soup.

In a large stockpot over medium heat, heat the 3 tablespoons avocado oil.

Add the chopped onions and cook the onions until they are soft and translucent.

Stir in the 3 cloves crushed garlic, 1 ½ teaspoon ground cumin, 1 ½ teaspoon ground coriander, ½ teaspoon turmeric powder, and a pinch of chili powder. Stir to combine.

Stir in the rinsed red lentils.

Add the 1 bunch of celery leaves, carrot, 8 cups broth, salt, and pepper.

Stir to combine.

Cover your pan, and simmer for ~30 minutes.

After 30 minutes, use an immersion blender to puree the soup completely.

Serve with fresh lemon juice and enjoy!
Notes
The 1 hour prep time is not necessary. I like to soak my lentils if I have some extra time. But, you can easily rinse them until the water runs clear right before adding them to the pan if you are short on time. 
Find the pans & immersion blender I use on Amazon: 
Stainless Steel Pans
Immersion Blender
Nutritional information is only an estimate. The accuracy of the nutritional information for any recipe on this site is not guaranteed.
Nutrition
Serving:
1.5
cup
Calories:
108
kcal
Carbohydrates:
10
g
Protein:
4
g
Fat:
5
g
Polyunsaturated Fat:
0.8
g
Monounsaturated Fat:
3.85
g
Potassium:
211
mg
Fiber:
3.7
g
Vitamin A:
634
IU
Vitamin C:
1.1
mg
Iron:
1.5
mg