Banana almond pulp muffins are a delicious way to use up leftover almond pulp from making almond milk!
We are now in phase 3 of reopening upstate New York from the COVID 19. All the extra time at home the past few months has made me realize how many things I could make from scratch! I have been making my own almond milk and almond milk creamer for a few weeks now and loving it!
But, I am left over with A LOT of almond pulp. If you have known me for some time, you know that I don't like wasting food.. or anything for that matter. So I have been inventing some easy to make and healthy almond pulp recipes.
Last week I made some super decadent almond pulp brownie bites. And now I have come up with banana almond pulp muffins.
Try out my Vanilla almond milk creamer or my pumpkin spice almond milk creamer!
Banana almond pulp muffins ingredients
All purpose flour

. Since the almond pulp already adds a lot of fiber and weight to the batter, I didn't want to use whole wheat flour too. But, if you want to try out whole wheat flour in this recipe you might want to double the baking powder and baking soda!
Cinnamon

. I love adding cinnamon to my banana muffins. It is such a warming spice. Did you now that cinnamon is also an anti-inflammatory?
Nutmeg

. A little nutmeg really goes a long way. This is another warming spice that gives a nice subtle flavor to the banana muffins.
Pink sea salt

. I love using pink sea salt in place of conventional salt. Pink sea salt is unprocessed. Unlike regular salt which is bleached and with anti-caking ingredients!
Baking powder & baking soda

. I use to help the muffins rise. Make sure you get baking powder that is made without aluminum!
Egg

. Eggs help to hold everything together and also give a little more rise to your muffins. If you are vegan, you can substitute 1 flax egg in place of the egg.
Almond pulp

. I use this leftover from whenever I make almond milk or almond milk creamer. All that leftover pulp is a great source of fiber!
Bananas

. Read on below to see if you should use fresh or frozen bananas and how to know you are getting the most flavor from them for this recipe!
Maple syrup

. You can totally omit maple syrup if you don't want them to be too sweet. Or, if you don't have maple syrup, substitute honey or coconut sugar!
Vanilla extract. Make sure you buy pure vanilla extract! I love vanilla in baking because it adds SO much flavor!
Walnuts

. So I had some leftover chopped walnuts from

my homemade baklava

and thought I would throw them in. Walnuts are an excellent source of brain healthy fats!
Frozen bananas or fresh?
I am someone who constantly buys more bananas when I go to the store. I love having them on hand in the freezer for baking. And they make the best base for all of my smoothie recipes.
For this recipe, it doesn't really matter if you use fresh or frozen. You just want to make sure that they are ULTRA ripe. And by ultra ripe I mean the banana peel looks almost black. This will give you a very strong banana flavor, and it will make your muffins much sweeter!
If you are using fresh: simply peel and mash the bananas. Make sure you don't let them sit too long or they might go bad.
If you are using frozen: make sure to let them thaw out before you mash them. If you mash them frozen and try to bake them right then, you will end up with soggy muffins.
How to make my banana almond pulp muffins:
Start by preheating your oven to 350 degrees. Put the rack in the center of the oven. This allows the best heat circulation.
Line 12 muffin tins with muffin papers and set this aside.
Mash the bananas, either fresh, or thawed frozen ones. Add the egg, almond pulp, maple syrup, and vanilla extract to the mashed bananas.
In a separate bowl, sift together the flour, cinnamon, nutmeg, sea salt, baking powder, and baking soda.
Fold the dry ingredients into the wet ingredients.
Fold in the chopped walnuts. You can leave a few tablespoons of the walnuts out if you like to sprinkle them on top.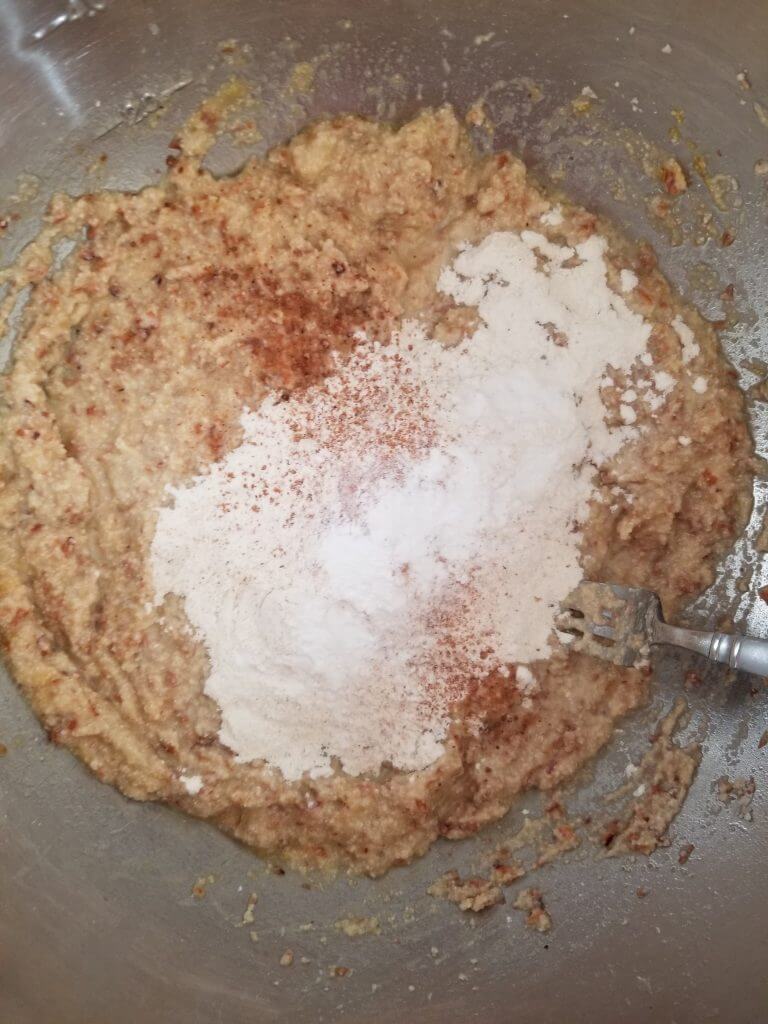 Divide the batter evenly between the 12 tins. Sprinkle the walnuts on top.
Set the timer for 10 minutes and bake the muffins in the preheated oven.
After 10 minutes, rotate the pans. This allows the muffins to bake evenly. Set the timer for an additional 15 minutes.
Allow them to cool for about a half hour before eating them.
You can eat them warm, but usually the paper sticks to the muffins if they are really hot still!
I hope you love these muffins as much as I did! They are a great snack or breakfast idea!
If you try my Almond Pulp Muffins Recipe, please let me know your thoughts by leaving a rating and comment below! Ready for more? Subscribe to my newsletter or follow along on Pinterest, Instagram, Facebook, and Youtube!
Banana Almond Pulp Muffins
These banana almond pulp muffins are so... dare I say.. moist. I love the texture of them and they are a perfect healthy breakfast to bring on the go with you! They are also a good snack option!
Equipment
Muffin tins & muffin papers
Ingredients
Dry ingredients:
¾

cup

white wheat flour

1

teaspoon

ground cinnamon

¼

teaspoon

ground nutmeg

½

tsp

sea salt

½

teaspoon

baking powder

½

tsp

baking soda
Wet ingredients:
2

very ripe bananas

1

lg

egg

1

cup

almond pulp

¼

cup

maple syrup

1

teaspoon

vanilla extract

½

cup

chopped walnuts

optional
Instructions
Preheat the oven to 350 degrees and line 12 muffin tins with muffin papers.

In a medium sized bowl, sift together the dry ingredients. Set aside.

In a separate bowl, mash the bananas. Add in the rest of the wet ingredients.

Fold the dry ingredients into the wet ingredients until just combined. Fold in the walnuts.

Divide the batter evenly between 12 muffin tins.

Bake on the center rack for 10 minutes. Rotate (this allows even baking). Bake for another 15 minutes. Allow the muffins to cool on a baking rack for about 30 minutes. Enjoy!
Notes
Nutritional information is only an estimate. The accuracy of the nutritional information for any recipe on this site is not guaranteed.
Nutrition
Serving:
1
muffin
Calories:
90
kcal
Carbohydrates:
15.5
g
Protein:
2
g
Fat:
1.5
g
Fiber:
2
g