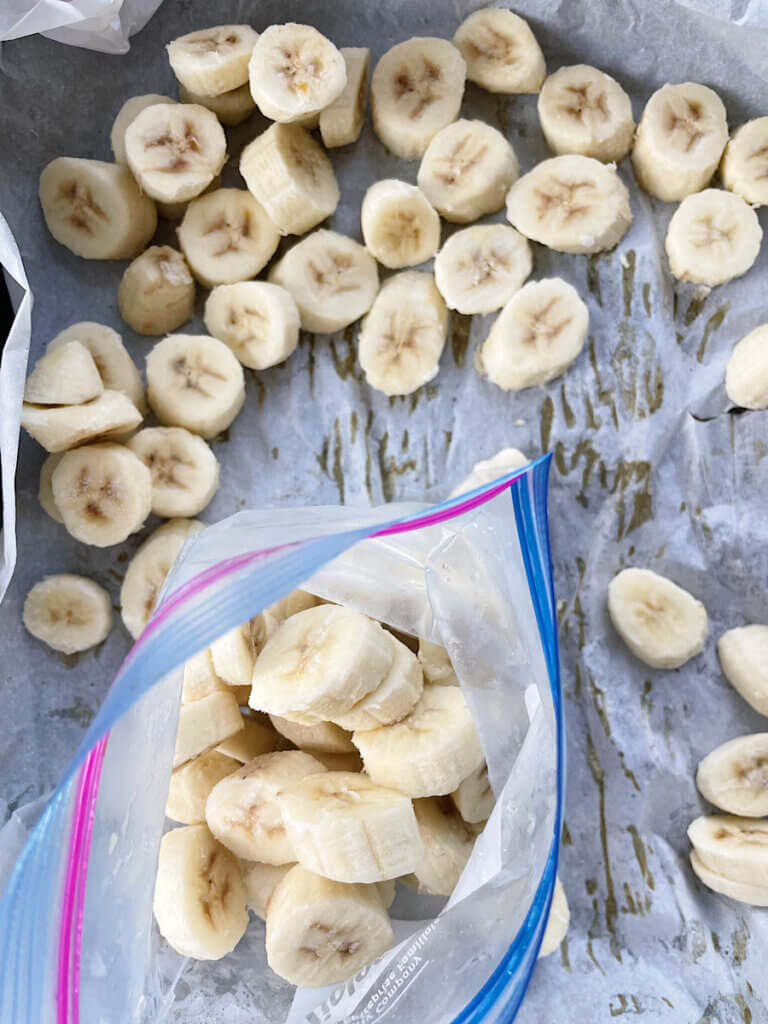 How to freeze bananas for smoothies and smoothie bowls! Learn how to freeze your ripe bananas for delicious smoothie bowls. This frozen banana method is quick, easy will have your freezer stocked and ready to go!
I've been wanting to write this post for awhile, so here it finally is! I've included two different ways for you to freeze your peeled bananas.
Frozen bananas are perfect for smoothies, smoothie bowls, protein shakes, banana bread and so much more! Read on below to learn how to freeze your bananas without turning brown.
Want to learn how to make the best healthy breakfasts at home? Make sure to read my full post of a Registered Dietitian's healthy breakfast tips and the art of fusing the American and Arabic cultures together at breakfast time!
HOW TO FREEZE BANANAS FOR SMOOTHIES & SMOOTHIE BOWLS
It is so easy to freeze bananas for smoothie bowls I almost can't believe I'm writing a whole post about it! But, I get asked this question all the time so I wanted to share with you how I do it easily!
First, I usually buy about 3-4 bunches of unripe bananas while grocery shopping. Then, I let them ripen naturally on my counter. I found that when I buy ripe spotty bananas at the grocery store, often times they are very soft and became bruised. It's definitely best to buy hard unripe bananas.
After they are ripe, and very spotty, I simply peel them, break them in half and freeze them flat in a zip loc bag!
And that is it! No they will not turn brown in the freezer after you peel them.
SHOULD BANANAS BE FROZEN WITH OR WITHOUT PEEL?
I used to freeze bananas in the peel and then would have to wait for the banana to thaw a bit, cut the brown peel off with a knife and create a mess! And lose a bit of my banana in the process.
I started freezing my bananas unpeeled and what a game changer it was! If you want to preserve your ripe bananas for banana bread, smoothies or anything else definitely peel them first!
HOW TO FREEZE BANANAS WITHOUT TURNING BROWN
You might be wondering.. how do the bananas not turn brown? Do I need to add lemon juice?
No you don't need lemon juice, you don't need anything special. Just peel them, add them to your bag and freeze them immediately! The only reason they would turn brown is if you left them sitting on your counter after peeling them for too long.
TIPS!
These are my top 3 tips for how to freeze perfect bananas for your smoothies and smoothie bowls!
Buy bananas unripe! Unripe bananas are heartier and will not be bruised from transportation. Let them ripen naturally on your counter until you see brown spots all over them.
Make sure to use very ripe spotty bananas! Not only are they naturally sweeter, but ripe bananas will make for better and creamier smoothies.
Whether you're freezing bananas whole, cut in half, or cut into slices, make sure they are flat! If you stack bananas on top of each other they will stick together and it will be hard to break apart.
Use zip loc or reusable zip loc bags! I've found that using containers is not only a waste of space in your freezer, but the lid freezes most of the time and might crack! If you do use a container, make sure to add parchment paper between layers of your frozen bananas.
TWO WAYS TO FREEZE BANANAS FOR SMOOTHIES
I use both of these ways often, so pick which you like best! Method one takes a little more prep, method two is the quickest.
METHOD 1
Peel ripe bananas. Slice bananas and arrange flat on a parchment paper lined cookie sheet or plate.
Place in your freezer 2-3 hours or until bananas are frozen solid. Transfer frozen banana slices to a airtight bag. Place back in your freezer and they're ready to go for all your recipes!
METHOD 2
Peel ripe bananas. Place either whole or broken in half into a zip loc bag. Press air out of bag and seal.
Freeze at least 3 hours or until frozen solid before using.
STORAGE
They will last about 3 months in your freezer, the longer they're in your freezer the more likely they start to collect freezer burn!
RECIPES USING FROZEN BANANAS
FAQ's
What is the best container to freeze bananas?
I love using zip loc bags for mine because they are easy to press all the air out and stack to make the most out of my freezer space.
How do you freeze a whole banana for smoothies?
Simply peel the banana and place the whole banana in an airtight bag in the freezer. Freeze until solid and then use as you like!
Can you freeze bananas in the peel?
Yes you can them whole! I do not like this method because there's really no benefit to keeping the peel on in the freezer. But, if you don't mind peeling frozen banana skin off then simply break bananas apart from the bunch and then freeze each until solid.
What can I do with leftover banana peels?
I usually pack my banana peels into a large jar, cover them with water and let them ferment for a day or two. Then I have natural plant fertilizer for my indoor plants and garden!
I recently looked up if I can use banana peels as mulch and I found that banana peels can be baked then crushed and used as mulch! I baked by banana peels for about 1 hour at 350 degrees Fahrenheit. Then I crushed them with my hands and sprinkled them under my garden plants!
If you loved this post on how to freeze bananas, please let me know your thoughts by leaving a rating and comment below! Ready for more? Subscribe to my newsletter or follow along on Pinterest, Instagram, Facebook, and Youtube!
How to Freeze Bananas for Smoothies!
Learn the best way to freeze bananas for smoothies and smoothie bowls without them turning brown! I've included two easy ways to freeze your ripe bananas for sweet and delicious smoothies. This is also a great way to preserve ripe bananas for banana bread, protein shakes and more!
Equipment
sheet pan

Parchment paper

zip loc bags
Instructions
Method 1
Peel and slice bananas. Arrange flat on a parchment paper lined baking sheet. Freeze for 3 hours or until frozen solid.

Transfer frozen banana slices into an airtight bag. Freeze for up to 3 months.
Method 2
Peel frozen bananas. Leave whole or break in half. Place in a zip loc bag. Press excess air out. Seal and freeze 3 hours to overnight.

Store for up to 3 months.
Notes
The recipe is for 8 frozen bananas but use as many as you have! 
Nutrition facts for any recipe on thehintofrosemary are just an estimate and never guaranteed.
Nutrition
Serving:
1
frozen banana
Calories:
105
kcal
Carbohydrates:
24
g
Protein:
1.3
g
Fat:
0.4
g
Saturated Fat:
0.1
g
Sodium:
1
mg
Potassium:
422
mg
Fiber:
3.1
g
Vitamin C:
12.75
mg
Iron:
0.17
mg