Whole wheat pumpkin gnocchi. Skip the lines at trader joe's and make your own whole wheat pumpkin gnocchi- easy! My whole wheat pumpkin gnocchi recipe is made with whole wheat flour, all purpose flour, pumpkin puree, pink salt, eggs, and optional parmesan cheese.
My Whole Wheat Pumpkin Gnocchi Recipe is:
High in fiber
A fun fall recipe!
Perfect as a main dish or as a side
I remember way back when I used to spend my summers in New York City and one of my friends was working at this Italian restaurant where they made their own pasta. I thought, oh my gosh that is so fancy, I never in a million years thought I would be able to make my own pasta! But, it turns out that pasta making is relatively easy! You just need those well floured hands 🙂
WHAT'S THE DIFFERENCE BETWEEN WHOLE WHEAT AND ALL-PURPOSE FLOUR ?
Whole wheat means that it contains the entire grain- the bran, the germ, and the endosperm. This means that whole wheat flour is much more nutritious that all-purpose or "white" flour. Most of the grain's nutrients are inside the bran and the germ, while most of the starch is in the endosperm.
All-purpose or "white flour" has the germ and the bran stripped away during its refining process. This prolongs its shelf life, but greatly decreases its nutritional content.
WHOLE WHEAT PUMPKIN GNOCCHI INGREDIENTS
Whole wheat flour. Extend the shelf life of your whole wheat flour by storing it in the freezer between baking sessions. Don't worry-- it won't actually freeze the bag of flour together!
All purpose flour. I used a blend of whole wheat and organic unbleached all purpose flour in my whole wheat gnocchi. You can experiment with the ratio that tastes best to you.
Pink sea salt, which is a much better option than refined and bleached conventional table salt.
Local eggs. Support your local farmers!
Parmesan cheese, which is totally optional. I've made it both ways- with and without the parmesan cheese. Or, a third option is to use it as a topping on your pumpkin gnocchi.
TIPS FOR MAKING THE BEST WHOLE WHEAT FLOUR PUMPKIN GNOCCHI
Add more flour if you need it. I start with less flour in my recipe and the knead in more as I go. Experiment with different ratios of white to wheat flour to achieve the best texture and flavor that you like.
Use quality ingredients. I can't say enough how much of a difference high quality flours make. The same goes with the flavor from making your own pumpkin puree!
Cook them for long enough. If you find that your gnocchi is too tough or chewy, it probably wasn't boiled long enough!
Cook them again after boiling. The crispy outside makes a huge difference in taste and texture. Experiment with the 3 cooking techniques I like to use above to pick your favorite way!
Add pink sea salt to your sage sauce. And a bit more if you feel that they taste kind of bland. Salt brings out A LOT of flavor.
Other pumpkin recipes you might enjoy:
HOW TO MAKE WHOLE WHEAT PUMPKIN GNOCCHI
Start with a clean dry counter and grab your pastry scraper.
On the counter, add 2 ½ cups of flour plus 1 teaspoon of pink sea salt. You can decide what mixture of flour you want. For this recipe, I started with 1 cup of all purpose flour mixed with 1 ½ cups of whole wheat flour.
Form a well in the center of your flour with your hand. In the well add 1 ½ cups of pumpkin puree. You can use plain canned or homemade pumpkin puree.
Form another well in the center of your pumpkin puree with your hand. In the very center of the pumpkin puree, add 2 eggs and ¼ cup of finely grated fresh parmesan cheese.
Use your pastry scraper to begin blending the mixture together.
Once the mixture starts to come together as a dough, use your hands to knead it into a ball. If you notice that the dough is sticky, add more flour.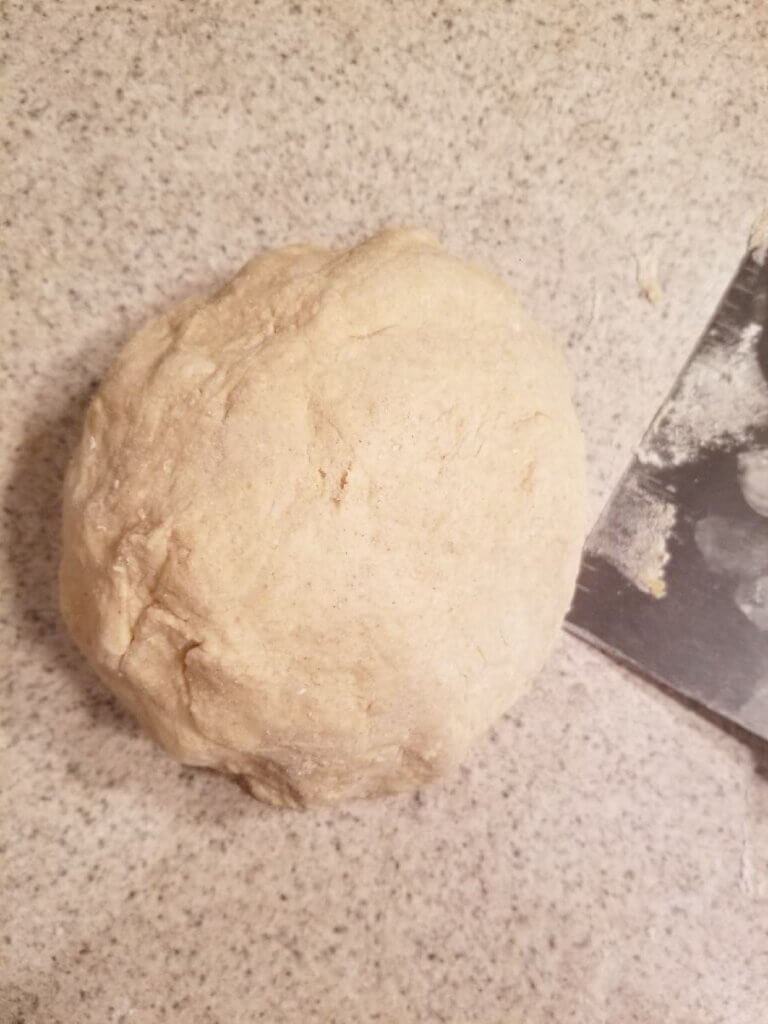 Next, divide the dough into quarters.
Roll each quarter of your dough into a ball.
Roll each ball into a long thin rope.
Finally, cut into gnocchi!
HOW TO COOK WHOLE WHEAT PUMPKIN GNOCCHI
Now that you have your homemade gnocchi prepared, it is time to cook it! You will want to start by boiling the gnocchi.
Heat a pot of water to a boil. Once the water is at a rolling boil, add half to a quarter of your gnocchi at a time. Depending on the size of your pan, you may be able to boil more or less gnocchi at a time. Your gnocchi will be ready once they float to the top of the water. This usually takes about 5 minutes of boiling. Enjoy your soft cooked gnocchi now or you can continue on to get a crispy outside!
Next, if you want that nice crispy outsize, I included 3 different cooking methods to achieve it.
3 WAYS TO GET CRISPY PUMPKIN GNOCCHI:
Pan fry. I like to pan fry mine with the sage and avocado oil sauce (directions below). You can also pan fry it with just a bit of avocado oil or organic butter.
Bake. If you want to bake your gnocchi, simply line a baking sheet with parchment paper. Then, bake your gnocchi at 350 degrees Fahrenheit until they are golden brown (~15 minutes).
Air fry. I recently realized how easy and versatile my air fryer is.. after it sat in the pantry for nearly a year. Add your gnocchi to your air fryer and cook them at 375 degrees Fahrenheit for about 10 minutes.
HOW TO SERVE WHOLE WHEAT PUMPKIN GNOCCHI
Sage avocado oil: made from 2 tablespoons avocado oil, 1 handful of fresh sage leaves, and ¼ cup chopped almonds. It is super good for you, easy to make, and gives your pumpkin gnocchi a bit more flavor!
Whipped ricotta cheese is amazing on pumpkin gnocchi. Seriously. All you have to do is whip ricotta cheese (you can use low fat or whole milk) with a blender! The creamy cool texture of the ricotta cheese is the perfect texture with the warm and crispy whole wheat pumpkin gnocchi.
Healthy alfredo sauce. My healthy alfredo sauce can go on just about anything!
---
Don't forget to follow me on Facebook, Instagram, Pinterest, and Youtube!
---
If you make this recipe and love it, please be sure to tag your photo #thehintofrosemary and leave me a rating in the recipe card!
Whole Wheat Pumpkin Gnocchi
Whole wheat pumpkin gnocchi is a really easy recipe to make at home! You can experiment with the ratio of white flour to wheat flour to get the perfect flavor and texture that you like the most.
Ingredients
For the pumpkin gnocchi:
1

cup

unbleached all purpose flour

1 ½-2

cups

whole wheat flour

1

teaspoon

pink sea salt

1 ½

cup

pumpkin puree

2

lg

eggs

¼

cup

parmesan cheese, grated

optional
For the sage sauce:
2

tablespoon

avocado oil

handful

fresh sage leaves

¼

cup

chopped almonds
Instructions
For the pumpkin gnocchi:
Combine your 1 cup all purpose flour, 1 ½ cup whole wheat flour (I always start with less flour and then add more in as I go), and 1 teaspoon salt on a clean dry counter top.

Form a well in the center of the dry ingredients and add 1 ½ cup pumpkin puree.

Form a well in the center of the pumpkin and add 2 eggs and the optional ¼ cup of parmesan cheese.

Use your pastry scraper to combine the ingredients together.

Use your hands to knead your dough into a ball as the ingredients all start to come together.

Add more flour as necessary if your dough feels sticky.

Divide your ball of dough into 4 equal parts.

Roll each piece of dough into a long skinny rope.

Cut the dough into pieces.

Cook in boiling water until they float to the surface (~5 minutes boiling).
For the sage sauce:
In a pan, heat the 2 tablespoons of avocado oil over medium heat.

Add the fresh sage leaves and ¼ cup chopped almonds, cook them until they are all golden brown.

TIP: cook the gnocchi at the same time as the sage and almonds to get it nice and crispy on the outside!

Enjoy with your fresh gnocchi!
Notes
Nutritional information is only an estimate. The accuracy of the nutritional information for any recipe on this site is not guaranteed.
Nutrition info on this recipe includes the sage sauce.
Nutrition
Serving:
1
serving
Calories:
253
kcal
Carbohydrates:
40
g
Protein:
8.5
g
Fat:
6
g
Fiber:
4
g