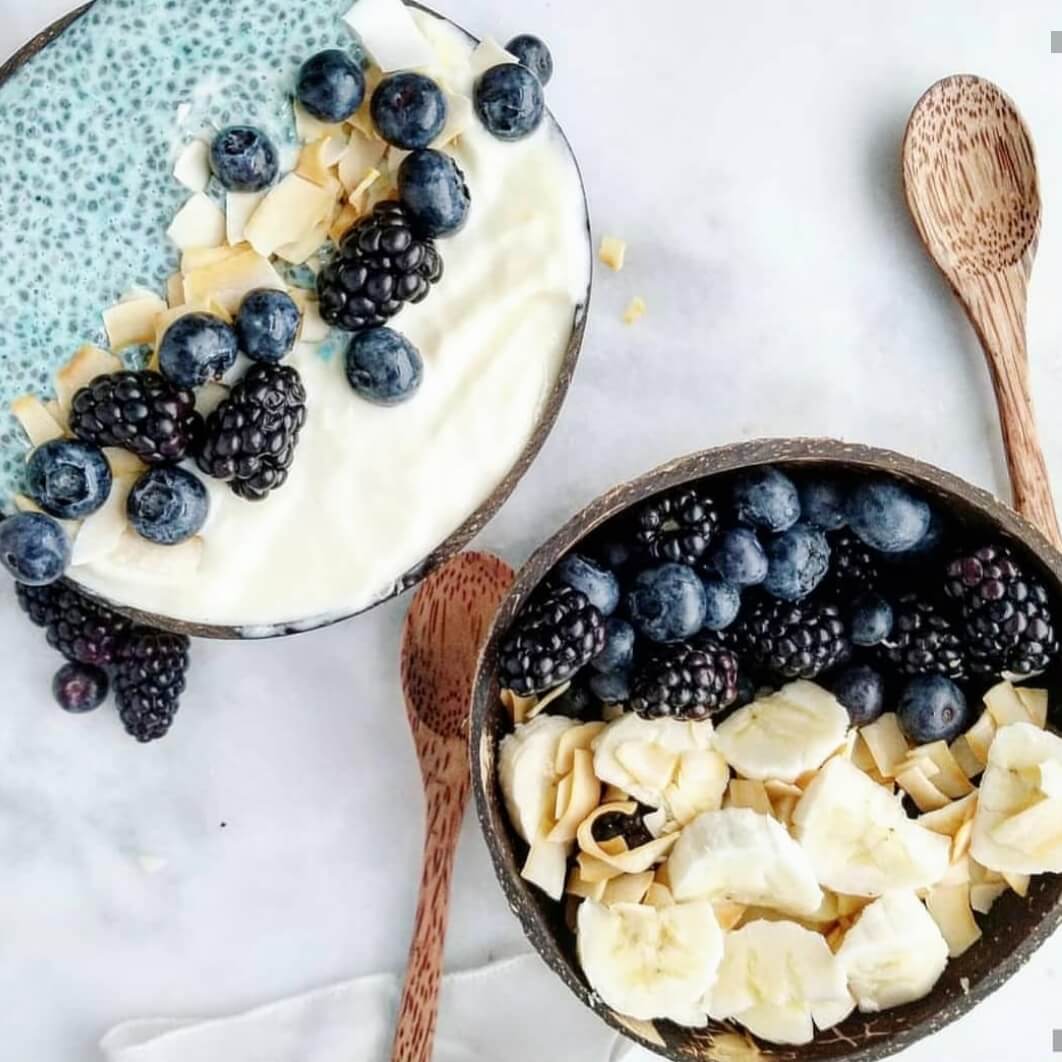 Blue Chia Pudding. My blue chia pudding recipe is easy to make and super delicious. Healthy blue chia pudding is made with just chia seeds, milk, and blue spirulina powder.
I love making chia pudding for breakfast and snacks! Chia seeds are loaded with healthy benefits. I made this blue chia pudding recipe even more interesting by pairing it with some creamy sweet pineapple smoothie.
You can either made this blue chia on its own, or pair it with the smoothie and fruit like I did!
WHAT DOES BLUE CHIA PUDDING TASTE LIKE?
Blue spirulina gives this chia pudding its natural blue color. Blue spirulina is a blue-green algae. It tastes slightly sweet and nutty.
BLUE CHIA PUDDING NUTRITION FACTS
368 calories, 63 grams of carbs, 11 grams of protein, 11 grams of fats, 15 grams of fiber. Plus many micro nutrients like vitamin C, potassium, calcium, iron, and many more!
ASK THE DIETITIAN:
IS BLUE SPIRULINA CHIA PUDDING HEALTHY?
Yes! Blue chia pudding is super healthy, especially for gut health and weight loss because it is super high in fiber and antioxidants.
Health benefits of the ingredients:
Chia seeds- are loaded with fiber, healthy fats, and minerals like manganese, phosphorus, copper, iron, and more! They are called a super food for a reason. 🙂
Milk of choice- usually is a great source of calcium, vitamin D, healthy fats, and protein. If buying plant based, make sure there is 0 grams of added sugar.
Blue spirulina- It is extremely high in micro-nutrients, namely, B vitamins and iron. Blue spirulina is also great for your liver, this is because of it's chlorophyll content! It is similar to green spirulina, minus the "swamp-like" odor.
Pineapple- ultra high in antioxidants.
Blueberries- fiber, vitamin C, vitamin K, potassium, and more antioxidants.
Blackberries- one of the highest fiber fruits!
Banana- excellent for potassium!
Coconut flakes- high in healthy fats and more fiber!
WATCH HOW I MADE BLUE CHIA PUDDING
TIPS ON MAKING THE BEST BLUE CHIA PUDDING
USE BLUE SPIRULINA POWDER. This will give you a natural blue color. The more you add, the darker the color blue you will get.
WHISK MULTIPLE TIMES TO PREVENT CLUMPING. To prevent yucky chia pudding clumps, make sure to whisk it very well!
SOAK IN THE FRIDGE OVERNIGHT FOR THE BEST CHIA PUDDING TEXTURE. This gives chia seeds an abundant amount of time to soak up as much water as they can.
MAKE MY BLUE CHIA PUDDING IN A BOWL
INGREDIENTS
My blue chia pudding is made with simple healthy ingredients! You can make just the blue chia pudding, or pair it with the pineapple smoothie and fresh blue fruit in coconut bowls.
Your Shopping List:
Bananas, fresh
Blueberries, fresh
Blackberries, fresh
Chia Seeds
Coconut chips
Milk of choice
Blue Spirulina Powder (you might have to get it online)
Frozen pineapple
HOW TO MAKE IT:
STEP 1: make the chia pudding
Start by making the blue chia pudding. This gives the chia time to "gel," and create that pudding-like texture. Many people don't stir their chia pudding enough, giving it a chunky texture.
Whisk your milk into the chia seeds and blue spirulina powder. Let the chia set a few minutes. Then, you will whisk it again to make sure it is evenly gelling. Whisk a third time to make sure your chia pudding is smooth.
STEP 2: Prepare the fruit
Next, rinse all your fruit and slice it into bite-sized chunks. I used fresh blueberries, blackberries, and banana.
For some added crunch, I mixed in coconut chips. If you don't have coconut chips, granola would be really good in this too!
STEP 3: Make the pineapple smoothie
Finally, make your pineapple smoothie! Put your frozen pineapple and soy milk or milk of choice into the blender.
Blend your pineapple nice cream until it is smooth. Scoop it in the bowl with the chia pudding and top with your prepared toppings!
FAQ's
Frequently asked questions about my blue spirulina chia pudding.
What is the difference between blue spirulina and blue majik?
It is two different names for the same thing! Powdered blue green algae.
Can I make blue butterfly pea flower chia pudding?
Yes! You can use butterfly pea powder in place of blue spirulina. Just keep in mind that the butterfly pea powder will give a slightly more purple rather than blue color.
Is chia pudding good for weight loss?
Yes! Chia pudding is excellent for weight loss because it is high in fiber, which supports a healthy gut. A healthy gut is key for long term sustainable weight loss.
Does chia pudding make you poop?
Yes! Chia pudding has both soluble and insoluble fiber. This helps get things moving along. Plus, the fruit is going to help even more.
More delicious healthy chia pudding recipes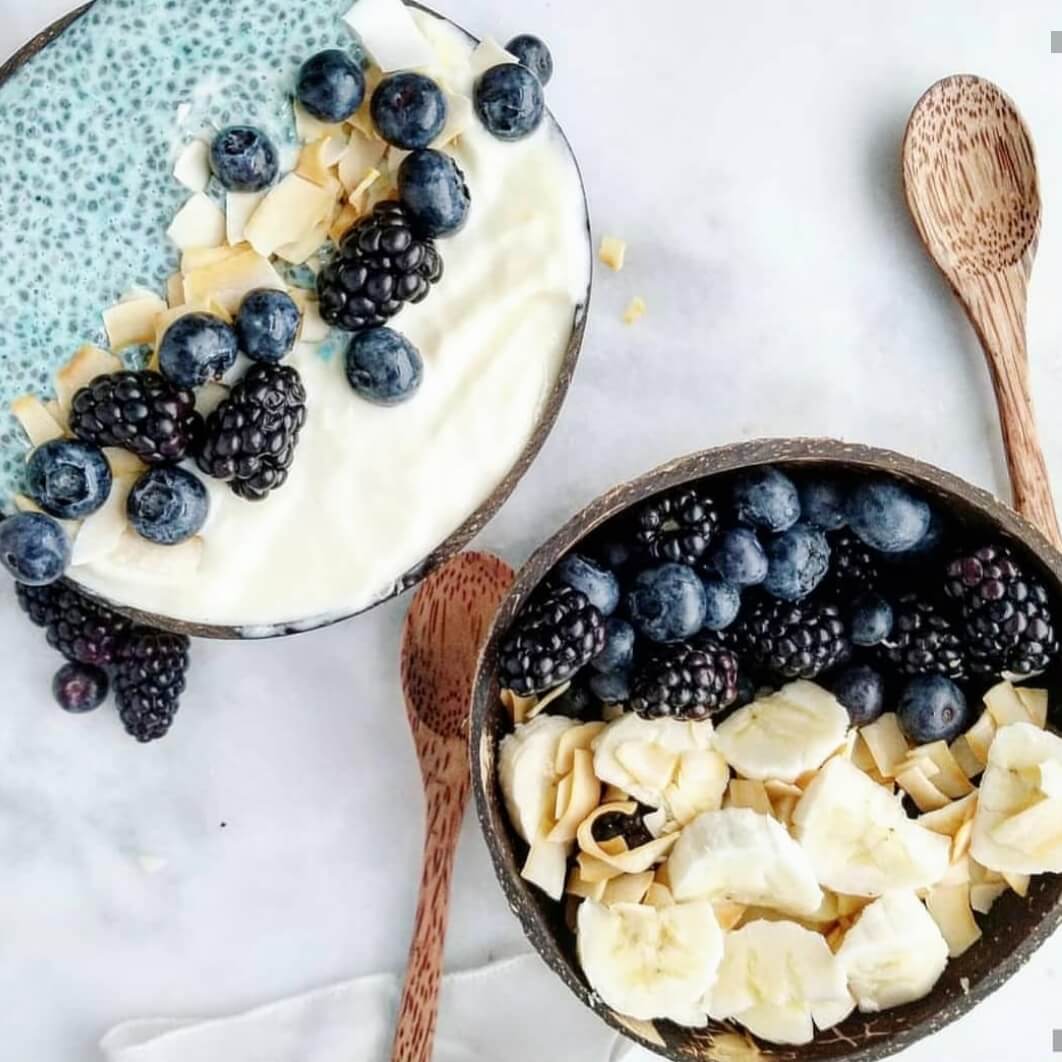 If you try this Blue Spirulina Chia Seed Pudding Recipe, please let me know your thoughts by leaving a rating and comment below! Ready for more? Subscribe to my newsletter or follow along on Pinterest, Instagram, Facebook, and Youtube!
Blue Chia Pudding with Pineapple Nice Cream
My Blue Chia Pudding recipe is super delicious and healthy for you. Blue chia pudding in a coconut bowl paired with thick and tangy pineapple smoothie bowl and fresh blue fruit.
Ingredients
For the Blue Chia Pudding
For the pineapple smoothie:
2

cups

frozen pineapple

¼

cup

milk of choice
Fruit toppings:
Bananas

Blueberries

Blackberries
Instructions
Prepare the chia pudding by mixing ½ cup milk with the 2 tablespoons of chia seeds and the blue spirulina powder. The more blue spirulina powder you add, the darker of a color you will get.

Make sure to stir the chia pudding a few times while you're making the smoothie to evenly gel the pudding.

Let it soak in the fridge overnight for the best chia pudding texture.

In a blender, blend the frozen pineapple and the milk, for a thicker texture, use less milk and stir the smoothie down towards the blades until smooth.

Top with more fruit and enjoy a sweet and healthy blue chia seed coconut bowl!
Notes
Nutrition facts for any recipe on thehintofrosemary are only an estimate and not guaranteed. 
Nutrition
Serving:
1
smoothie bowl with fruit
Calories:
368
kcal
Carbohydrates:
63
g
Protein:
11
g
Fat:
11.4
g
Saturated Fat:
0.9
g
Potassium:
618
mg
Fiber:
15
g
Vitamin C:
196.5
mg
Calcium:
360
mg
Iron:
3.06
mg