Are you searching for a delicious and wholesome breakfast option that will kickstart your day with a burst of vibrant color and nutrition? Look no further than my Blue Chia Pudding recipe!
This delightful treat combines the goodness of chia seeds, the creaminess of your favorite milk, and the enchanting hue of blue spirulina powder. Not only is it visually stunning, but it's also packed with essential nutrients that will nourish your body and tantalize your taste buds.
With every spoonful of my Blue Chia Pudding, you'll experience a harmonious blend of textures and flavors. The chia seeds create a luscious, pudding-like consistency while providing a rich source of fiber, healthy fats, and an array of minerals. Paired with your choice of milk, whether it's creamy dairy or a plant-based alternative, you'll be treated to a velvety smoothness that perfectly complements the chia seeds.
Remember, breakfast can be both healthy and indulgent, and my Blue Chia Pudding is the perfect embodiment of that. Get ready to savor every spoonful and embark on a journey of wellness and deliciousness!
WHAT DOES BLUE CHIA PUDDING TASTE LIKE?
One key ingredient that sets my Blue Chia Pudding apart is the mesmerizing blue spirulina powder. Derived from a nutrient-dense blue-green algae, it not only adds a striking blue color to the pudding but also offers a subtle sweetness with a hint of nuttiness.
Blue spirulina is renowned for its antioxidant properties and is loaded with B vitamins, iron, and other essential micronutrients, making this recipe a powerhouse of goodness.
BLUE CHIA PUDDING NUTRITION FACTS
368 calories
63 grams of carbs
11 grams of protein
11 grams of fats
15 grams of fiber
many micro nutrients like vitamin C, potassium, calcium, iron, and more!
By indulging in this Blue Chia Pudding, you'll not only satisfy your cravings for a scrumptious breakfast but also nourish your body with an abundance of vital nutrients. It's a fantastic way to kickstart your morning or enjoy as a satisfying snack throughout the day.
BLUE SPIRULINA BENEFITS
Blue spirulina offers a range of benefits due to its nutrient-dense composition. This blue-green algae is packed with essential vitamins, minerals, and antioxidants. One of its notable benefits is its high concentration of B vitamins and iron, which support energy production and promote healthy blood cells.
Blue spirulina also contains chlorophyll, which is beneficial for detoxifying the body and supporting liver health. Additionally, it boasts antioxidant properties that help combat oxidative stress and protect cells from aging. Incorporating blue spirulina into your diet can contribute to overall well-being, glowing skin, and provide a natural source of nutrients for optimal health.
ASK THE DIETITIAN:
IS BLUE SPIRULINA CHIA PUDDING HEALTHY?
Yes! Blue chia pudding is extremely healthy, especially for gut, liver, and skin health because it is super high in fiber and antioxidants.
Health benefits of the ingredients:
Chia seeds- are loaded with fiber, healthy fats, and minerals like manganese, phosphorus, copper, iron, and more! They are called a super food for a reason.
Milk of choice- usually is a great source of calcium, vitamin D, healthy fats, and protein. If buying plant based, make sure there is 0 grams of added sugar.
Blue spirulina- It is extremely high in micro-nutrients, namely, B vitamins and iron. Blue spirulina is also great for your liver, this is because of it's chlorophyll content! It is similar to green spirulina, minus the "swamp-like" odor.
Pineapple- ultra high in antioxidants.
Blueberries- fiber, vitamin C, vitamin K, potassium, and more antioxidants.
Blackberries- one of the highest fiber fruits!
Banana- excellent for potassium!
Coconut flakes- high in healthy fats and more fiber!
TIPS ON MAKING THE BEST BLUE CHIA PUDDING
USE BLUE SPIRULINA POWDER. This will give you a natural blue color. The more you add, the darker the color blue you will get.
WHISK MULTIPLE TIMES TO PREVENT CLUMPING. To prevent yucky chia pudding clumps, make sure to whisk it very well!
SOAK IN THE FRIDGE OVERNIGHT FOR THE BEST CHIA PUDDING TEXTURE. This gives chia seeds an abundant amount of time to soak up as much water as they can.
HOW TO MAKE BLUE CHIA PUDDING: A DELIGHTFULLY COLORFUL AND NUTRITIOUS RECIPE
Looking to add a pop of vibrant color to your breakfast routine? Look no further than this simple and nutritious Blue Chia Pudding recipe. Made with chia seeds, blue spirulina powder, and your choice of milk, this visually stunning treat will not only tantalize your taste buds but also provide a host of health benefits. Let's dive into the step-by-step instructions and get ready to enjoy a bowl of blue goodness!
Ingredients:
2 tablespoon chia seeds
½-1 teaspoon blue spirulina powder
1 tablespoon honey or maple syrup (optional)
½ cup milk of choice
Instructions:
In glass jars or containers, add the chia seeds, blue spirulina powder, and optional honey or maple syrup. The amount of blue spirulina powder you use will determine the intensity of the color, so adjust according to your preference.
Pour in the milk of your choice. Whether you prefer creamy dairy milk or a plant-based alternative, such as almond milk or coconut milk, the choice is yours.
Stir the mixture vigorously, making sure to scrape the sides of the jar to prevent any chia seeds from clumping. Stirring multiple times during the process will help the chia seeds gel evenly and create a smooth pudding texture.
Once well combined, cover the jars and refrigerate them overnight. Allowing the chia pudding to soak in the fridge overnight ensures that the chia seeds fully absorb the liquid, resulting in a creamy and delectable texture.
In the morning, remove the jars from the refrigerator and give the blue chia pudding a final stir. The pudding should have thickened to a delightful consistency.
Serve the blue chia pudding as is or get creative with your toppings. Consider adding a dollop of yogurt and a colorful assortment of your favorite fruits to enhance both the flavor and visual appeal.
HOW TO SERVE BLUE CHIA PUDDING
To take this blue chia seed pudding to the next level, I suggest pairing it with a refreshing pineapple smoothie. The tangy sweetness of the pineapple perfectly balances the earthiness of the chia pudding, creating a delightful combination that will leave your taste buds dancing with joy.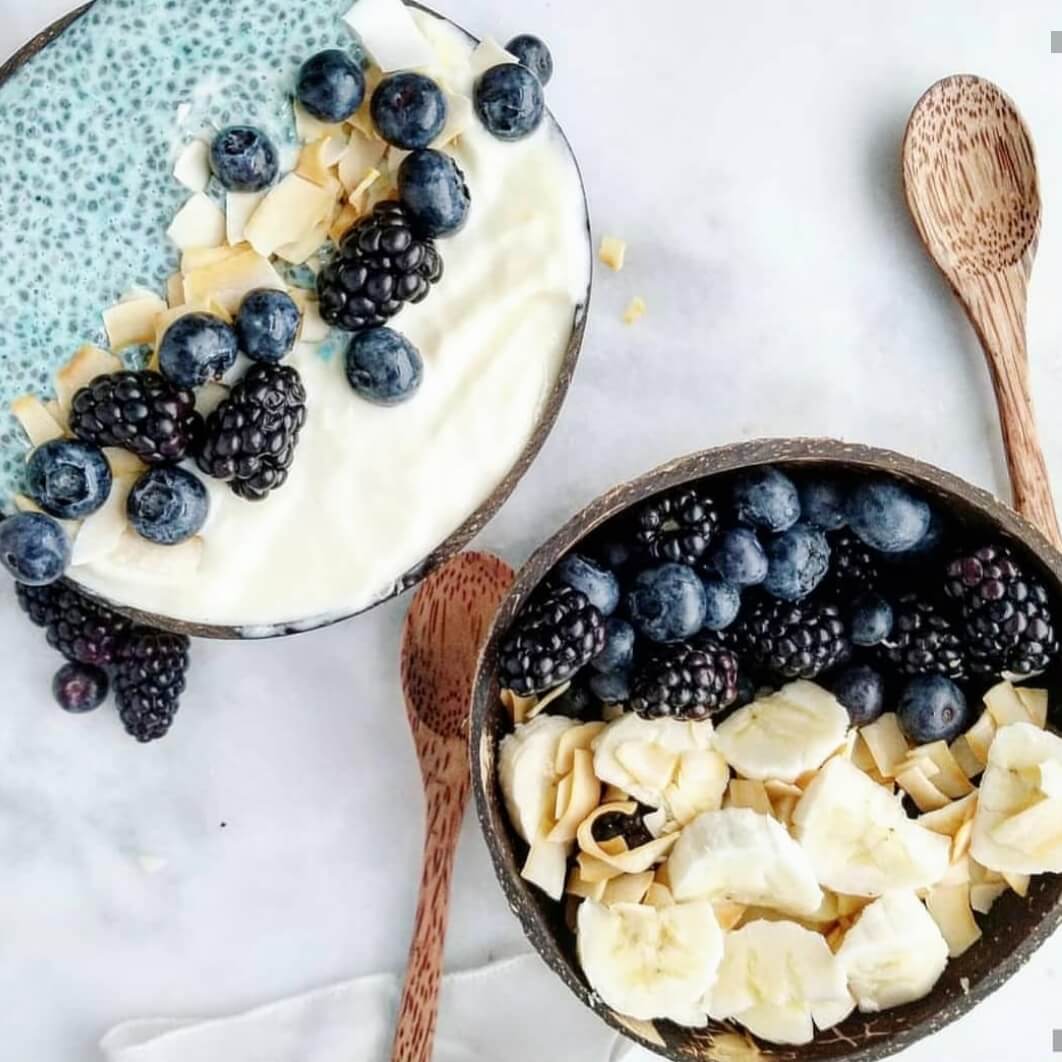 More delicious healthy chia recipes
Frequently Asked Questions (FAQ's)
What are the health benefits of blue spirulina? Blue spirulina is a nutrient-rich blue-green algae that offers numerous health benefits. It is packed with essential vitamins, minerals, and antioxidants, such as vitamin A, iron, potassium, and calcium.
How do I make blue butterfly pea flower chia pudding? To make blue butterfly pea flower chia pudding, you can substitute butterfly pea powder for blue spirulina in the recipe. Keep in mind that butterfly pea powder may result in a slightly more purple color rather than blue, but it will still yield a visually appealing and delicious pudding.
Is chia pudding suitable for weight loss? Yes! Chia pudding is an excellent addition to a weight loss diet. It is high in fiber, which promotes a feeling of fullness and aids in digestion. Additionally, chia seeds are packed with nutrients and healthy fats that provide sustained energy.
How long can I store chia pudding in the fridge? Chia pudding can be stored in an airtight container in the refrigerator for up to five days. This makes it a convenient option for meal prepping or enjoying as a quick and healthy snack throughout the week. Just make sure to give it a good stir before serving, as the pudding may thicken further during storage.
Are there variations of chia pudding I can try? Absolutely! Chia pudding is incredibly versatile. Some delicious variations include matcha chia pudding, pink pitaya chia pudding, strawberry chia pudding, and golden milk chia pudding. Feel free to get creative and explore the endless possibilities of healthy and delicious chia pudding recipes.
If you try this Blue Spirulina Chia Seed Pudding Recipe, please let me know your thoughts by leaving a rating and comment below! Ready for more? Subscribe to my newsletter or follow along on Pinterest, Instagram, Facebook, and Youtube!
Delicious and Healthy Blue Chia Pudding Recipe!
Indulge in my Blue Chia Pudding recipe, a delightful and nutritious treat that combines chia seeds, milk, and the vibrant blue spirulina powder. This visually stunning pudding is not only a feast for the eyes but also a powerhouse of health benefits. Chia seeds offer a rich source of fiber, healthy fats, and minerals, while blue spirulina adds its own array of nutrients, including B vitamins and iron. With its antioxidant properties and gut-friendly fiber, this blue chia pudding is a fantastic choice for promoting overall wellness. Get ready to enjoy a scrumptious and nourishing breakfast or snack that will leave you feeling satisfied and energized throughout the day.
Equipment
glass jar with tight fitting lid
Instructions
In glass jars, add the chia seeds, blue spirulina, and optional honey or maple syrup. The more blue spirulina powder you add, the darker of a color you will get.

2 tablespoon chia seeds,

½-1 teaspoon blue spirulina powder,

1 tablespoon honey

Stir very well so that there are no chia seeds stuck to the side of the jar. Make sure to stir the chia pudding a few times while you're making the smoothie to evenly gel the pudding.

Let it soak in the fridge overnight for the best blue chia pudding texture.

Serve with yogurt and your favorite fruit!

Chia pudding lasts in the fridge up to 5 days.
Notes
Nutrition facts for any recipe on thehintofrosemary are only an estimate and not guaranteed. 
Nutrition
Serving:
1
blue chia pudding
Calories:
368
kcal
Carbohydrates:
63
g
Protein:
10
g
Fat:
11.4
g
Saturated Fat:
0.9
g
Potassium:
618
mg
Fiber:
15
g
Vitamin C:
196.5
mg
Calcium:
360
mg
Iron:
3.06
mg