Golden Milk Latte Mix. This is the best golden milk powder recipe you will find! My golden milk mix recipe is made with cardamom, cinnamon, cloves, ginger, and of course black pepper!
My Golden Milk Latte Mix Recipe is:
Easy to make
Common spices!
Excellent for golden milk recipes!
Super healthy for you
The most researched herb on the planet!
This golden milk latte mix is super delicious and filled with so many disease fighting ingredients. Chances are, that spice rack you bought sitting on your counter has most of the ingredients!
Make my golden milk latte mix to have on hand for lattes, pancakes, and oats!
ASK THE DIETITIAN
ARE GOLDEN MILK LATTES GOOD FOR YOU?
Yes! Golden milk is loaded with antioxidants and is excellent for your health! Golden milk can help with almost every malady out there.
TURMERIC LATTE BENEFITS
Turmeric is one of the most widely studied spices for its healing benefits. It contains powerful compounds called curcuminoids. Curcuminoids have been linked to:
Increased body's antioxidant capacity
Boosts brain derived neurotrophic factor (for better brain health)
Lowers risk of heart disease
Helps prevent cancer, and some studies suggest that it can help treat cancer
Helps delay aging and age related diseases
The other ingredients used in this are cloves, cinnamon, cardamom, ginger, and black pepper. These have also shown effective in reducing inflammation in the body!
What could be better than a delicious and powerfully therapeutic drink!
FAQ'S
More frequently asked questions about golden milk latte mix.
WHAT IS THE GOLDEN LATTE?
Golden milk is a traditional Indian drink that is used to help treat and sooth many diseases. In its classic simple form, it is a blend of hot milk, ground turmeric and other warm spices like cinnamon and cloves. To get the most out of turmeric, it must be consumed with black pepper.
WHY DOES TURMERIC HAVE TO BE DRANK WITH BLACK PEPPER?
Without black pepper, turmeric is very unavailable to your body. When you combine turmeric with black pepper, it increases the absorption rate by a lot!! With just 1/20 of a teaspoon of black pepper in your turmeric latte, you can increase its absorption in your body immensely! Which means it is much more health beneficial.
WHAT HAPPENS IF YOU DRINK TURMERIC MILK EVERY DAY?
If you drink turmeric milk every day, you might start seeing improvement in areas of your health that have been not so good.
WHAT IS THE BEST TIME TO DRINK GOLDEN MILK?
You can drink it any time of day! It is a non caffeinated beverage so some people like to drink it warm right before bed to wind down.
WHAT HAPPENS IF WE DRINK TURMERIC MILK EVERY NIGHT?
Turmeric can help with insomnia problems, so drinking it right before bed might help you get into REM sleep faster and stay asleep for longer.
DOES TURMERIC HELP YOU LOSE WEIGHT?
Turmeric's main ability is in reducing inflammation. Since obesity causes inflammation, turmeric can definitely help with that and would be part of a great weight loss plan.
Recipes to use Golden Latte Mix:
WATCH HOW I MADE EASY TURMERIC LATTE MIX IN A MASON JAR WITH KITCHEN SPICES
HOW TO MAKE GOLDEN MILK LATTE MIX
GOLDEN MILK RECIPE:
1 cup turmeric powder
½ teaspoon ground cloves
4 teaspoon ground cinnamon
2 teaspoons cardamom powder
2 tablespoons ginger powder
½-1 tablespoon black pepper
Add all the ingredients to a container with a lid.
Add the lid and shake it up! And that is it, you have your golden milk latte mix!
Store it in an airtight container out of direct sunlight. I store mine in my tea cabinet. When you are ready for a latte, mix 1 teaspoon of this mix with your milk of choice. Enjoy!
GOLDEN MILK POWDER USES
You can use golden milk powder in so many recipes from lattes to pancakes and more!
Turmeric recipes you might like: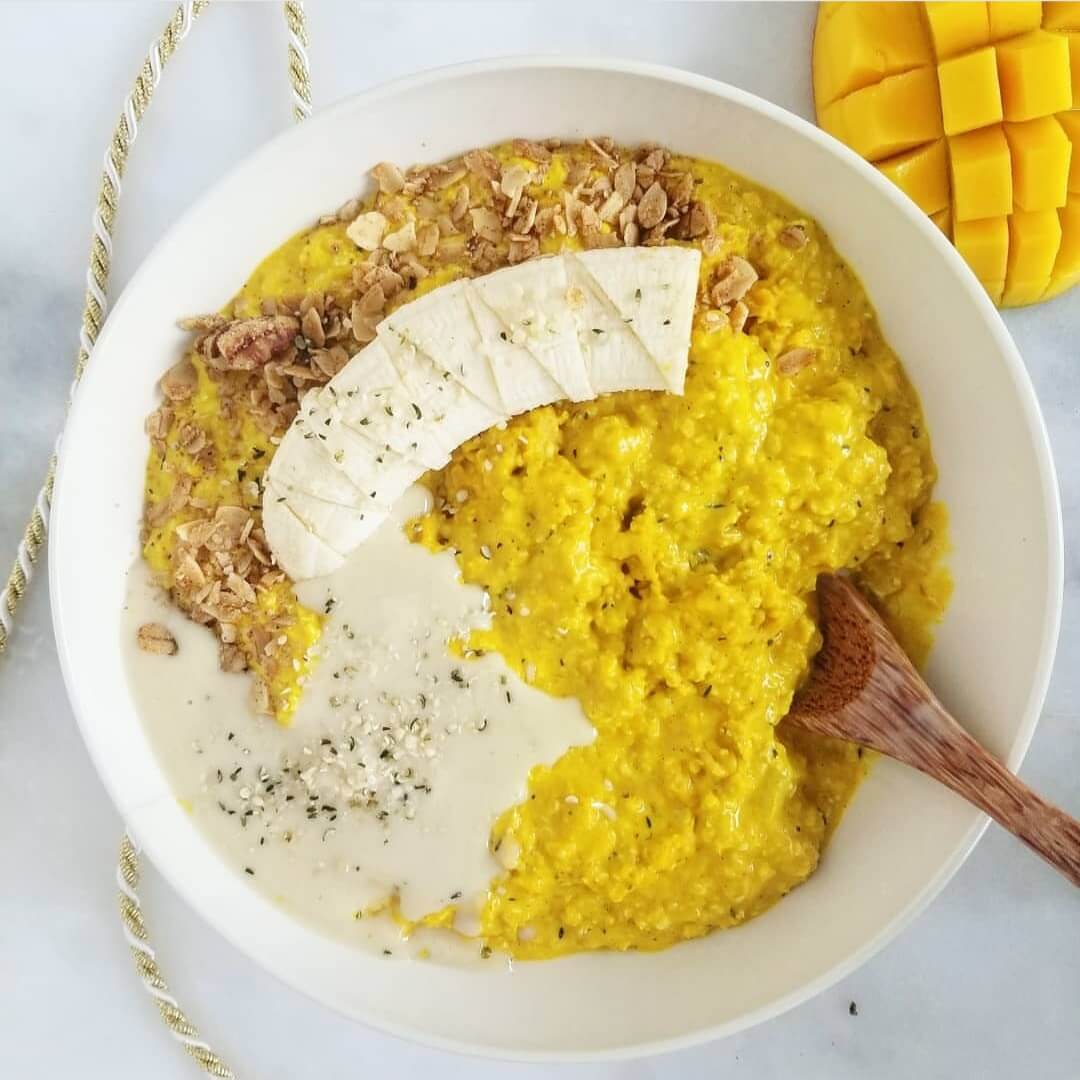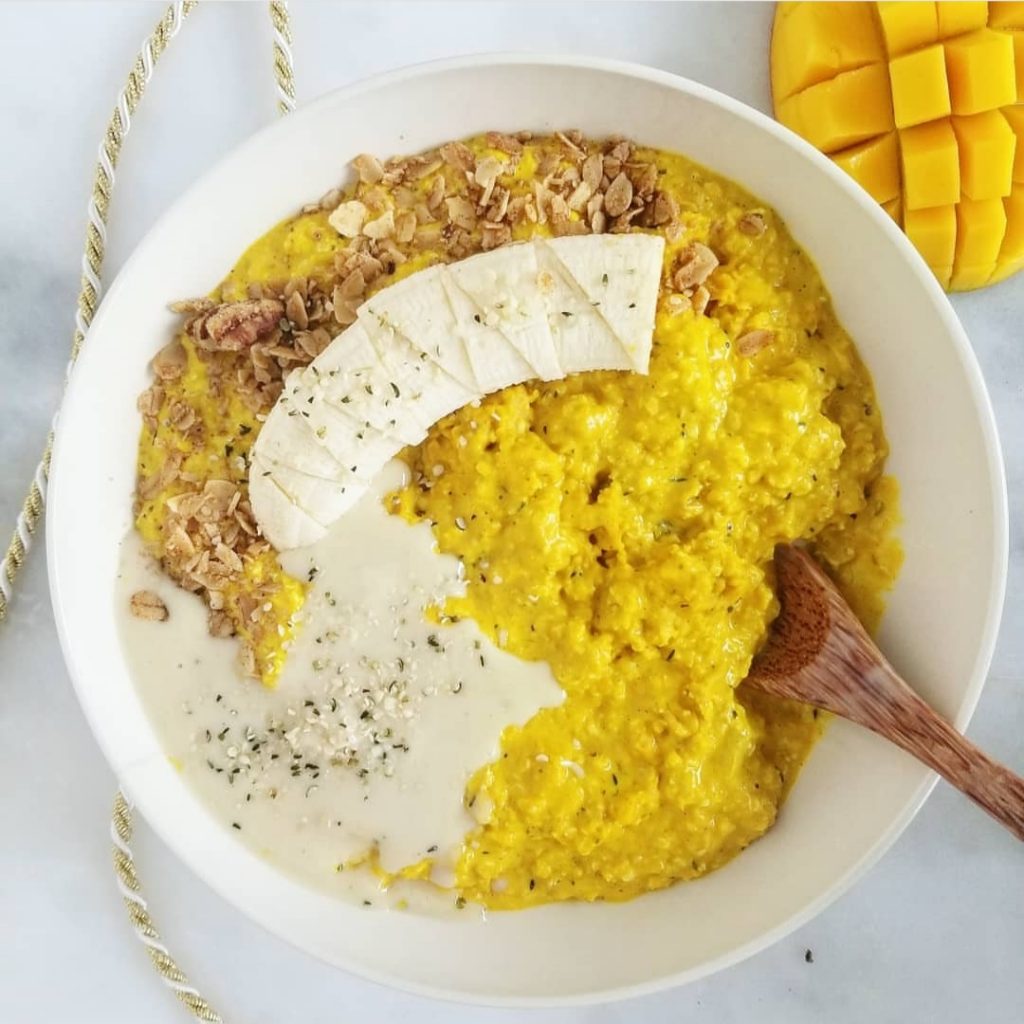 ---
Don't forget to follow me on Facebook, Instagram, Pinterest, and Youtube!
---
If you make this recipe and love it, please be sure to tag your photo #thehintofrosemary and leave me a rating in the recipe card!
Golden Milk Latte Mix (Turmeric Latte Mix)
This golden milk latte is super delicious and filled with anti-inflammatory ingredients. Chances are that you have most of these in your spice cabinet for turmeric latte mix!
Ingredients
1

cup

turmeric powder

½

teaspoon

ground cloves

4

tsp

ground cinnamon

2

teaspoon

cardamom powder

2

tablespoon

ginger powder

½-1

tbsp

black pepper
Instructions
Mix all in a container. Use 1 teaspoon per cup to make a delicious latte!

Store in your tea cabinet in a sealed container.
Notes
Nutrition information for any recipe on thehintofrosemary is only an estimate.
Nutrition
Serving:
1
teaspoon
Calories:
6
kcal
Carbohydrates:
1.5
g
Protein:
0.2
g
Fat:
0.2
g
Sodium:
1
mg
Potassium:
57
mg
Fiber:
0.5
g
Vitamin C:
0.75
mg
Calcium:
5
mg
Iron:
0.85
mg