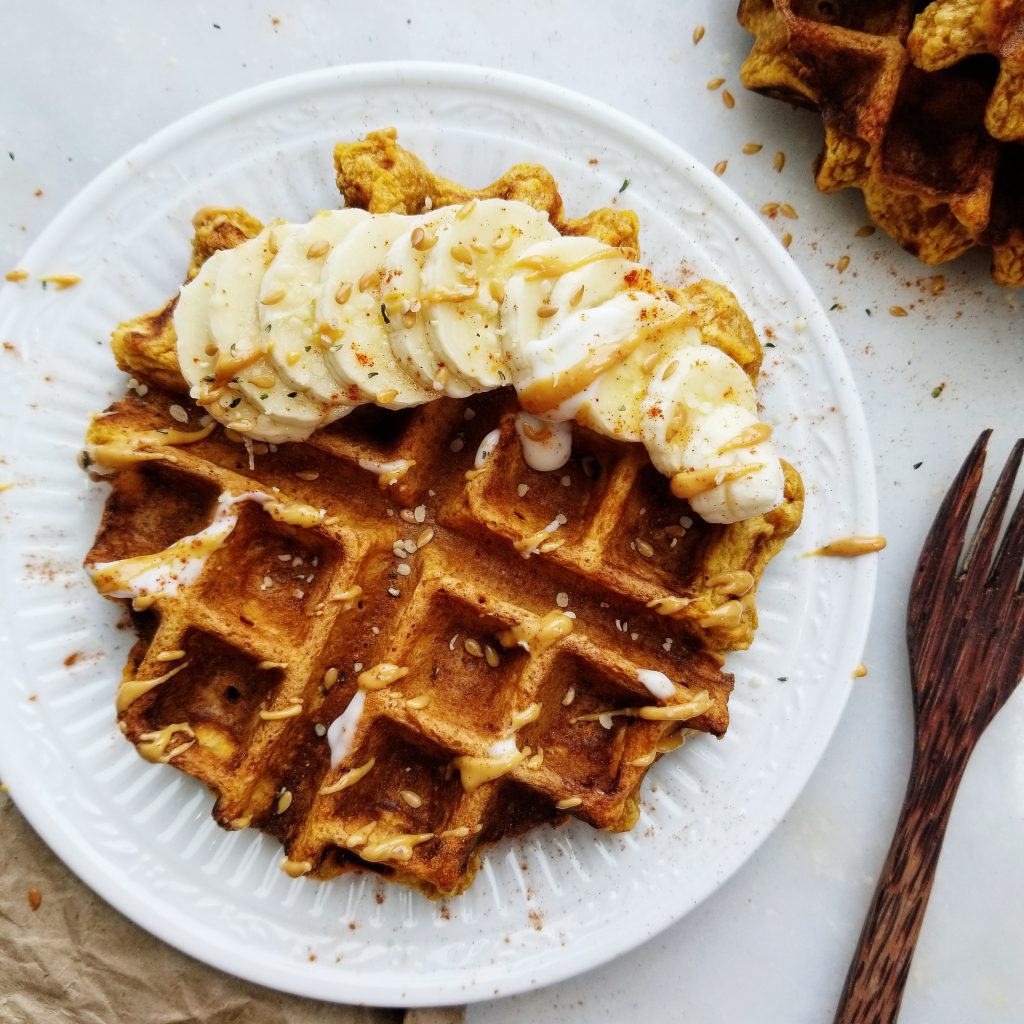 Healthy Pumpkin Spice Waffles! Fluffy on the inside, crispy on the outside, these healthy pumpkin spice waffles make the perfect fall breakfast recipe. I made my pumpkin spice waffles without pumpkin puree! They are so easy to make and so delicious.
I've always said I'm a summer gal, but secretly fall is my most favorite season. The cozy sweaters, crisp weather, reading a book with a cup of warm tea. But the real reason fall is my favorite season is all the pumpkin spice recipes!
My pumpkin spice waffles without pumpkin puree are a fun breakfast to make on a slow fall weekend morning. I hope you love these as much as we do!
HEALTHY PUMPKIN SPICE WAFFLES INGREDIENTS
flour all-purpose, white whole wheat, whole wheat, or oat
sugar
gelatin
baking powder (aluminum free)
pumpkin pie spice
sweet potato
eggs
almond milk (unsweetened)
coconut oil
pure vanilla extract
HOW DO YOU SPICE UP PLAIN WAFFLES?
If you have a bag of waffle mix sitting around that you want to spice up for a fun fall breakfast, add 1 teaspoon of pumpkin pie to the mix! Pumpkin pie spice adds soo much flavor to your waffles.
HOW TO MAKE PUMPKIN SPICE WAFFLES WITHOUT PUMPKIN PUREE
Let's get started! These pumpkin spice waffles are made without any pumpkin puree at all and instead uses sweet potato. The only reason I used sweet potato at the time was because I didn't have any pumpkin puree on hand! So if you want to use pumpkin instead of the sweet potato go right ahead!
Step 1: Heat your waffle maker
Heat your waffle while you are making your pumpkin waffle batter. A super hot waffle maker is key for good crispy waffles!
I use a ceramic waffle maker. It is totally non-stick and you don't have to use a cooking spray! Most waffle makers are coated with a non-stick surface that is actually toxic when heated. Ceramic material is the safer option, as it does not release any toxins when it is heated.
Step 2: Make the pumpkin spice sweet potato waffle batter
First, in a medium sized mixing bowl, sift together all the dry ingredients:
flour
sugar
gelatin
baking powder
pumpkin pie spice
If you are vegetarian or vegan, you can substitute to gelatin for tapioca starch.
Next, in a separate bowl, combine the wet ingredients:
mashed sweet potato
eggs
almond milk
melted & cooled coconut oil
vanilla extract
Fold the wet ingredients into the dry ingredients and mix until your pumpkin waffle batter is just combined. Overmixing may give you chewier waffles.
Step 3: cook your pumpkin spice waffles!
Pour about ½ cup of the batter onto the hot waffle griddle. You can use the bottom of the measuring cup to spread the batter out. Close the griddle and let cook ~10 minutes.
Cook times may vary depending on the waffle maker you have. My rule of thumb is that the waffle is done when the steam stops coming out.
This recipe makes about 6 pumpkin spice waffles. So, if you have a larger family I would definitely double this!
Happy fall!
FAQ'S
Frequently asked questions about my easy healthy pumpkin spice waffles recipe.
CAN I MAKE HEALTHY PUMPKIN SPICE WAFFLES WITH PUMPKIN PUREE?
Yes! You can replace the sweet potato in this recipe with pumpkin puree instead.
CAN THESE PUMPKIN SPICE WAFFLES BE FROZEN?
Yes! You can make a large batch of these pumpkin spice waffles and freeze them to have a healthy pumpkin waffle ready to go! To make sure that they don't stick together, let them cool completely and place a piece of parchment or wax paper between each waffle.
HOW DO I MAKE GLUTEN FREE WAFFLES?
For a healthy gluten free waffle recipe, simply use oat flour or 1:1 gluten free flour as the flour in this recipe. All other ingredients in my pumpkin waffles are already gluten free friendly.
More fall recipes with pumpkin pie spice:
If you try my Healthy Pumpkin Waffles Recipe, please let me know your thoughts by leaving a rating and comment below! Ready for more? Subscribe to my newsletter or follow along on Pinterest, Instagram, Facebook, and Youtube!
Healthy Pumpkin Spice Waffles without Pumpkin Puree
Crispy on the outside, fluffy on these inside these healthy pumpkin spice waffles are a delicious fall breakfast! I made my pumpkin spice waffles without any pumpkin puree, but you can also make them with pumpkin puree. See recipe notes below!
Instructions
Sift together all dry ingredients in a medium sized bowl.

Add the wet ingredients to the same bowl and stir just until combined.

Pour ~½ cup of the batter to a hot waffle maker

Cook ~10 mins or until there is no more steam coming out of the griddle.

Top with your favorite toppings and enjoy!
Notes
*I used a ceramic waffle maker, which doesn't need any cooking spray. Your griddle may need cooking spray before putting the batter on. 
For sweet potato and pumpkin waffles, you can use half mashed sweet potato and half pureed pumpkin!
For pumpkin puree waffles, simply replace the sweet potato with pumpkin puree.
Nutritional information is only an estimate. The accuracy of the nutritional information for any recipe on this site is not guaranteed.
Nutrition
Serving:
1
pumpkin spice sweet potato waffle
Calories:
235
kcal
Carbohydrates:
36
g
Protein:
5
g
Fat:
6.3
g
Saturated Fat:
4.5
g
Polyunsaturated Fat:
0.1
g
Monounsaturated Fat:
0.3
g
Cholesterol:
61
mg
Potassium:
156
mg
Fiber:
2
g
Sugar:
8
g
Vitamin A:
3185
IU
Vitamin C:
0.6
mg
Calcium:
97
mg
Iron:
0.7
mg
Pumpkin spice waffles were originally posted on November 28th, 2019 and updated on October 20th, 2022.