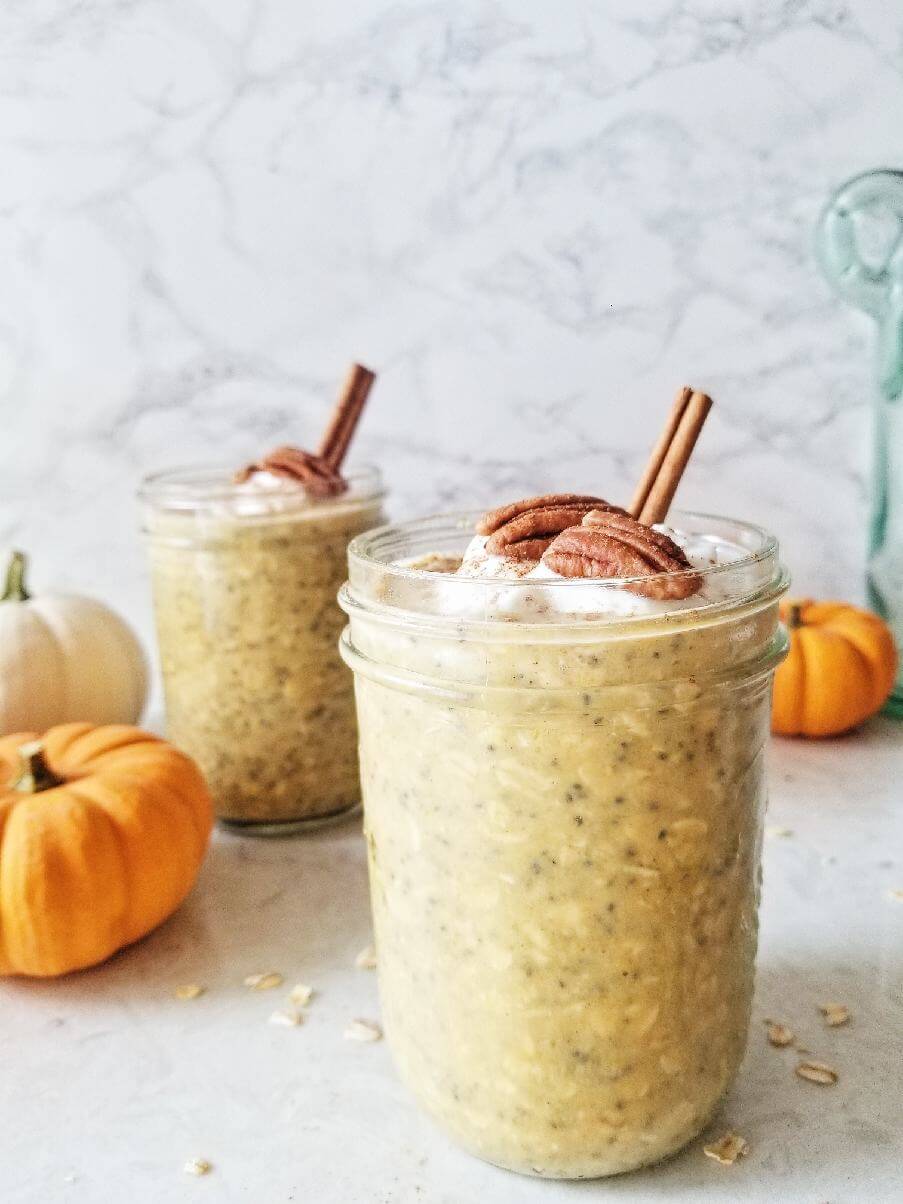 Pumpkin Pie Spice Overnight Oatmeal. My pumpkin spice overnight oats are a really healthy way to start the day! Pumpkin spice overnight oats are made with hearty rolled oats, homemade pumpkin puree, milk, chia seeds, pumpkin pie spice, and pumpkin seed butter.
My Pumpkin Spice Overnight Oatmeal Recipe is:
Healthy
Good for gut health
Balances hormones
Easy to make
Full of fall flavor!
Overnight oats can really be eaten year round, but my favorite season to make them is in the fall and winter. There is something just so cozy about a big warm bowl of oats!
Unlike stovetop oats, overnight oats are made ahead so you can warm them up quickly in the microwave instead of having to worry about cooking a breakfast on a busy morning.
PUMPKIN PIE SPICE OVERNIGHT OATS INGREDIENTS
My pumpkin spice overnight oats are loaded with health boosting ingredients! Whether you make the original recipe or you make blended pumpkin overnight oats, the health benefits are equal!
Rolled (old fashioned) oats overnight oats are best made with rolled oats. If you use instant (quick) oats, they will be really mushy the next day. If you use steel cut oats, they will be very tough and chewy since steel cut oats have to be cooked a lot to soften.
Pumpkin puree use homemade puree, or organic canned pumpkin puree.
Milk. I used vanilla soy milk, and I have also used vanilla almond milk and homemade hemp seed milk. You can use any type of milk that you like in this recipe.
Hemp, Flax, or Chia seeds are an excellent source of healthy fats and fiber! If you're not a chia fan, you can definitely make these blended pumpkin overnight oats without chia and with flax or hemp instead! You can even puree the seeds with the oats if you don't like a chunky texture.
Pumpkin pie spice. I use pre made pumpkin pie spice to make this recipe easier. Pumpkin pie spice is just a mixture of cinnamon, nutmeg, ginger, and cloves.
Pumpkin seed butter or Cashew Butter is another excellent source of healthy fats. If you can't find pumpkin seed butter, almond butter is a great alternative.
Maple syrup adds a bit of sweetness to this overnight oat recipe. You can adjust the amount based on your preference.
ARE BLENDED PUMPKIN OATS AS HEALTHY AS OVERNIGHT OATS?
Yes! Blended oats are just as healthy as regular oats, you are literally just blending the entire grain into a fine texture and retaining all the fiber and nutrients. It really comes down to, do you like the texture of oatmeal, or do you like a smooth texture that blended oats have?
IS PUMPKIN PIE OVERNIGHT OATMEAL GOOD TO EAT EVERY DAY?
Oatmeal is really good for you! Oats are a whole grain food that contains a lot of nutrients to support your health. Oatmeal is a great source of healthy carbs and fiber, namely beta-glucan. Beta-glucan is extremely powerful in its role to support gut health and also reduce cholesterol.
Oatmeal also contains manganese, phosphorus, magnesium, copper, iron, zinc, folate, thiamin, pantothenic acid, and even antioxidants!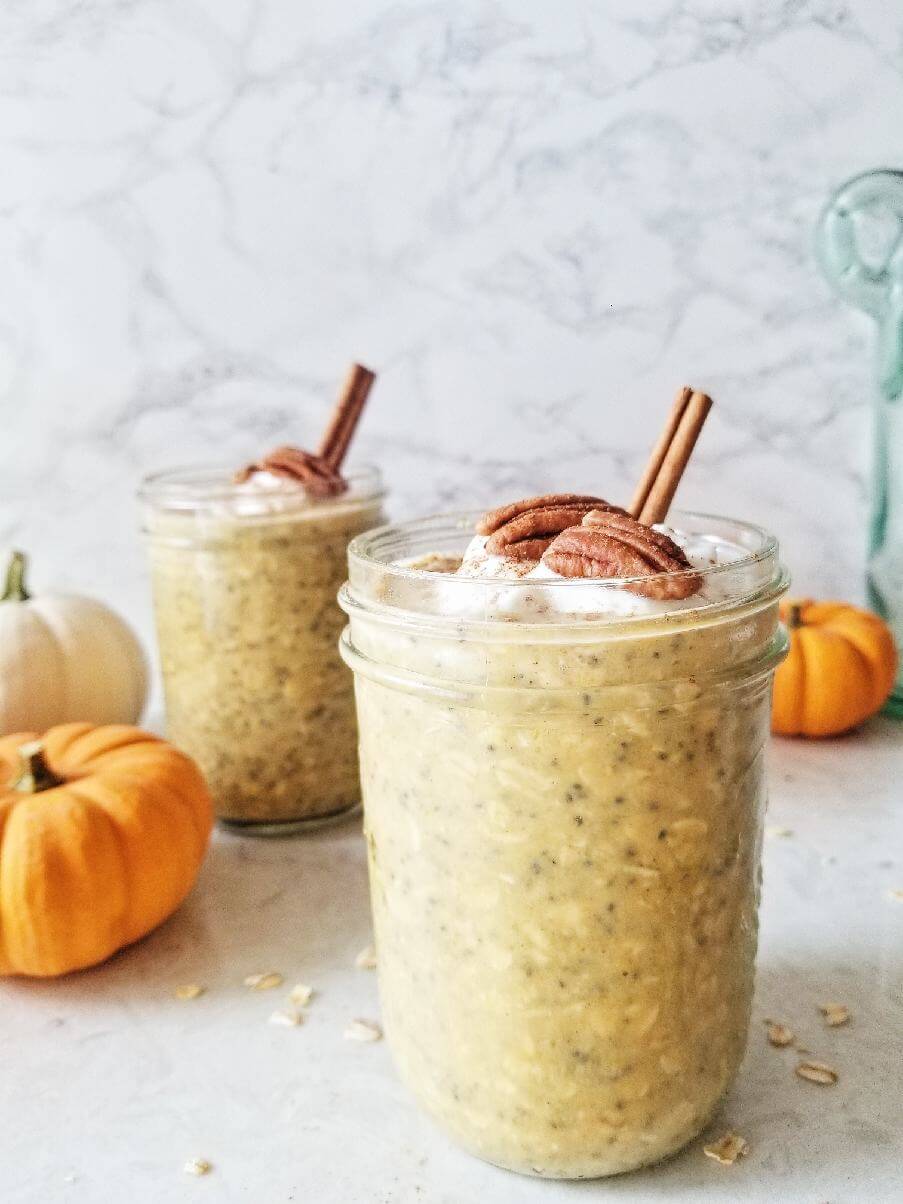 WHAT IS THE SECRET TO OVERNIGHT OATS?
Here are my top 4 tips to make the best fall overnight oats.
USE ROLLED (OLD FASHIONED OATS). Quick oats become too mushy and steel cut oats are too hearty.
ADD CHIA OF FLAXSEED. Chia and flaxseed add a good amount of fiber to keep you full longer.
USE QUALITY SPICES. Make sure you use fresh high quality pumpkin pie spice for the best flavor!
MIX WELL. Mix your oats well so that the oatmeal will soak up all the flavors overnight.
HOW TO MAKE PUMPKIN SPICE OVERNIGHT OATMEAL- 2 WAYS
The original recipe is a classic overnight oatmeal recipe. I recently stumbled upon blended oats and love them even more than regular overnight oats. If you don't like the chunky oat texture, skip down to my new blended pumpkin overnight oatmeal recipe! Same ingredients, a different way!
OPTION 1: CLASSIC PUMPKIN OVERNIGHT OATS
STEP 1: MIX OVERNIGHT OATS IN MASON JARS
Line 4 mason jars or glass containers up on your counter.
In each container, add:
½ cup old fashioned oats
¼ cup pumpkin puree
½ cup milk of choice
1 tablespoon chia seeds, flax or hemp seeds
½ teaspoon pumpkin pie spice
1 tablespoon pumpkin seed butter
1 tablespoon maple syrup.
Mix well to fully combine the ingredients.
STEP 2: REST OVERNIGHT OATS OVERNIGHT
Place your oats in the fridge to rest overnight.
Premade overnight oats can last in your fridge for about 5 days. Chia seeds can go bad quickly once they come into contact with any sort of liquid, so make sure you eat them up before they go bad!
STEP 3: TOP, HEAT AND ENJOY!
Overnight oats can be eaten warm or cold. Before eating them, make sure to give them a quick stir, or shake the jar to combine them again!
If you are heating them in the microwave, they usually warm up in about 1 minute. If you notice they are too thick, just add a bit more milk.
OPTION 2: BLENDED PUMPKIN OVERNIGHT OATS
STEP 1: BLEND OATS
Blended pumpkin oats are very similar to my original recipe, made with just finely ground oatmeal instead. All you have to do is measure the amount of oats you want into a blender or food processor, blend to a fine texture, like almond flour, and add to your other ingredients!
I love blending a bunch of oats all at once and storing the ground oats or "oat flour" in my baking cupboard.
For each jar of blended pumpkin oats you will add:
½ cup blended oats
1 tablespoon ground flax or hemp (you can use chia, but this will give a more "crunchy" texture
1 scoop vanilla protein powder (optional)
¼ cup pumpkin purée
½ cup milk of choice
½ teaspoon pumpkin pie spice
STEP 2: MAKE THE PUMPKIN PIE OATMEAL TOPPING
Mix together well and then in a separate bowl, make the delicious healthy pumpkin pie oatmeal topping:
2 tablespoons whole milk yogurt (or dairy free alternative)
1 tablespoon cashew butter
½ tablespoon maple syrup
Mix the topping and then add on top of your blended pumpkin spice oats.
Store in the fridge overnight and enjoy in the morning! I prefer my blended overnight oats cold or room temperature, but you can definitely heat them up in the microwave!
WHAT TO TOP PUMPKIN SPICE OATMEAL WITH
Nuts and or Seeds. I love topping my pumpkin spice overnight oats with walnuts or pecans.
Bananas add a bit more sweetness to your oats! They also give you a serving of fruit for the day!
Greek yogurt can add a bit more protein to your oats. You can use plain or vanilla greek yogurt on top of your oats.
90% Dark chocolate is great for a little mood boost. And when you choose dark chocolate over milk chocolate you are getting more of those chocolate health benefits!
Nut butters. Add more of your favorite nut butter. I love to use almond or peanut butter on top of warm oats.
FAQ'S
Frequently asked questions about fall pumpkin spice overnight oats.
HOW TO MAKE PUMPKIN SPICE OVERNIGHT OATS WITHOUT PUMPKIN PUREE?
If you don't like pumpkin puree, you can substitute in sweet potato puree. Or, leave both out! Pumpkin pie spice even without pumpkin puree will give you a delicious pumpkin pie flavor in your oatmeal.
CAN I MAKE PUMPKIN PIE OVERNIGHT OATS WITH NO YOGURT?
Yes! Just leave the yogurt out and add a bit more milk of choice.
WHY ADD CHIA SEEDS TO OVERNIGHT OATS?
Chia seeds have a super high fiber content and can absorb up to 10 times their weight in liquid, turning these seeds into a thick, jelly-like consistency. When you add chia seeds to your overnight oatmeal it will make them thicker and creamer!
HOW DO I MAKE PUMPKIN OVERNIGHT OATS WITHOUT CHIA SEEDS?
Substitute flax seeds or hemp seeds! Or, leave them out entirely. I love seeds in overnight oats because they're so gut healthy.
More oatmeal recipes you might like!
If you try this Pumpkin Pie Spice Overnight Oatmeal Recipe, please let me know your thoughts by leaving a rating and comment below! Ready for more? Subscribe to my newsletter or follow along on Pinterest, Instagram, Facebook, and Youtube!
Blended Pumpkin Overnight Oats (Or Classic!)
Pumpkin season is here and I am using up my pumpkin puree in healthy and delicious pumpkin spice overnight oat recipe. My pumpkin pie overnight oatmeal is made with old fashioned oats, homemade pumpkin puree, chia seeds, pumpkin pie spice, pumpkin seed butter, and maple syrup.
Ingredients
For the pumpkin pie overnight oats:
2

cups

rolled (old fashioned) oats

½ cup per jar

4

scoops

vanilla protein powder

1 scoop per jar

1

cup

pumpkin puree

¼ cup per jar

2

cups

milk of choice

½ cup per jar

¼

cup

hemp, flax, or chia seeds

1 tablespoon per jar

2

teaspoon

pumpkin pie spice

½ teaspoon per jar
For the pumpkin cream pie topping:
8

tablespoon

whole milk yogurt

2 tablespoon per jar

4

tablespoon

cashew butter

1 tablespoon per jar

2

tablespoon

pure maple syrup

½ tablespoon per jar
Instructions
FOR THE BLENDED PUMPKIN PIE OVERNIGHT OATS
In a blender, puree the oats and seeds completely till it resembles a fine ground texture.

Add to 4 mason or glass jars along with the other overnight oat ingredients.

Mix well to combine.

In a separate bowl, mix the topping.

Divide the topping evenly on top of the blended oats.

Refrigerate overnight.

Enjoy warm or cold for up to 5 days!

2 cups rolled (old fashioned) oats,

1 cup pumpkin puree,

2 cups milk of choice,

¼ cup hemp, flax, or chia seeds,

2 teaspoon pumpkin pie spice,

8 tablespoon whole milk yogurt,

4 tablespoon cashew butter,

2 tablespoon pure maple syrup
FOR CLASSIC PUMPKIN PIE OVERNIGHT OATS
Divide just the overnight oat ingredients between 4 mason or glass jars.

Stir or cover and shake to combine.

Refrigerate overnight.

Heat and enjoy for up to 5 days!
Notes
Nutritional information is only an estimate. The accuracy of the nutritional information for any recipe on this site is not guaranteed.
Nutrition
Serving:
1
jar pumpkin spice overnight oatmeal
Calories:
433
kcal
Carbohydrates:
50
g
Protein:
15
g
Fat:
10
g
Polyunsaturated Fat:
5.6
g
Monounsaturated Fat:
6.8
g
Sodium:
183
mg
Potassium:
749
mg
Fiber:
10.9
g
Sugar:
4
g
Vitamin A:
4370
IU
Vitamin C:
11.9
mg
Calcium:
260
mg
Iron:
15.8
mg
Pumpkin spice overnight oats were originally posted on November 18th 2020, and updated on October 5th, 2022 with a how to video.