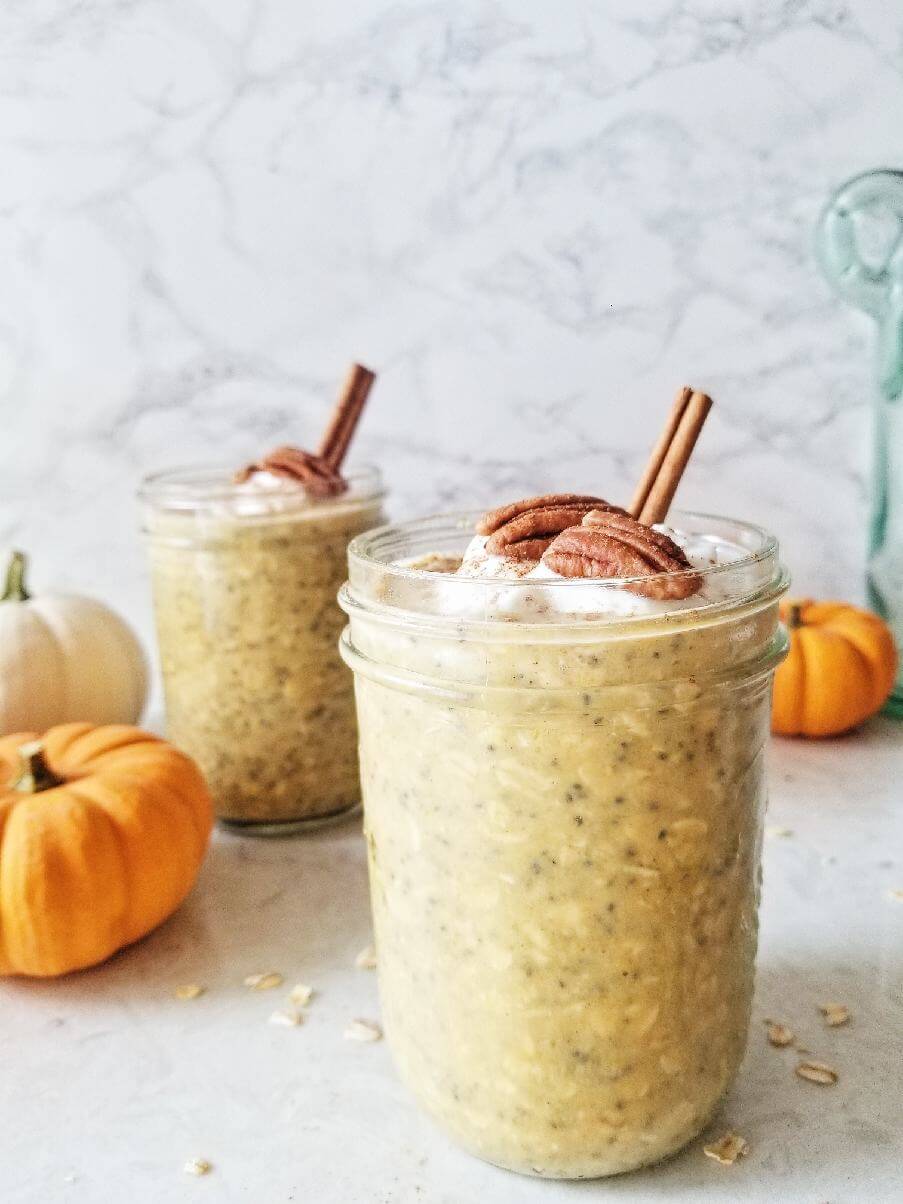 Pumpkin Spice Overnight Oatmeal. My pumpkin spice overnight oats are a really healthy way to start the day! Pumpkin spice overnight oats are made with hearty rolled oats, homemade pumpkin puree, milk, chia seeds, pumpkin pie spice, and pumpkin seed butter. What makes them even healthier is that you have control over how much sweetener you add!
My Pumpkin Spice Overnight Oatmeal Recipe is:
Healthy
Good for gut health
Balances hormones
Easy to make
Full of fall flavor!
Overnight oats can really be eaten year round, but my favorite season to make them is in the fall and winter. There is something just so cozy about a big warm bowl of oats! Unlike stovetop oats, overnight oats are made ahead so you can warm them up quickly in the microwave instead of having to worry about cooking a breakfast on a busy morning.
PUMPKIN SPICE OVERNIGHT OATS INGREDIENTS
My pumpkin spice overnight oats are loaded with health boosting ingredients!
Rolled (old fashioned) oats
NOTE: overnight oats are best made with rolled oats. If you use instant (quick) oats, they will be really mushy the next day. If you use steel cut oats, they will be very tough and chewy since steel cut oats have to be cooked a lot to soften.
2. Pumpkin puree
3. Milk. I used vanilla soy milk, and I have also used vanilla almond milk. But, you can use any type of milk that you like in this recipe.
4. Chia seeds are an excellent source of healthy fats and fiber!
5. Pumpkin pie spice. I use pre made pumpkin pie spice to make this recipe easier. Pumpkin pie spice is just a mixture of cinnamon, nutmeg, ginger, and cloves.
6. Pumpkin seed butter is another excellent source of healthy fats. If you can't find pumpkin seed butter, almond butter is a great alternative.
7. Maple syrup adds a bit of sweetness to this overnight oat recipe. You can adjust the amount based on your preference.
IS OVERNIGHT OATMEAL GOOD TO EAT EVERY DAY?
Oatmeal is really good for you! Oats are a whole grain food that contains a lot of nutrients to support your health. Oatmeal is a great source of healthy carbs and fiber, namely beta-glucan. Beta-glucan is extremely powerful in its role to support gut health and also reduce cholesterol. Oatmeal also contains manganese, phosphorus, magnesium, copper, iron, zinc, folate, thiamin, pantothenic acid, and even antioxidants!
Manganese is important for bone health, thyroid health, brain function, and blood sugar regulation. It also has antioxidant properties that can help to reduce inflammation in your body.
Manganese and calcium together can help with decreasing PMS symptoms like anxiety, cramping, mood swings, and depression.
Phosphorus works with calcium to help build strong bones.
Magnesium is a widely used mineral in your body. Your body needs magnesium to use energy, make protein, repair DNA, and regulate neurotransmitters.
Getting enough magnesium in your diet can help to fight depression, improve PMS symptoms, and decrease inflammation.
Copper helps with iron absorption, which makes sure that healthy red blood cells are getting around the body. This is very important during pregnancy.
Iron is necessary for growth & development. During pregnancy, iron helps to get enough oxygen to baby.
Zinc plays a big role in immunity. Zinc helps to fight infection and disease.
Folate is another nutrient that helps form red blood cells, cell growth, and neurological function. Getting enough folate during pregnancy helps to prevent birth defects and before pregnancy can help boost fertility.
Thiamin plays a huge role in turning your food into energy for your body.
Pantothenic acid helps to keep the nervous system functioning and creating the sex hormones in your adrenal glands.
Antioxidants. The antioxidants found in oatmeal helps with blood pressure and improved blood flow. Better blood flow means nutrients are getting around your body better!
HEALTH BENEFITS OF PUMPKIN
Speaking of antioxidants, one of the top reasons pumpkins are so good for you is thanks to their high antioxidant content!
The orange color of pumpkins is thanks to its high content of the antioxidant called beta carotene. Once in the body, beta carotene is not only used as an antioxidant, but it is also converted to vitamin A!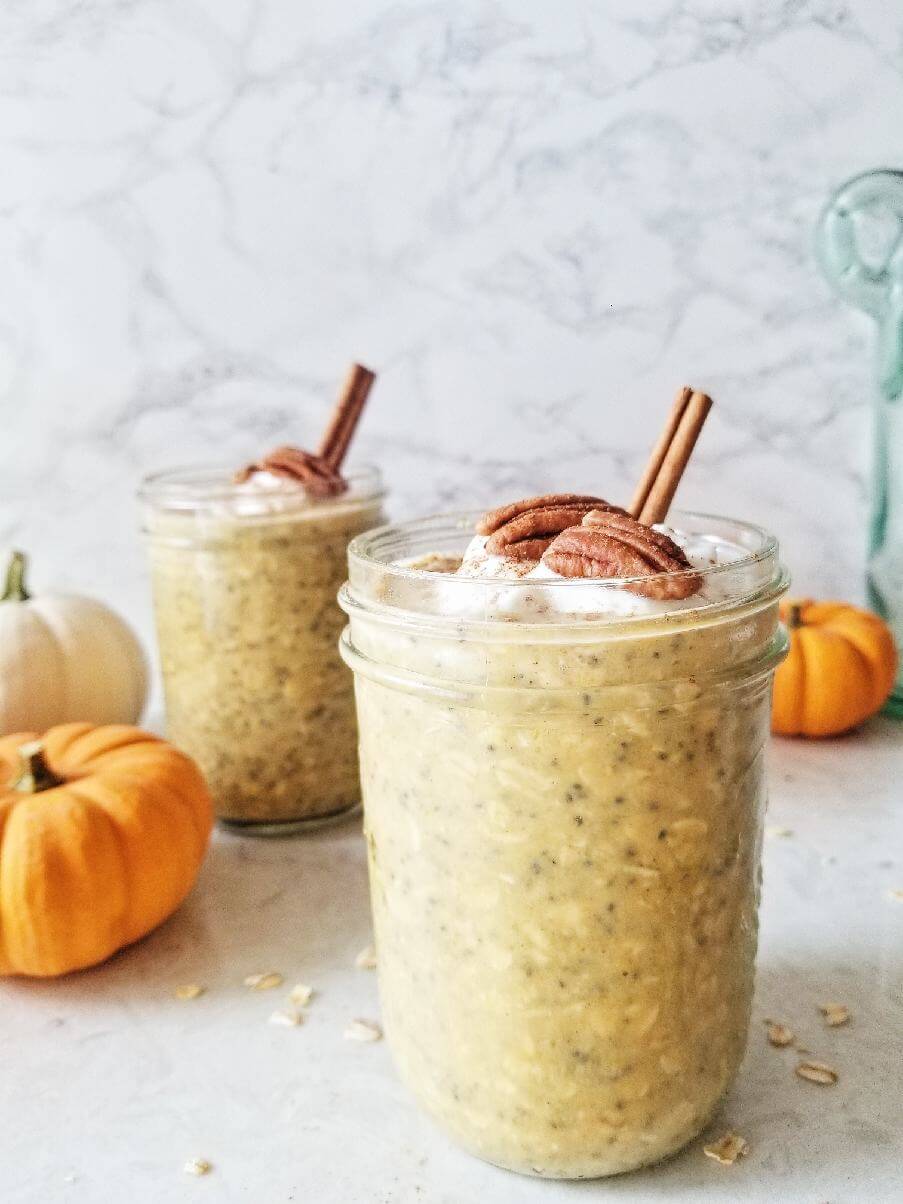 TIPS FOR MAKING THE BEST EVER PUMPKIN PIE SPICE OVERNIGHT OATS
USE ROLLED (OLD FASHIONED OATS). Quick oats become too mushy and steel cut oats are too hearty.
ADD CHIA OF FLAXSEED. Chia and flaxseed add a good amount of fiber to keep you full longer.
USE QUALITY SPICES. Make sure you use fresh high quality pumpkin pie spice for the best flavor!
MIX WELL. Mix your oats well so that the oatmeal will soak up all the flavors overnight.
HOW TO MAKE PUMPKIN SPICE OVERNIGHT OATMEAL
Line 4 mason jars or glass containers up on your counter.
In each container, add ½ cup old fashioned oats, ¼ cup pumpkin puree, ½ cup milk of choice, 1 tablespoon chia seeds, ½ teaspoon pumpkin pie spice, 1 tablespoon pumpkin seed butter, and 1 tablespoon maple syrup.
Mix well to fully combine the ingredients.
Place your oats in the fridge to rest overnight.
HOW TO STORE AND REHEAT PUMPKIN SPICE OVERNIGHT OATS
Overnight oats can be eaten warm or cold. Before eating them, make sure to give them a quick stir, or shake the jar to combine them again!
If you are heating them in the microwave, they usually warm up in about 1 minute. If you notice they are too thick, just add a bit more milk.
Premade overnight oats can last in your fridge for about 5 days. Chia seeds can go bad quickly once they come into contact with any sort of liquid, so make sure you eat them up before they go bad!
WHAT TO TOP PUMPKIN SPICE OATMEAL WITH
Nuts and or Seeds. I love topping my pumpkin spice overnight oats with walnuts or pecans.
Bananas add a bit more sweetness to your oats! They also give you a serving of fruit for the day!
Greek yogurt can add a bit more protein to your oats. You can use plain or vanilla greek yogurt on top of your oats.
90% Dark chocolate is great for a little mood boost. And when you choose dark chocolate over milk chocolate you are getting more of those chocolate health benefits!
Nut butters. Add more of your favorite nut butter. I love to use almond or peanut butter on top of warm oats.
FAQ'S
Frequently asked questions about fall pumpkin spice overnight oats.
HOW TO MAKE PUMPKIN SPICE OVERNIGHT OATS WITHOUT PUMPKIN PUREE?
If you don't like pumpkin puree, you can substitute in sweet potato puree.
CAN I MAKE PUMPKIN PIE OVERNIGHT OATS WITH NO YOGURT?
Yes! Just leave the yogurt out and add a bit more milk of choice.
HOW DO I MAKE PUMPKIN OVERNIGHT OATS WITHOUT CHIA SEEDS?
Substitute flax seeds or hemp seeds! Or, leave them out entirely. I love seeds in overnight oats because they're so gut healthy.
More oatmeal recipes you might like!
If you try this Pumpkin Spice Overnight Oatmeal Recipe, please let me know your thoughts by leaving a rating and comment below! Ready for more? Subscribe to my newsletter or follow along on Pinterest, Instagram, Facebook, and Youtube!
Pumpkin Spice Overnight Oats
Pumpkin season is here and I am using up my pumpkin puree in healthy and delicious pumpkin spice overnight oats. These overnight oats are made with old fashioned oats, homemade pumpkin puree, chia seeds, pumpkin pie spice, pumpkin seed butter, and maple syrup.
Ingredients
2

cups

rolled (old fashioned) oats

½ cup per jar

1

cup

pumpkin puree

¼ cup per jar

2

cups

milk of choice

½ cup per jar

¼

cup

chia seeds

1 tablespoon per jar

2

teaspoon

pumpkin pie spice

½ teaspoon per jar

¼

cup

pumpkin seed or almond butter

1 tablespoon per jar

¼

cup

pure maple syrup

1 tablespoon per jar
Instructions
Divide ingredients between 4 mason or glass jars.

Stir or cover and shake to combine.

Refrigerate overnight.

Heat and enjoy for up to 5 days!
Notes
Nutritional information is only an estimate. The accuracy of the nutritional information for any recipe on this site is not guaranteed.
Nutrition
Serving:
1
jar pumpkin spice overnight oatmeal
Calories:
433
kcal
Carbohydrates:
50
g
Protein:
15
g
Fat:
10
g
Polyunsaturated Fat:
5.6
g
Monounsaturated Fat:
6.8
g
Sodium:
183
mg
Potassium:
749
mg
Fiber:
10.9
g
Sugar:
4
g
Vitamin A:
4370
IU
Vitamin C:
11.9
mg
Calcium:
260
mg
Iron:
15.8
mg