Dunkin Iced Matcha Latte Recipe. Make Dunkin Donuts iced matcha latte right at home! I'm showing you how to make my easy healthy iced matcha latte using three method options: shaken in a mason jar, blended in a blender, and blended using a milk frother.
I love a good matcha latte, but sometimes when I order it outside, there is so much sugar in it that I can't even enjoy it! So I made this Dunkin Donuts iced matcha latte with a lot less sweetener so that you can enjoy the benefits of matcha without all the sugar.
My iced matcha latte recipe is easy to make, and also vegan, dairy free, gluten free and low FODMAP friendly.
IS ICED MATCHA FROM DUNKIN GOOD?
I love iced matcha but personally the one from dunkin is way too sweet for me! And once I accidentally ordered it with whole milk, and being a non dairy milk drinker, it was like drinking sweet heavy cream mixed with matcha.
Iced matcha, unsweetened, has a very vegetable-like flavor. I would compare it to a less intense wheat grass. I never drink my matcha lattes totally unsweetened. Matcha powder mixed with milk and sweetener will give it a more pleasant delicious flavor.
IS DUNKIN DONUTS ICED MATCHA LATTE HEALTHY?
You might think you are ordering a healthy drink with this menu choice, but it is actually so high in sugar that the healthy benefits of matcha are neutralized.
Dunkin iced matcha latte nutrition: 180 calories, 34grams carbs, 19 grams added sugar, 11 grams protein, 30% daily value for vitamin D, 25% daily value for calcium, 10% daily value for potassium. (Medium size, from their website)
When we should eat only a max of 25 grams of added sugar per day, 19 grams in one drink is a LOT!
DOES THE ICED MATCHA FROM DUNKIN HAVE CAFFEINE?
Yes! Matcha green tea powder has caffeine.
TIPS TO MAKE THE BEST ICED MATCHA LATTE
USE HIGH QUALITY MATCHA GREEN TEA POWDER. Make sure to use ceremonial grade.
WHISK MATCHA INTO MILK COMPLETELY. Make sure there are no little bits of dry matcha at all.
ADD SWEETENER IF YOU LIKE IT SWEETER.
HOW TO MAKE A DUNKIN ICED MATCHA LATTE AT HOME
I have included 3 methods to make your latte at home, so choose the one with the equipment you have! Method one uses only a mason jar with a lid. Method two uses any kind of blender. And method three uses a milk frother.
EQUIPMENT YOU NEED:
A mason jar

(shaken method)
A blender (blender method)
A frother (frother method)
A straw
INGREDIENTS YOU NEED:
Milk of choice
Sweetener of choice (optional)
Ice cubes
METHOD 1: SHAKEN ICED MATCHA LATTE IN A MASON JAR
The first way is my favorite way, I call it The Shake Method.
Add all the ingredients into your mason jar (except for the ice) and cover with a tight fitting lid.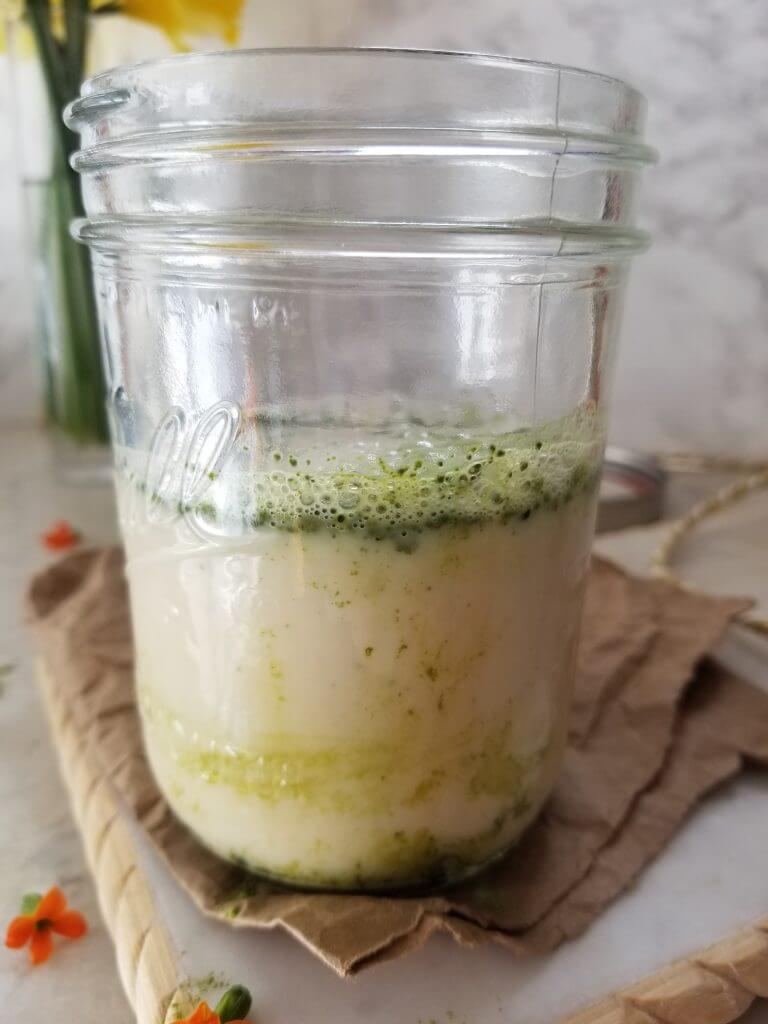 Shake it vigorously until there are no dry clumps of matcha green tea powder.
When I don't want to go to the gym this is my mini arm workout LOL!
It should be a smooth pale green color.
And that is it! The shake method gives you an easy iced matcha latte in no time. Read on below for the other 2 easy matcha methods I do sometimes.
METHOD 2: BLENDER ICED MATCHA LATTE
Another way you can make it is by adding the matcha powder, maple syrup (or other sweetener), and milk to a blender. Blend until it is smooth. Then, pour it into a glass over ice!
HOW TO MAKE A BLENDER MATCHA LATTE
METHOD 3: THE FROTHER METHOD
The third way you can make it is with a frother. You can find really inexpensive hand held frothers on Amazon (and no they don't use steam or heat the beverage).
Add the matcha powder, sweetener, and milk to a glass. Then, use the hand held frother to blend the drink right in the glass till it is combined. It works kind of like a mini immersion blender. Add your iced and that's it!
TRY THE MOST POPULAR RECIPE ON MY WEBSITE NEXT,
FAQ'S
Frequently asked questions about my dunkin copycat iced matcha latte.
IS DUNKIN ICED MATCHA SWEET?
Yes! The iced matcha at dunkin donuts is made with a lot of sweetener. I added less sweetener in my recipe to make it healthier, so adjust the amount of honey or maple syrup to your preference.
CAN YOU MAKE A MATCHA LATTE WITH TEA BAGS?
No! Iced matcha is made with a concentrated green tea powder. But, you can make iced green tea with tea bags, which is less strong than matcha green tea. Steep green tea bags in hot water, then either chill in the fridge to cool down, or add ice and enjoy.
IS MATCHA GOOD FOR WEIGHT LOSS?
Yes! Matcha studies show that matcha can help to boost your metabolism and fat burning. Keep in mind sweeteners and sweetened milk used, which can take away the weight loss benefits.
DOES MATCHA MAKE YOU POOP?
The caffeine in matcha just like in coffee can have laxative effects. Although, since matcha does not have the same amount of caffeine that coffee does, these effects are lesser.
Iced Matcha Caffeine Content (1 teaspoon matcha green tea powder caffeine)= Average 64mg (matcha powders vary in caffeine content)
OTHER MATCHA DRINK RECIPES YOU MIGHT LIKE
If you try my Dunkin Iced Matcha Latte Recipe, please let me know your thoughts by leaving a rating and comment below! Ready for more? Subscribe to my newsletter or follow along on Pinterest, Instagram, Facebook, and Youtube!
Dunkin Iced Matcha Latte
Dunkin Donuts Iced Matcha Latte recipe right at home! My iced matcha latte is just like the one at Dunkin donuts but you can make it at home easy. I also included ingredients to make dunkin donuts matcha latte vegan and dairy free friendly.
Equipment
Mason jar

Hand held frother
Ingredients
1

teaspoon

matcha green tea powder

1

teaspoon

maple syrup

or honey, to taste

1 ½

cup

milk of choice

I use vanilla soy milk

1

cup

ice
Instructions
Shaken iced matcha latte method:
Add the ingredients to a mason jar, except the ice. Cover tightly with a lid and shake until completely combined and there are no dry bits of the matcha powder.

Add ice cubes to your mason jar and enjoy!
Blender iced matcha latte method:
Add all the ingredients to a blender, except the ice.

Blend until there are no chunks of matcha powder left.

Pour over a glass filled with ice.
Frother iced matcha latte method:
Add all the ingredients to a tall glass, except the ice.

Use the hand held frother to blend the ingredients until you see no powdery chunks of matcha left.

Add ice right to your glass.

Enjoy!
Notes
Nutrition information on this recipe is just an estimate and may vary based on the ingredients you choose.
Nutrition information is calculated using soy milk and no sweetener.
Nutrition
Serving:
1
serving
Calories:
197
kcal
Carbohydrates:
23
g
Protein:
12
g
Fat:
6.5
g
Saturated Fat:
0.75
g
Polyunsaturated Fat:
1.5
g
Monounsaturated Fat:
1.5
g
Sodium:
186
mg
Potassium:
431
mg
Fiber:
2
g
Vitamin A:
10.5
IU
Calcium:
135
mg
Iron:
2.04
mg