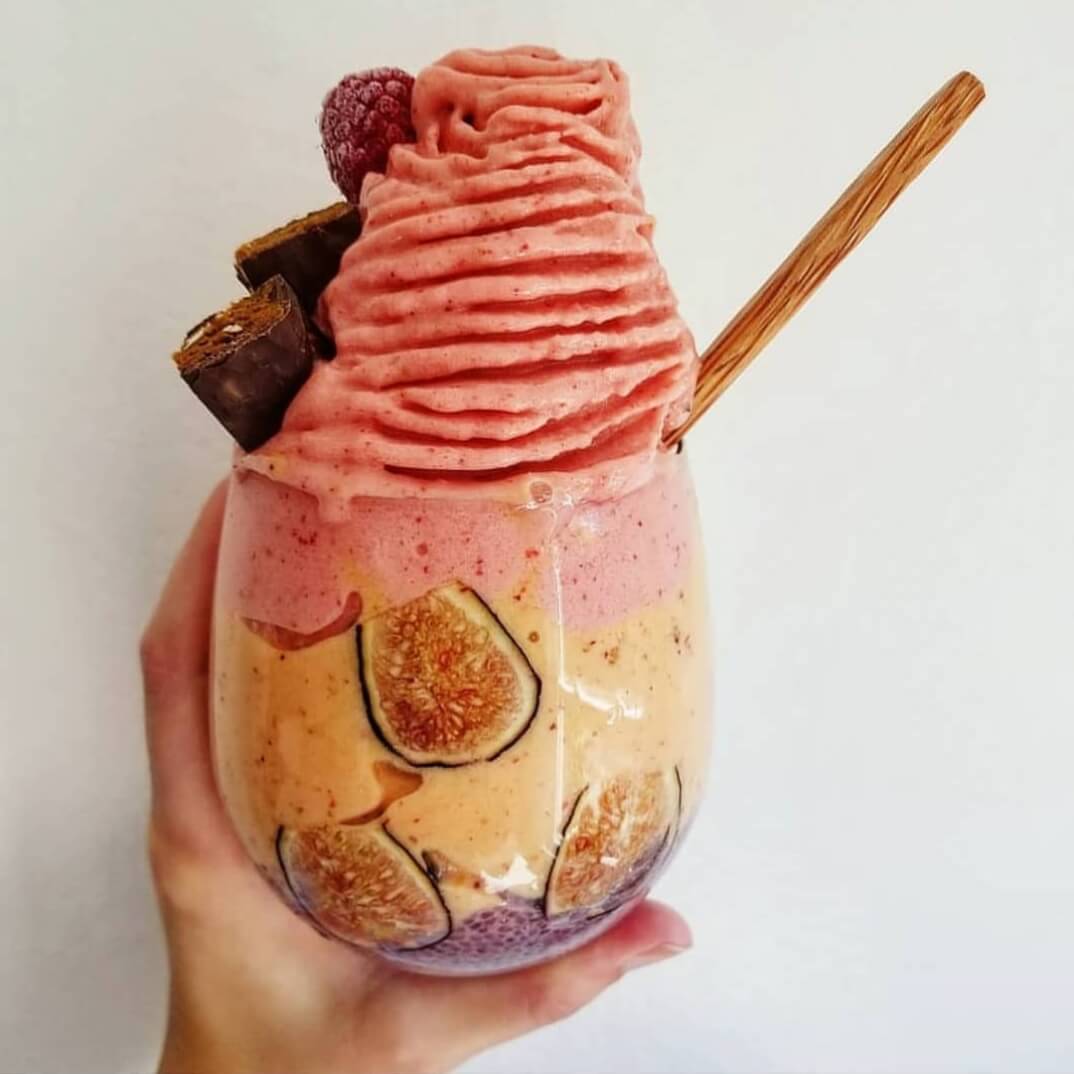 Strawberry mango smoothie without banana! My gorgeous strawberry banana smoothie is made with 3 layers of chia pudding, no banana strawberry mango smoothie, and a strawberry smoothie!
They say bananas and strawberries were a match made in heaven. But, I really think mangoes and strawberries are the best match! So, this super healthy no banana mango strawberry smoothie parfait was born!
You can either make my smoothie layered just like in the picture, or blend everything together!
INGREDIENTS IN MY STRAWBERRY MANGO SMOOTHIE WITHOUT BANANA
Healthy Mango Strawberry Smoothie Ingredients
Chia seeds
Flax milk (or milk of choice)
Beet root powder
Mango
Strawberries
Collagen
WHAT DOES A NO BANANA MANGO STRAWBERRY SMOOTHIE TASTE LIKE?
This gorgeous layered strawberry mango smoothie tastes as good as it looks! Sweet, creamy, and refreshing. Add the optional chia seed pudding for a nice texture along with your creamy layered strawberry mango smoothie.
IS A MANGO STRAWBERRY SMOOTHIE HEALTHY?
Yes! This healthy smoothie recipe with mango and strawberry can help with hormone balance, better gut health, and even weight loss. It has almost half of your entire day's need for fiber, which is key in hormone balance and gut health!
HOW TO MAKE A GORGEOUS LAYERED MANGO STRAWBERRY SMOOTHIE WITH NO BANANA!
I used my vitamix to get my thick layered mango strawberry smoothie, but I have also made thick smoothie recipes with other blenders. So make sure to read the tips below!
HOW DO YOU LAYER A SMOOTHIE?
If you want to layer your smoothie like the photograph, make sure to follow these instructions to get a three layer smoothie!
You can also put all your ingredients into a bowl, or blend everything together even the chia pudding! Either way, you get the same taste and all the benefits!
Layer 1: beet root chia pudding
First, make your chia pudding. This gives the chia time to "gel," and create that pudding-like texture. Many people don't stir their chia pudding enough, giving it a chunky texture.
Start by whisking in half of your milk to the chia seeds. Let the chia set a few minutes. Then, you will whisk it again to make sure it is evenly gelling. Pour in the rest of your milk and whisk again.
To get the purple color, add beet root powder. You can find it at most health food and grocery stores.
Pour the purple chia pudding into a glass or bowl. Set aside while we make our strawberry mango smoothie with frozen fruit.
Layer 2: mango strawberry smoothie without banana
Next, put all your frozen fruit along with the collagen in a blender. Start by blending just this and see what the texture looks like. If it is not getting creamy, add a splash of milk.
Minimal liquid and frozen fruit is key to a thick smoothie! If you don't care if your smoothie turns out super thick, add about ½ cup of milk and it will blend way faster!
Pour the strawberry mango smoothie on top of your chia pudding.
Layer 3: strawberry smoothie
For the final layer, blend frozen strawberries and a splash of flax milk! Do the same as above, adding milk as needed.
Pour your strawberry smoothie on top of your mango smoothie! Finally, you can add extra toppings like fresh fruit, granola, nuts, or a protein bar.
Hope you enjoy!
FAQ's
Frequently asked questions about my super thick layered strawberry mango smoothie recipe.
Can I make this smoothie without the chia on the bottom?
Yes! Simply leave the chia out, or, blend the chia and milk right into your smoothie for extra fiber and healthy fats.
How do I make my smoothie thinner?
Don't like a super thick smoothie or want something on the go? Simply add extra milk or coconut water till you get the consistency you like.
How do you get the smoothie so thick without falling over?
I use as little liquid as possible in my smoothies. This gives me a very thick texture that allows me to stack it so high!
How do you get the fruit to stick to the smoothie jar?
Slice fruit very thin. Stick it to the inside of the glass first. Then, add the chia pudding and smoothie layers, making sure that the fruit is pressed to the side of the glass.
The smoothie will keep the fruit in place after it is poured!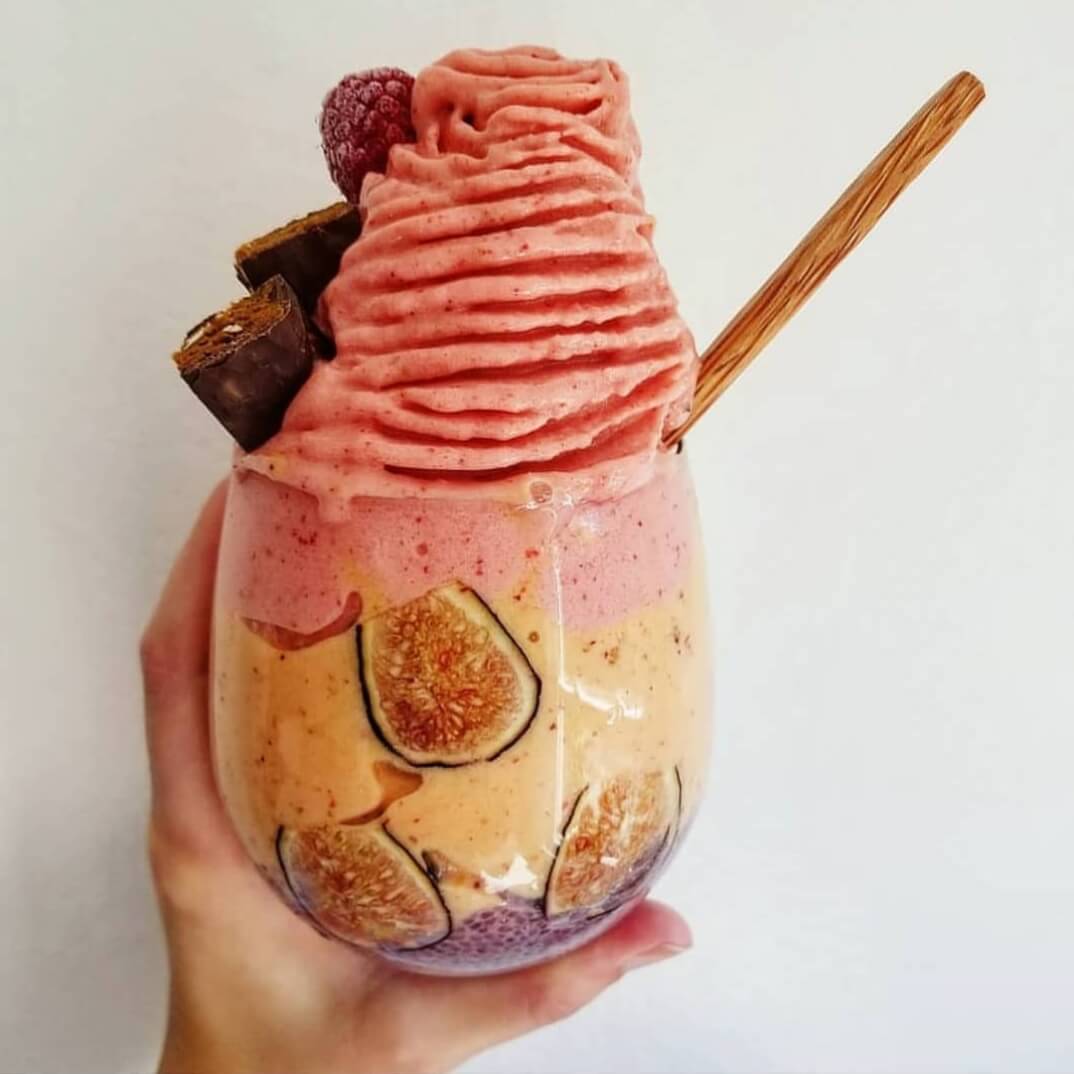 More healthy delicious smoothie recipes you might like:
If you try this Strawberry Mango Smoothie Recipe, please let me know your thoughts by leaving a rating and comment below! Ready for more? Subscribe to my newsletter or follow along on Pinterest, Instagram, Facebook, and Youtube!
Strawberry Mango Smoothie no Banana
This gorgeous strawberry mango smoothie is made with three separate layers of chia pudding, a mango strawberry smoothie, and a strawberry smoothie. My healthy mango strawberry smoothie is made without banana and without yogurt! It is vegan, dairy free friendly.
Ingredients
Strawberry mango smoothie
1

cup

frozen mango

½

cup

frozen strawberries

1

scoop

collagen

or protein powder

⅛

cup

flax milk
Strawberry smoothie
1

cup

frozen strawberries

⅛

cup

flax milk
Toppings/ smoothie decorations
Dark chocolate protein bar

Fresh fig slices
Instructions
How to make the layered strawberry mango smoothie
Combine the chia seeds, ¼ cup flax milk, and beet root powder. Stir a few times to make sure it gels evenly. If you don't want the chia pudding too thick, you can add extra milk.

Spoon the chia pudding into your jar or bowl of choice.

For the first smoothie layer, blend 1 cup frozen mango, ½ cup frozen strawberries, 1 scoop collagen, and ⅛ cup flax milk.

Scoop the smoothie over the chia pudding.

For the final layer, blend 1 cup of frozen strawberries with ⅛ cup flax milk

Spoon the final layer on into your bowl or jar and top with some chunks of your favorite protein bar and extra fruits!

Enjoy immediately!
How to make a non-layered strawberry mango smoothie
Add all ingredients straight into your blender. Blend until completely smooth.

Pour into a tall glass and enjoy!
Notes
Nutrition facts for any recipe on thehintofrosemary are only an estimate and not guaranteed.
Nutrition
Serving:
1
strawberry mango smoothie with chia pudding
Calories:
375
kcal
Carbohydrates:
54
g
Protein:
16
g
Fat:
13.2
g
Saturated Fat:
1.1
g
Polyunsaturated Fat:
2.7
g
Monounsaturated Fat:
7.5
g
Sodium:
7
mg
Potassium:
740
mg
Fiber:
18
g
Vitamin A:
350
IU
Vitamin C:
225
mg
Calcium:
555
mg
Iron:
3.3
mg