Strawberry mango smoothie with chia pudding! My delicious strawberry mango smoothie recipe is made with chia seed pudding on the bottom for a perfectly balanced breakfast. This smoothie is excellent for weight loss and gut health.
I recently updated this post, so you will see two different photos. You can make my original layered strawberry mango smoothie, or make the easier version with just one layer of smoothie. Either way, this smoothie is so healthy and so delicious.
Want to learn how to make the best smoothies at home? Make sure to read my tutorial on how to make a smoothie at home!
STRAWBERRY MANGO SMOOTHIE INGREDIENTS
All you need are a few simple ingredients to make this healthy and filling breakfast!
Healthy Mango Strawberry Smoothie Ingredients:
Chia seeds
Flax milk (or milk of choice)
Beet root powder or pink pitaya powder
Mango
Strawberries
My strawberry mango smoothie is made without yogurt, without milk, and is totally dairy free and vegan friendly. If you are not trying to avoid dairy, just use the milk that you like!
WHAT DOES A NO BANANA MANGO STRAWBERRY SMOOTHIE TASTE LIKE?
This gorgeous layered smoothie tastes as good as it looks! Sweet, creamy, and refreshing. Add the chia seed pudding on the bottom to make this strawberry mango smoothie excellent for weight loss as it will keep you full for hours and support your gut health.
IS A MANGO SMOOTHIE HEALTHY?
Yes! This healthy smoothie recipe with mango and strawberry can help with hormone balance, better gut health, and even weight loss. It has almost half of your entire day's need for fiber, which is key in hormone balance and gut health!
HOW TO MAKE MY MANGO STRAWBERRY SMOOTHIE WITH NO BANANA!
This smoothie is so easy to make! You can make it my updated way, as I describe below, or skip to the bottom where I show you how to make my original layered strawberry mango smoothie.
Make sure to leave time to gel your chia seeds so you can get the most benefits from them!
STEP 1: MAKE CHIA PUDDING
In a tall glass, add:
2 tablespoons chia seeds
½ cup milk of choice
1 teaspoon beet root or pink pitaya powder
Whisk your chia pudding well and let it rest for about 15 minutes to allow chia time to soak. You can leave chia pudding in the bottom of the glass. Or, you can blend the gelled chia seeds right into your strawberry mango smoothie.
STEP 2: MAKE STRAWBERRY MANGO SMOOTHIE
Next, grab your blender and add:
2 cups frozen strawberries
1 cup frozen mango
½-1 cup milk of choice (more milk for thinner, less milk for a thicker smoothie)
Blend your smoothie until it is totally creamy and no frozen fruit chunks remain.
Scoop your strawberry mango smoothie overtop your chia pudding and enjoy!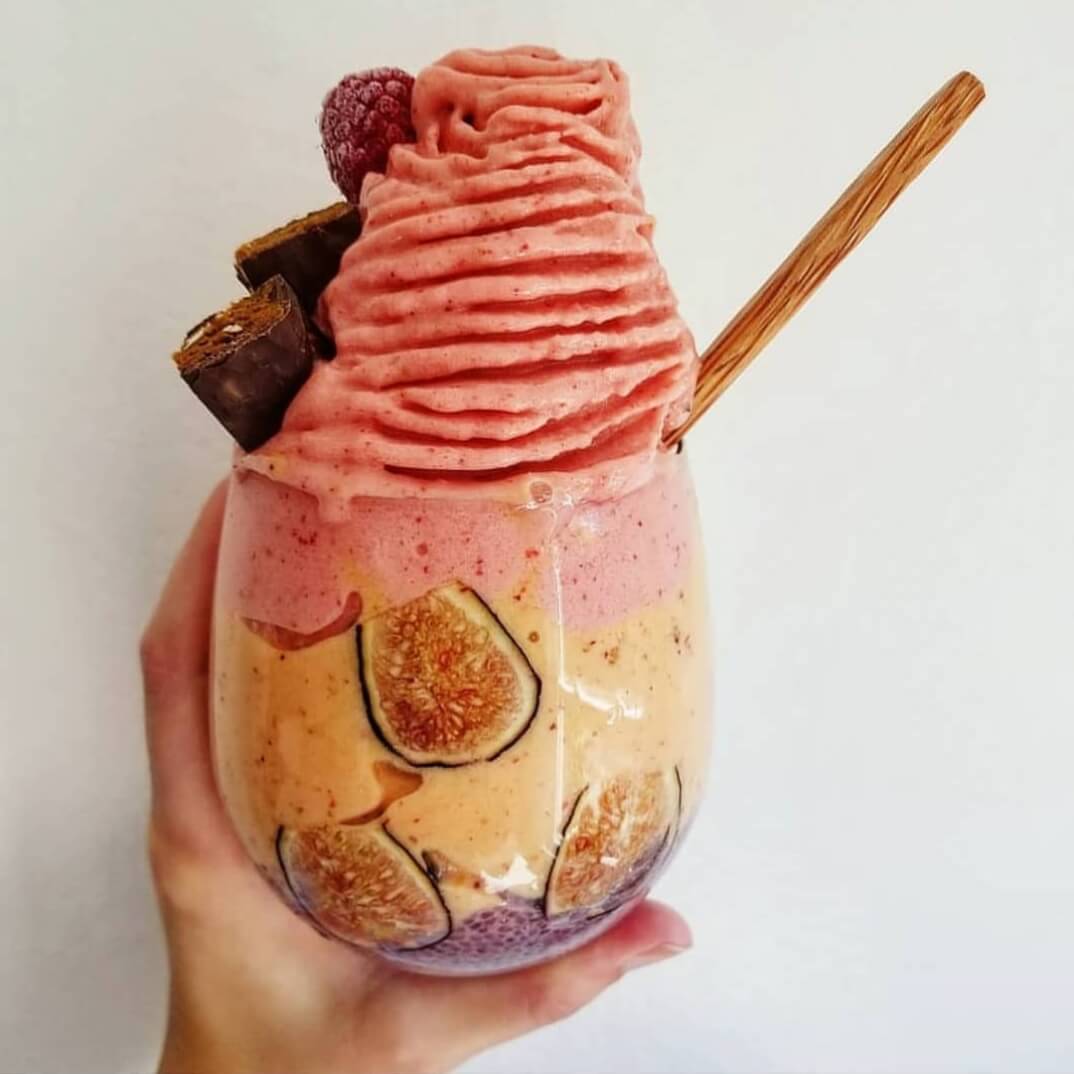 3 LAYERED SMOOTHIE STEPS
If you want to layer your smoothie like the photograph above, make sure to follow these instructions to get a three layer smoothie!
Layer 1: beet root chia pudding
First, make your chia pudding just like above right in your glass. Add fresh fig slices to the outside of the glass for a beautiful decoration.
Layer 2: mango strawberry smoothie
Next, add 1 cup frozen mango and ½ cup frozen strawberries along with a splash of milk to your blender. Blend until creamy and scoop over your chia pudding.
Layer 3: strawberry smoothie
For the final layer, blend 1 ½ cups frozen strawberries and another splash of milk! Blend until creamy and scoop on top of your mango smoothie.
Either way you make it, this smoothie is so healthy and so delicious!
FAQ's
Frequently asked questions about my healthy strawberry mango smoothie recipe.
Can you eat mango with strawberries?
Of course! Unless you have a food intolerance or notice an upset stomach after eating any two fruits together, you can definitely eat them at the same time!
What are the best fruits to combine mango with?
Since mango has a delicious sweet flavor and a super creamy texture, it pairs well with so many fruits. I love adding strawberries and pineapple with mango.
Can I make this smoothie without the chia on the bottom?
Yes! Simply leave the chia out, or, blend the chia and milk right into your smoothie for extra fiber and healthy fats.
Is frozen mango good for you?
Yes! Despite what you might think, frozen fruit and frozen vegetables are just as good for you as fresh ones. In fact, frozen produce might actually be healthier, especially in winter months when fresh fruit isn't available. Fresh mangoes are picked and frozen immediately to preserve nutrition.
More healthy delicious smoothie recipes you might like:
If you try this Strawberry Mango Smoothie Recipe, please let me know your thoughts by leaving a rating and comment below! Ready for more? Subscribe to my newsletter or follow along on Pinterest, Instagram, Facebook, and Youtube!
Strawberry Mango Smoothie with Chia
A delicious and healthy strawberry mango with chia that is excellent for gut health and weight loss! My strawberry mango smoothie is made with chia seeds, milk of choice (I use non dairy), mangoes, and strawberries.
Ingredients
Strawberry mango smoothie
2

cups

frozen strawberries

1

cup

frozen mango

¼-1/2

cup

milk of choice

1

cup

frozen strawberries
Instructions
How to make the beet root chia pudding:
In a tall glass, combine the 2 tablespoons chia seeds, ½ cup milk, and 1 teaspoon beet root powder. Stir a few times to make sure it gels evenly.
How to make the strawberry mango smoothie:
In your blender, add 2 cups frozen strawberries, 1 cup frozen mango, and milk. The less milk you add, the thicker your smoothie will be.

Blend until your smoothie is totally creamy.

Scoop smoothie over your chia pudding and enjoy immediately!
Notes
HOW TO MAKE YOUR STRAWBERRY MANGO SMOOTHIE WITH CHIA INSIDE- after you soak the chia seeds for 15 minutes, add them right into the blender with your other smoothie ingredients. Blend until creamy. 
HOW TO MAKE A LAYERED STRAWBERRY MANGO SMOOTHIE- blend mangoes with just ½ cup strawberries and milk. Scoop over the chia pudding. Blend 1 ½ cup strawberries and milk. Scoop on top. (3 layers).
Nutrition facts for any recipe on thehintofrosemary are only an estimate and not guaranteed.
Nutrition
Serving:
1
strawberry mango smoothie with chia pudding
Calories:
375
kcal
Carbohydrates:
54
g
Protein:
16
g
Fat:
13.2
g
Saturated Fat:
1.1
g
Polyunsaturated Fat:
2.7
g
Monounsaturated Fat:
7.5
g
Sodium:
7
mg
Potassium:
740
mg
Fiber:
18
g
Vitamin A:
350
IU
Vitamin C:
225
mg
Calcium:
555
mg
Iron:
3.3
mg